888 Holdings Plc Sees Earnings Jump As Sports Events Return
With the disappearance of sporting events, it's been a tricky few months for 888Sport – whose parent company is 888 Holdings Plc. 888sport saw large financial losses during spring as their trading effectively stopped, although, successes in other areas, such as 888 casinos (their online casino), mean that the parent company could offset these losses.
888 Holdings Plc Stampeding Up the FTSE 250
But there was good news today (26th June 2020) as 888 Holdings saw their FTSE-250 shares jumped by 15.6%! That's monumental, and surely, one of the largest leaps in their history.  Not only did shares recover to their pre-lockdown heights, but they also reached a 7-month high of 174.4p and topped the FTSE 250 leader board.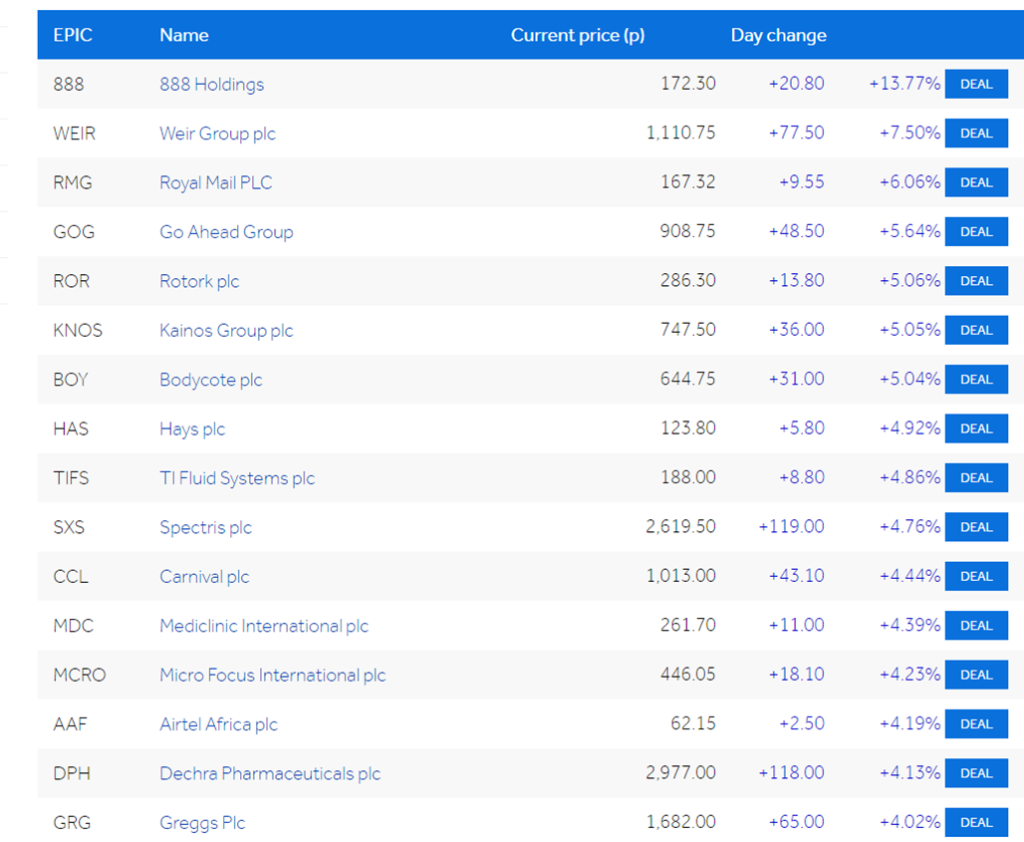 Source: HL
If you read my May blog, you might well have invested in 888 holdings, so well done!
From the table above, I like how Greggs Plc got into the Top 20 FTSE 250 risers – investors know that the UK loves its sausage rolls!
Lockdown measures affected gambling companies in different ways. Those who had a focus on competitive sports lost out big time, but those with a focus on popular online games, such as Bingo and Poker, made a killing.
Fortunately for the sports-focused, there appears to be good news arriving. With the reintroduction of competitive sports, sports-betting is coming back strong. In fact, I'd put money on it!
2020 So Far for 888 Holdings Plc
888 holdings have a lot to be happy about in 2020 – which is unusual. But today, the company has said that its daily revenue has averaged 34% higher than this time in 2019. They cited a shift from IRL to online play as a key component of this fantastic result.
Peel Hunt, an analyst for 888 Holdings had this to say, "lockdown has been negative for gambling revenue overall, but it has accelerated the lane change to online. 888, in the race-tuned online casino, has been well-placed to push down on the marketing accelerator and take the lead"
As well as 888, other gambling companies have benefited from the return of sports betting. For instance, last week's Royal Ascot saw financial gains for bookmaker William Hill.
Take Away
2020 isn't all doom and gloom and there are signs that things are bouncing back.