Alabama Woman Who Embezzled Money to Spend 12 Months Behind Bars
January 14th, 2021 4.00pm
Kim Wright Green, a 50-year-old woman from Loxley, Alabama, will spend the next year in prison after pleading guilty to embezzling money.
The Alabama woman stole more than £290,000 in two cities where she worked as a clerk.
Her first victim was the town of Creola, where she worked from January 2013 to February 2017. She then moved to Prichard, where she became city clerk, serving from May 2017 to August 2019.
Jimmie Gardner, the mayor of Prichard, said he heard rumours of Green stealing money from the city, but never found proof.
She Stole Money from Two Cities
She billed the city for hours she didn't work, stole cash bonds and other fees paid to the local administration.
During the investigation, Green revealed to federal prosecutors that she gambled away much of the stolen funds at casinos. However, she didn't wish to give any specific names. There are no commercial casinos in Alabama offering table games and slot machines. However, there are three tribal casinos doing business in the state, and all three of them are owned and operated by the Poarch Band of Creek Indians.
Under the provisions of the existing gaming regulatory act, tribal-owned Class II casinos are allowed to offer bingo-based gaming machines to their patrons. They are prohibited from operating any slot machines and table games such as blackjack and roulette.
In January last year, Green admitted she embezzled more than £290,000. According to her statement, she used the money to fund her gambling habit and other personal expenses. She pleaded guilty to two counts of embezzlement, and one count of submitting a false tax return.
Virus Delayed Her Sentencing
Green was set to get her sentence in April, as a free woman. Judge Terry Moorer explained it wasn't necessary to keep her in jail, since her plea hearing was held in January last year. In the meantime, the global health crisis delayed her sentencing. If she had remained in prison, she would have been set free, with credit for the time she spent behind bars. However, as Moorer allowed her to stay out of jail, she will have to spend the next twelve months in federal prison.
According to prosecutors, Green gave her best to hide the missing money from both cities' accounting systems. She kept on transferring the money to make it difficult to track it. In the end, all the money ended up on her bank account.
Finding out where she spent money won't be easy, as she had many options to choose from. The Wind Creek Atmore casino is located 40 miles from both Prichard and Creola, while the town of Biloxi in the neighbouring Mississippi is home to eight riverboat casino. This would have been her first choice for enjoying slot machines and table games.
A Big Crime for Such Small Towns
Both towns she worked in are very small. Around 22,000 people are living in Prichard, while the population of Creola barely exceeds 2,000. More than 31% of the people of Prichard live in poverty.
According to her tax return from 2015, when she was working in Creola, her listed income was slightly bigger than the town's average. However, it was twice as big as the one in Prichard. The tax authorities say the actual income was much bigger, with embezzled funds helping her double it in 2015 alone.
In addition to spending the next year behind bars, the disgraced city clerk was ordered to pay back £327,000. Initially, she faced up to a decade in federal prison on the theft charges alone.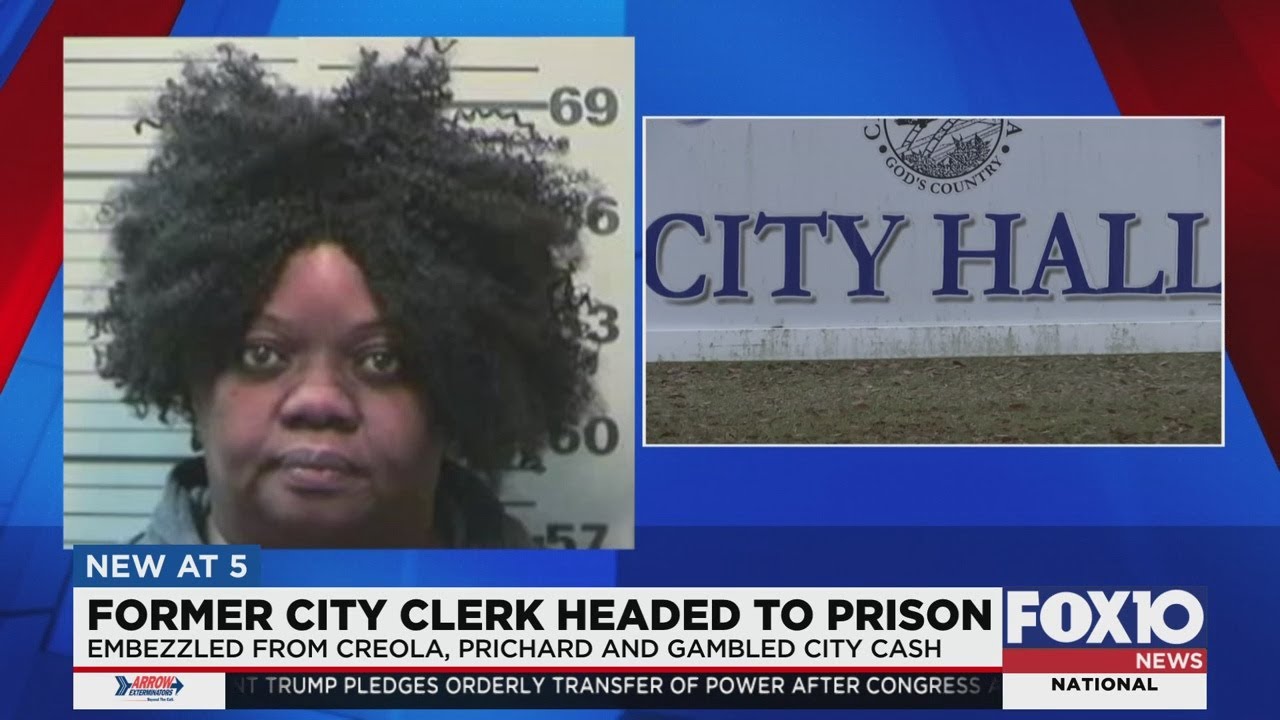 She used the stolen money to fund her gambling