The world has changed incredibly quickly in the past couple of decades. It's been tough going for us older people! Youngsters take all this in their stride though, and they're leading the way in one of the biggest changes in the online gambling market – mobile gambling. Android casinos in this particular section!
Mobiles are now the chief vehicle for web access. More people use mobiles (and other hand-held devices) to browse than using desktop computers.
And a big slice of those people are playing online video slots, casino games, and live casino games on their mobile devices.
And a big slice of those people are doing so via an Android operating system.
Here we'll tell you how to use an Android casino safely, how to find them, how to play for real money on an Android casino and more.
Let's get started.
Best Android Casinos UK
What is Android?
Android is an operating system for mobile phones. It is most associated with Google, but Android can be installed on and used on a large number of phone brands.
For example, you will find Android on phones from:
Blackberry
HTC
Honour
Huawei
Lenovo
LG
Motorola
Nokia
One Plus
Pixel phones by Google
Samsung
Sony
Vivo and
ZTE
And this list is far from comprehensive.
Android can also be used on tablets.
An Operating System (or OS) is the framework on which the software that the device uses operates. Windows is an operating system, iOS is Apple's operating system, Linux (on which Android is based) is another one.
Android is a big, legitimate operation, it is widely recognised.
Android devices can load apps – what used to be called programmes – from the Google Play store, which is usually installed on your Android device when you first get it.
Android is made by Google, so it wants you to use Google's web browser, Chrome, to access the web. That is the default option.
Using Android Casinos on Your Device
Casinos are really just like any other website.
In order to play at an Android casino, you just need an Android device and web access. Simply find the site you want with a search, or type an address into your browser and you should be able to use the site in much the same way as you would with a desktop.
Every casino now has a responsive website that picks up the type of device that is accessing it and loads up the appropriate site. A casino that can't accept any Android users is not going to last very long.
You may also download an app version of the casino site.
Apps are stored on your phone and are best collected (almost all casino apps are free) from the Google Play store, though they may also be available at the casino site itself.
We're going to talk about security a lot in this article, and this is your first warning: be aware of what you're downloading; using the "official" Google Play store means that at least some checking has gone on.
Downloading Android Casino Apps
Apps are a very broad category. An app might be as little as a link to a website, and a news ticker. It might be a fully-functioning off-line version of a site, game or service.
Apps are the fastest and most convenient way to access any service on your mobile Android device, whether it's a casino or a maps service.
Some casino apps also offer exclusive content, offers or services that aren't made available to customers using a standard mobile website.
And there's a reason for that we think.
Android casino sites exist to make money; in fact, they exist to maximise the profits of their owners. Having an app on your phone screen makes it more visible, and it's probably more likely that you'll use an app than you will browse to a site every time.
There's no inherent virtue in shopping around all the time. In fact, we think it's good practice to find a good quality site and stick with it for the long-term if you can. However, don't be shy of looking around at what's on the market – there is lots of choice – and don't tolerate poor-quality services or products when you don't need to.
Playing Android Casino Games Safely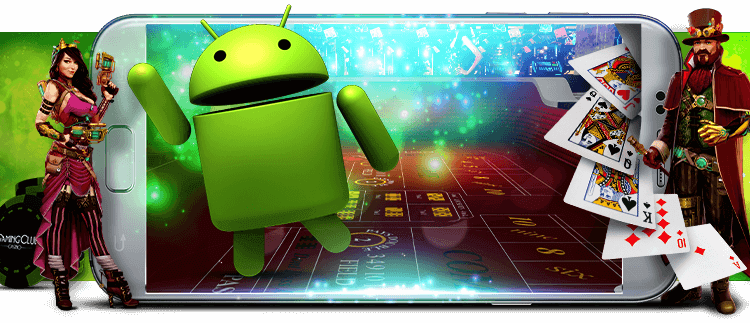 You need to know that any site or app that you use is safe.
We think you should split Android casino security into three sections:
The safety of the site,
The safety of the device, and
The safety of you – your health and your money.
And you should put your own personal safety first.
This isn't a comprehensive safe gambling guide, but if you haven't read one of those we recommend that you do so.
There are risks involved with gambling and it can have very serious bad consequences. Your best weapons against these consequences are honesty (not least with yourself), and information (not always from the people trying to sell you gambling services).
Take safe gambling and your health seriously at all times and make it your first priority.
By means of a simple introduction to the subject, take these maxims on board:
Gambling is an entertainment product, and you should expect to pay for entertainment.
Most gamblers lose money in the long run. The profits of casino sites – and they are very profitable – are all lost bets.
Don't gamble if you can't afford it. Budget how much you can afford to spend in a session and stick strictly to it.
Keep an eye on how much time and money you spend on gambling.
Keep an eye on your feelings. If you start to feel uncomfortable about talking about your gambling that's a bad sign. If you use gambling to escape from difficult feelings or to manage your emotions then it may become a problem.
Make use of all the tools available to you and be sure that you're informed about problem gambling.
Finding Safe Android Casino Sites
The first step to a safe Android casino experience is a safe Android Casino site!
But how do you find that?
Things are a lot easier in this regard than once they were. Your best shortcut to safety is the UK's gambling regulator. It is illegal for any company to offer gambling services to anyone in the UK without a licence from the UK Gambling Commission. You must be able to see this licence on the site too. It's usually on the front page, and it is usually linked to the company's account with the Gambling Commission.
Check it!
That's the first good sign.
You should go further though. Outright scam sites are relatively rare these days, but they do exist. Scammers are unlikely to invest the time and money in designing a fully functioning high-quality site. So look for that. Make sure you can have a decent look around before signing up and handing over money: check out the quality of the design, the numbers of games, the links to safe gambling advice and so on.
Scammers are generally looking for vulnerable people. We'd love to be able to say, "well, don't be vulnerable then," but sadly, the world doesn't work like that.
This is where your personal security and site security interact. Scammers know that people who are desperate for money will not make the right sort of checks, so they can just throw together a landing page and a form that takes your cash and not much more – big promises are another warning sign.
Keeping your head straight will help keep you away from scams.
Using an Android Casino Site Safely
You also need to know how to keep your Android device safe online.
This is especially important where you are using money and making payments. Take it seriously.
Do a bit of research on how to keep your device secure and up to date. Make sure you're aware of what you're downloading and what permissions you have given it.
Android devices have Google Play Protect running, but you can make sure it's going on your device by using the security settings. You can also enable Enhanced Safe Browsing on the Chrome browser.
Knowing that you can lock your phone if it's lost or find it again using your location finder are great additions to your peace of mind, and you can do this with Android.
You should always use whatever security options are available to you online too.
If sites offer you 2 factor authentication then you should use it. Do do the basics of password protocols too: never reuse passwords, make them really hard to crack, change them if you fear they're compromised and so on.
And be aware of where you're logging on to Wi-Fi networks that may not be secure.
Finding a Good Android Casino Site
Those first steps might feel a bit boring, but they are necessary if you're going to enjoy a site for the long term.
Once you're sure somewhere is safe though you can start to look for the things that make a site fun to use!
Top Android Slots Sites
For most players in the UK, that means slots.
The slots scene in the UK is massive. And as browsers have gone online via their mobile devices so the games industry has followed them.
Most games these days are designed by mobile-first providers. That means you'll be able to play almost every game that you can play on a desktop machine on your Android device.
Android slots then are much the same as any other slot.
Table Games at Android Sites
You can also play table games at Android casinos.
These games are simulations of casino games.
The most popular titles are:
Android roulette: roulette comes in three common variants (European, French, and American) that are worth knowing your way around, and then there's a massive choice of different presentational styles and wager levels.
Android blackjack is the mobile version of the world's most popular casino card game. Like roulette it has several variants, and there are also a number of points in the game (splitting pairs, how dealers react to various hands) where there are options. Do a bit of studying to get the most out of this fascinating game.
Those are the big two, but you'll also find a number of poker variants (all dealer games) as well as newer games like pai gow poker.
Android Live Casinos
The newest innovation in the casino world is the oldest in the book – actually playing the games with a live dealer, and often with other players alongside you.
The available games are usually old casino favourites:
Live Android Roulette,
Live Android Blackjack,
Live Android Poker, and more.
These games are now available on Android and other mobile devices.
You need to keep your head about you when playing live casino games.
These games are usually slightly more expensive to play than other casino games. They are staffed by real, human dealers and croupiers who need to be paid, so the costs are higher.
Games are usually divided by stake level and are often available to players at different levels of a site's loyalty scheme.
Beyond the casino classics, there is now a wide variety of game-show variants, as well as less well-known casino games.
Game shows are most often lucky wheel games, but you might also find branded efforts like Monopoly and Deal or No Deal.
You can also play these games in a number of styles. Party games are popular, and you can even now play along on slot games with a big crowd of mates!
It's obvious that these games are meant to be popular and even addictive. An element of this attraction can be found in the staff who run the games. They are generally young and attractive. There's nothing wrong with being young and attractive of course, but players need to be aware that they are making decisions based on what is good for them, rather than any perceived potential relationship with someone working behind a casino table.
You should also make sure that you treat staff with the same respect you would like to be treated with yourself. That's the golden rule.
Real Money Android Casinos
To play Android casinos for the money you need cash!
It's important to know that many games at casino sites can be played for free. Almost all slots and casino games can be operated on a demo mode. So if you love the game, then consider playing for free!
But most of us want to gamble on these games.
And for that, you need to put money into an account.
In order to do this in the UK, you will need to have some forms of ID with you. And this is why even mobile users find it more convenient to use a desktop for signing up at a casino site. You will probably need to scan and send copies of a driving licence or similar ID document before you can take out money.
Mobile payment methods are getting better and more common. Apple Pay is there for iPhone users, of course, but you can use numerous banking apps and PayPal or other online wallets to transfer money to your casino account on your Android device.
Payment methods can be split into a few simple categories, and you should expect to find all of these at a good Android Casino site:
Banking methods – these include debit card payments and transfers
Electronic wallets – given a number of different names, the easiest way to explain these wallets, which include the gambling specialists Skrill and Neteller, is that they are like PayPal
Mobile payments – apps like Boku allow you to shift money on a mobile, and pay by mobile systems allow you to use your phone bill to pay for casino play. However, there are often very low deposit limits on these payments, which are close to gambling on credit, which is not fully legal in the UK.
Android Casinos FAQ
Can I Play Android Casino Games Safely?
You can. But you need to put some work in. On your device, on your online protocols, and also in the way you monitor your gambling behaviour. Do all that, look for licensed sites, and enjoy yourself.
Can I Play Live Casino Games on an Android Device?
You can. Almost all casino sites now concentrate on the mobile market, and that includes their live casino games. Some games are easier to play than others on mobile screens, but pretty much every game, from blackjack to sports studios, can be played on your Android device.
How do I pay with an Android Device?
Most payment methods that you can use on a desktop computer can be used on an Android device. If you want a specialist payment system check out Boku Android casinos and pay by mobile sites.
Do I need to Download Android Casino Apps?
No. The vast majority of casino sites are available first and foremost as responsive, mobile websites. Some larger sites will allow you to download an app to access straight from your home page, but you should consider if this is the right decision for you before you tap to install it – and, that it's a legitimate app.