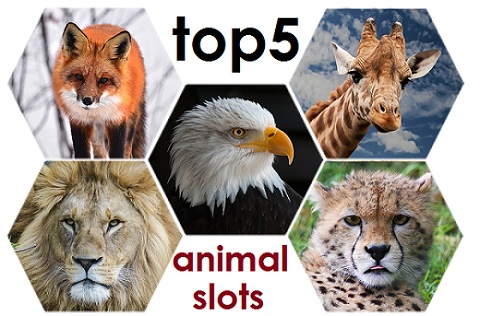 If you're in any way familiar with us here at www.online-casinos.co.uk, then you know that the video slots are amongst our favourite online gambling games. There are thousands to choose from, so it's easy to find slots you like and even love. Here, we take a closer look at our favourite animal slots.
Sometimes, the vast choice of video slots makes it difficult to choose between them. There's too much information, making it hard to decide. For this reason, we've written a series of articles designed to help you find your favourite slot.
We've categorised the slots into major themes (e.g. Crime, Animal, Horror, & Fairy Tale) and then spent hours locating, playing, and evaluating slots from each theme, trying to find the most enjoyable and fun from all those on offer.
Here are our top 5 favourite animal slots. We're sure you'll love them as much as we do!
---
5. Wonky WabbitsTM (NetEnt)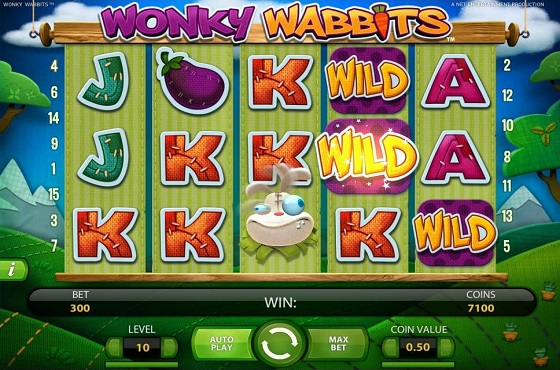 Play Wonky Wabbits at Casumo casino
If you ever played "Rayman Raving Rabbids" back in the mid-00s, then this 5-reel, 15-line, this video slot is going to hit you right in the nostalgia. For those of us who are a little older, the mid-00s feels as if it's pretty much the same era as today!
Still, it's nice to be reminded of a game that once brought me hours of fun. Whether this was NetEnt's aim, I don't know, but it was definitely a feature that attracted me to the game. The question is, is "Wonky Wabbits" as fun as "Raving Rabbids"?
There isn't the fun, animated, introduction you find with many games, and this is somewhat of a disappointment; starter animations can be hilarious, so they missed a trick here. Still, they more than make up for this with the fantastic graphics and the fun animations that appear with a 'wild' win.
Talking of 'wild' wins, they're great. You can get some HUGE wins when the wilds show up. They have a fantastic twist, and one I don't think I've encountered before: when a wild appears anywhere on the five reels, it automatically triggers another wild (I won't give away too much, but it triggers a fun little animation too). The second 'wild' appears in the place that gives you the BEST WIN, so you can get some HUGE WINS when the wild/s shows up. If two wilds appear, you get two extra wilds, three wilds give you three extras, etc.
Max bet: £150 – quite steep, so great for high rollers!
Autoplay: Decent autoplay and the typical setup you'd expect from NetEnt
Game Features: Quick Spin, Ambient Sound & Sound effects, Animation, Choice of Graphics quality, and Keyboard Shortcuts.
Because there's no bonus game, and because it's pretty much a typical slot with few bonuses and incentives, Wonky Wabbits only makes it to our 5th position, and if it wasn't for the Raving Rabbids nostalgia and the fantastic wild gameplay, it may not have made the top 5 animal slots list at all!
---
4. Big Bad Wolf (Quickspin)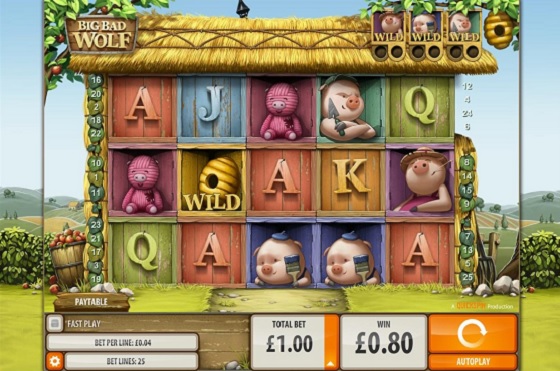 Play Big Bad Wolf at Casumo casino
This game had the best graphics of all the games in our countdown. Whilst they weren't necessarily the funniest or most entertaining, they have a really advanced look to them. If you played video slots in the '90s, this game will really show you how far internet technology has come. It might be a bit cutesy for the serious gamblers amongst you, but we liked it.
When I played this slot, it was pretty hot, so naturally, I loved it! It's funny how the slots with the biggest wins always become my favourites!
One thing that is particularly interesting is the "swooping reels". Instead of spinning, they simply fall away. Quick spin is a Swedish company, and you do get that "winter wonderland mysteriousness" feel to the game. It's the long-dark winter nights; it sets the mind up to create wild and dark fairy tales.
The "Pigs turning Wild" feature makes this game a great choice. It means that your wins can go on and on as the pig symbols become wild symbols. They act like sticky wilds and they come up quite a lot. The best bit of the game, though, is the "Free Spins Bonus". This brings the big bad wolf out. Can you guess what he does? He huffs, he puffs, and he blows your house down!
Max Bet: £100 – a decent amount. It's the type of max bet that makes you feel as if you're playing in the big leagues when the high rollers really wouldn't think much of it.
Autoplay: A decent selection of autoplay features here. You can select up to 1000 spins, which is decent. They also provide you with a number of advanced options concerning loss and win limits. Unusually, they have a replay button, so you can choose to play the same set up again, without having to go through the hassle of repeatedly setting up your limits.
Game Features: Big Bad Wolf has "Fast Play", so you when you have those autos on, it can create intense gameplay.
It's a fun game, but because it lacks a decent bonus game (although the free spins bonus does come close to matching our expectations), it only makes it to 4th position in our animal slots countdown. Still, it's a great game from a company that hasn't been around all that long.
---
3. Tornado Farm Escape (NetEnt)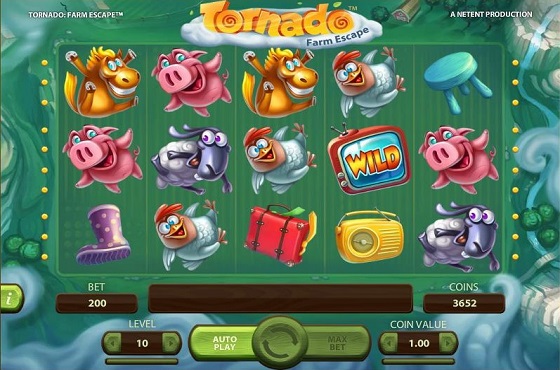 Play Tornado Farm Escape at Casumo casino
Of all the games listed here, this one definitely has the best intro. During the introduction animation, we learn all about how the tornado – around which NetEnt have based the game – came and sucked the animals away. Believe it or not, the animals are quite happy about these turn of events.
This is a 20-line, 5-reel video slot with some funny quirks. The best part of the game is the "Tornado Feature".
Tornado Feature: this is triggered by the appearance of two clouds on reels 1 & 5. One cloud is hot; it has an orange arrow in it. The other cloud is cold; it has a blue arrow in it. What happens next can only be described as a hybrid between a bonus round and a scatter bonus. The tornado appears on the screen and it moves around collecting a specified symbol + any wilds. For example, it might be tasked with picking up the yellow radios. The reels keep spinning and collecting, stopping only when the spin gives no specified symbol or wild (i.e. no radio or wild symbols appear). You can get a lot of spins out of this, and it's quite intense! I had a few decent wins when this feature came in.
Other highlights include the "Storm Feature" and the usual Wild feature. We'll let you discover those for yourself. The "Storm Feature" is well worth hunting.
Max Bet: £200 – so great for the high rollers
Autoplay: as always, NetEnt provide the best autoplay features. There are plenty of settings and you can autoplay up to 1000x. That means the high rollers can autoplay up to £200,000 at any one time!
Game Features: This game has "Quick spin", and with the possibility of 1000 spins on autoplay, that's a very good thing for those of us with problem wrists (too much typing!). You also have a number of animation, sound, and graphics options. NetEnt delivers a standardised assortment of game features across its platform, so expect the same as you would find on any of their other games.
This is a fun game with great features. Because of the "Tornado Feature" and because of the Introduction, this game scores slightly higher in our countdown than our other NetEnt game, Wonky WabbitsTM
---
2. Pollen Nation (Microgaming)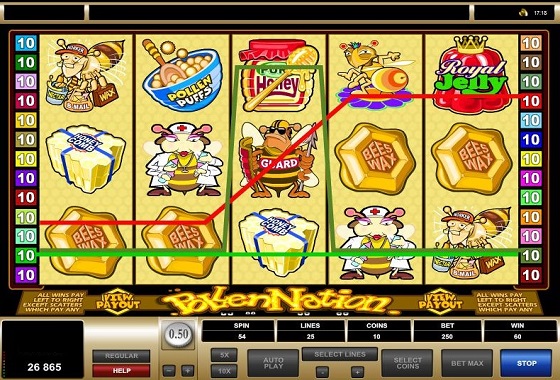 Play Pollen Nation at Roxy Palace casino
Given its "scratch card" type look, this game wouldn't normally make it into a top-5 video slot article written by me, because there's something tacky about them and it gives me the feeling that it won't be fun. It's probably something to do with how little there is to do on a scratch card: you scratch and win/lose. I'm looking for more from a video slot.
Luckily, I got past my prejudice and gave it a chance. There's much more to it than I first imagined, but let's get the boring things over with first. Pollen Nation is a 25-line, 5 reel video slot.
The animation reminds me of a "Dennis the Menace" or "Beano" cartoon, or if you remember the early 90s TV programme, "Zappp", it's just like that to my mind. So, yeah, the graphics are childlike, and couple that with the cutesy baby-laughing noises, this is definitely a game to keep hidden from the kids, because they WILL want to play.
Baybee Bonus: this bonus round makes up for any initial bad impressions. It's one of the most intense, and fun, bonuses that I've found on the slot machines. It took a while for the bonus to hit, but then it hit four times in a row. The bonus round triggers with the appearance of three "baby bee" symbols (hence the name, "Baybee bonus"), which takes you to a new screen. The new screen consists of a number of hexagons, which represent the honeycomb. Each hexagon represents a prize, and you keep hitting them until a "STOP" appears.
The first bonus round, I won £150! This made me over-optimistic for the following time the bonus hit, and I was out straightway, which actually made me jump! It's intense, and that sort of intensity always warrants a high-score from me in terms of the fun-factor, and it's why this is now one of my favourite games…well, of the moment; I'm fickle!
Max Bet: £125 – not bad. Not many can afford the full whack, but after my win, I can!
Autoplay: Initially, I thought there was no autoplay option, but actually, you reach it by hitting the "Expert" button, which then gives you a list of options. You can choose up to 500 spins, which is great.
Game Features: Aside from the autoplay feature, there are no additional game features. Given their 500 autoplay spin option, you'd think they'd offer a quick spin feature, but alas, nope.
Overall, the Baybee Bonus makes this game super fun. It doesn't reach pole position in our animal slots countdown simply because there are no scatter bonuses and few game features. However, the intensity of the game does mean that I've given it a high position in our definitive list of top 5 animal slots. This game doesn't get boring, and that counts for a lot.
---
1. Crazy Cows (Play'n Go)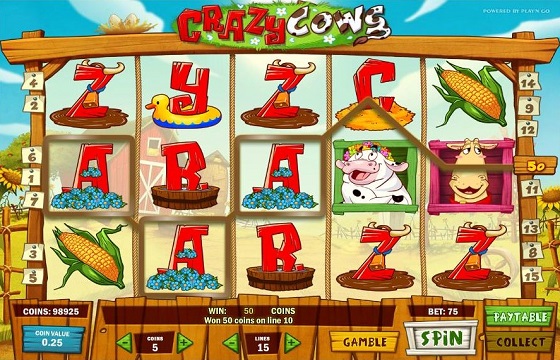 With Crazy Cows Play'n Go deliver another fantastic game. There's a great little animation intro, and although it could have done with being a bit longer, it's fun nonetheless.
The first thing that struck me about the game was the graphics; they're bright, fun, and crazy. If you know them well, this is something that you come to expect from this game provider.  The best thing about the game is the variety of features. As with all Play'n Go games, there's a lot on offer:
Gamble Round: On any win, you have the opportunity to hit the "Gamble" button (Following a win, this replaces the "Max Bet" button). You can then gamble your win by guessing either suits or colours on facedown cards. If successful, suits quadruple the prize, and colour doubles the prize. Warning: if you play on "Autoplay", you won't have the opportunity to play the Gamble Round.
Expanding Wilds: when the wild symbols land on the 3rd reel, it expands vertically to cover all three lines. I love expanding wilds because they usually give out big wins.
Bonus Round: Ermahgerd, I love the bonus round! Three "Barn Bonus" symbols trigger the bonus round. A new screen replaces the usual reels. There are three cows and you must select the one you want to compete in the high-dive contest. Yes, that's right: high-diving for cows. They dive exactly as you would expect a diving cartoon-cow to dive: with a mix pot-bellyness, elegant diving, and some showy moves. Perfect. And, on top of that, you win a prize too! Amazing. I love this game!
I don't want to ruin the entire game by giving too much away so I won't discuss the scatter bonuses, (there are two), and the doggy spins.  Go and discover the game for yourself; you won't be disappointed.
Max Bet: £18.75
Autoplay: Fairly comprehensive, you can set max losing levels. The only disappointment is that the max spin is 50.
Game Features: There aren't many game features, for example, they don't offer quick spin. But, why would you want to quick spin and miss out on all the fun!
Play'n Go have the best games and Crazy Cows is no exception. If there's a downside to Crazy Cows, it's that it only has 15-lines. However, for the bonus round, the gamble round, and the expanding wilds, it more than makes up for it, and receives the premium position in our "Best Animal Slots" countdown.