If you're familiar with us here at Online Casinos, then you must know that video slots are amongst our favorite online gambling games. There are thousands to choose from, so trust us when we say that there is something for everyone.
However, going through all the video slots and choosing the best ones is not only time-consuming but also overwhelming.
For that reason, we've written a series of articles each focusing on a major theme such as fairy tales, superheroes, Christmas, animal slots, and so on. We spent hours locating, playing, and evaluating slots from each theme, trying to find the most enjoyable of them all, and bring them to you.
In this article, we are introducing the top 5 animal slots. We are sure you will love them as much as we do!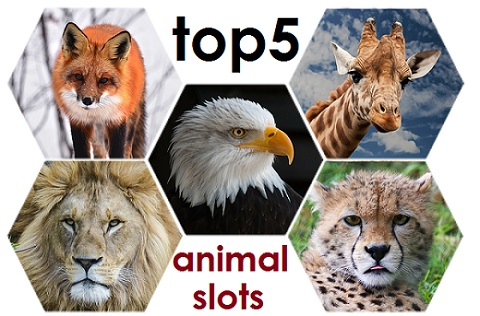 5 Best Animal Slots to Play Today
#5. Wonky WabbitsTM (NetEnt)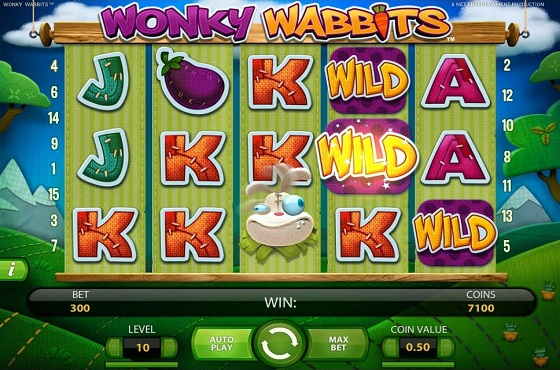 Play Wonky WabbitsTM at Playluck Casino
If you ever played Rayman Raving Rabbids back in the mid-00s, then this 5-reel, 15-line animal slot is going to make you feel nostalgic. Come to think of it, Wonky WabbitsTM is a descendant of Raving Rabbids, but are they equally as fun?
In terms of the exciting animated introductions you find in many games, Wonky Wabbits is a bit of a disappointment. But this animal slot does make up for it with the fantastic graphics and the fun animation that appears with a 'Wild' win.
Talking of 'Wild' wins, there is a twist we haven't encountered before – when a Wild appears on any of the five reels, it automatically triggers another Wild. The second Wild appears in the place that gives you the best win, so you can get some huge wins when the wild/s show up. If two wilds appear, you get two extra wilds, three wilds give you three extras, and so on.
Max bet – £150, which is quite steep but great for high rollers;
Autoplay – Decent with the typical setup you would expect from NetEnt;
Game Features – Quick Spin, ambient sound and sound effects, animation, graphics quality, and keyboard shortcuts.
Because it's a typical slot with only a few bonuses, Wonky WabbitsTM is ranked 5th, and if it wasn't for the Raving Rabbids nostalgia and the "wild" wins, it may not have made it to the Top 5 Online Animal Slots list at all!
#4. Big Bad Wolf (Quickspin)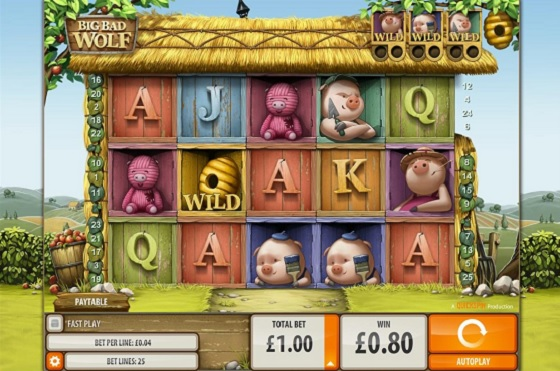 Play Big Bad Wolf at Leo Vegas Casino
This game has the best graphics out of all the games included in the list. Even though they aren't the funniest or the most entertaining, they certainly have an advanced look to them.
Quickspin is a Swedish company, so you also get that "winter wonderland mysteriousness" feel to the game.
This animal slot has a few interesting features:
"Swooping reels" – Instead of spinning, they simply fall;
"Pigs turning Wild" – Your wins can go on and on as the pig symbols become Wild symbols;
"Free Spins Bonus" – This brings the big bad wolf out. Can you guess what he does? He huffs, he puffs, and he blows your house down!
Additionally, this animal slot game features:
Max Bet – £100, which is a decent amount. It's the type of max bet that makes you feel as if you're playing in the big leagues when the high rollers wouldn't think much of it.
Autoplay – You can select up to 1000 spins, and there are advanced options when it comes to the limits of losing and winning. Interestingly enough, there is a replay button as well, so you can choose the same setup and not go through the hassle of setting up your limits again.
Game Features – Big Bad Wolf has "Fast Play," a feature that can create intense gameplay when it's activated.
Because it lacks a decent bonus game, Big Bad Wolf only makes it to 4th place in our Top 5 online animal slots list. Still, it's a great game from a company that hasn't been around all that long.
#3. Tornado Farm Escape (NetEnt)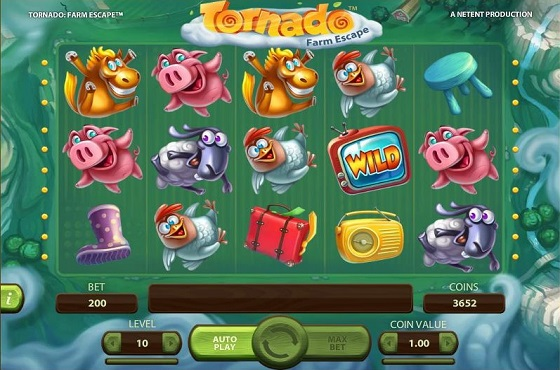 Play Tornado Farm Escape at Playluck Casino
This animal slot has the best introduction – we learn about how the animals got sucked into a tornado. Believe it or not, the animals are quite happy about this turn of events.
Tornado Farm is a 20-line, 5-reel slot game. Its best feature has to be the "Tornado Feature." Initially, two clouds appear on reels 1 and 5. Afterward, comes the tornado. It moves around the screen collecting a specified symbol (e.g. yellow radios) + any wilds. The reels keep spinning and collecting, stopping only when the spin gives no specific symbol or wild (i.e. no radio or Wild symbols appear).
Other highlights include the "Storm Feature" and the usual Wild feature. We'll let you discover those for yourself.
Max Bet – £200, which is great for the high rollers;
Autoplay – There are plenty of settings and you can autoplay up to 1000x.
Game Features – This game has "Quick spin", and several animations, sound, and graphics options.
Because of the entertaining introduction and the "Tornado Feature," Tornado Farm scores slightly higher on the list than another NetEnt game, Wonky WabbitsTM.
#2. Pollen Nation (Microgaming)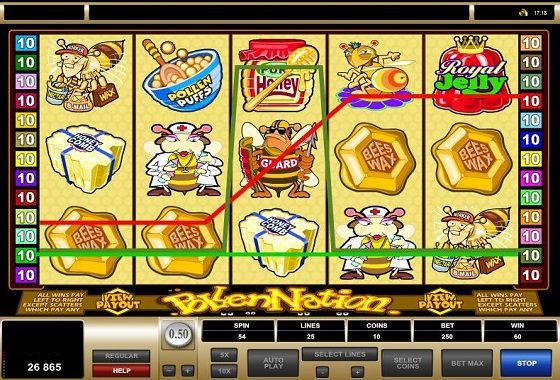 Play Pollen Nation at Leo Vegas Casino
Pollen Nation is a 25-line, 5 reel slot game. Its animations are similar to what you encounter in "Dennis the Menace," "Beano," and such cartoons make their graphics quite childlike.
However, the bonus round makes up for any initial bad impressions. Baybee Bonus is triggered when three "baby bee" symbols appear. You get redirected to a new screen that consists of several hexagons representing the honeycomb. Each hexagon is a prize, and you keep hitting them until a "STOP" appears.
On top of these, this animal slot game offers:
Max Bet – £125, which is not bad;
Autoplay – You reach it by hitting the "Expert" button, which then gives you a list of options. You can choose up to 500 spins.
Game Features – Aside from the autoplay feature, there are no additional game features.
Because there are no scatter bonuses and only a few game features, Pollen Nation ranks second in our list of top animal slots. Nevertheless, the game doesn't get boring and that counts for a lot.
#1. Crazy Cows (Play'n Go)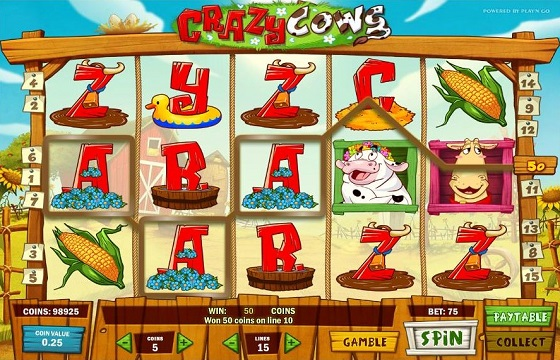 Play Crazy Cows at Leo Vegas Casino
The first thing you notice when you open this game is the fun animation. This may come as no surprise to you if you are familiar with Play'n Go games but you might still not expect the variety of features this game comes with.
Let's start with the Gamble Round. With any win, you can hit the "Gamble" button and attempt to guess either suits or colors of facedown cards. If successful, suits quadruple the prize, and colors double the prize.
Warning: if you play on "Autoplay," you won't have the opportunity to play the Gamble Round.
The next feature is Expanding Wilds. When the wild symbols land on the 3rd reel, it expands vertically to cover all three lines. Expanding Wilds are great since they tend to give out big wins.
Another feature is the Bonus Round. Three "Barn Bonus" symbols trigger the bonus round. A new screen replaces the usual reels. There are three cows and you must select the one you want to compete in the high-dive contest. They dive exactly as you would expect a cartoon cow to dive: with a mix of elegance and some crazy moves.
If this isn't enough, the game offers more features such as scatter bonuses, doggy, and others. We don't want to give away too much, so better give it a chance and discover the features for yourself.
Max Bet – £18.75;
Autoplay – Fairly comprehensive, you can set maximum losing levels. The only disappointment is that the max spin is 50;
Game Features – There aren't many game features. For example, the game doesn't offer a quick spin. But, several other features are just as fun.
Play'n Go has the best slot games and Crazy Cows is no exception. If there's a downside to Crazy Cows, it's that it only has 15-lines. However, with the Bonus Round, the Gamble Round, and the Expanding Wilds, it more than makes up for it and as a result, receives first place in our top 5 online animal slots list.
Top Casinos to Play Animal Slots
Excited to start playing? We don't blame you! Here's where you can find the best animal slots and start playing today:
Popular Animal Slot Games Themes
Animal-themed slots is an umbrella term that involves a variety of creatures.
Games with present-day animals – think rabbits in Wonky Wabbits, piglets and wolves in Big Bad Wolf, or cows in Crazy Cows – are some of our favorites. And what's there not to love? These games are characteristically fun, quirky, and will do a great job to take you back to a time when animals were your best friends.
For the sake of inclusiveness, though, we'd have to mention the similarly great games featuring animals that have gone extinct or that might have never even existed (e.g. mammoths, dragons, and dinosaurs). So, if legendary creatures and a bit of time travel are your things, these animal slots are sure to cater to your likes!
8 Other Great Slot Games to Enjoy
If you would like to play something other than animal slots, then take a look at this list. You never know, maybe one of these other types of slot games will soon become your new favorite!
Related Articles: