Arizona Casinos and Gambling
Gambling activity in Arizona has experienced tremendous growth since a compact between the Native American tribes of Arizona (21 out of 22 Arizona tribes) and the government was agreed in 1993, though not without strong initial resistance from the state governor, including calling in the FBI to seize slots machines.
So like many other states Arizona's main casino activity can be found on Indian reservations.  In fact such is the concern about the monopoly held be the tribes over casino and gambling activities that efforts are underway to legalise all forms of casino gaming for any business that chooses to pursue this lucrative avenue.
A proposition liberalising gambling laws to allow any private citizen or company to operate gambling premises can be found on the November 2013 ballot.   Such moves are obviously being supported by the big guns in the neighbouring gambling state of Nevada who are keenly eyeing any opportunity to expand their casinos into gambling-friendly states.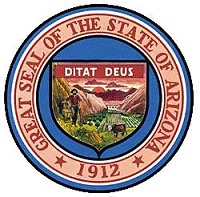 ARIZONA VIDEO AND SLOTS MACHINES
Due to table games such as blackjack, baccarat, poker, roulette and craps being outlawed from 1993 until 2003 the state of Arizona has relied heavily on video slots, video bingo and video versions of most other types of casino game.  If you're a well travelled casino player you will notice the heavy emphasis on electronic gaming when you visit an Arizona casino compared to casinos elsewhere.
There is currently a state cap on the number of slots machines allowed within the state, currently 18,158, and the expansion of tribal casinos means that this limit will soon be put under pressure.  Maximum slots stake is $29 and the top prize must be won at least once every 50,000,000 spins.
The payouts from video and slots machines are not published in Arizona casinos, unlike in some other states.  However the state does have a set minimum legal payout for each particular game, Keno machines must payout at least 75%, slots must pay out at least 80%, while video poker and video blackjack have to payout a minimum of 83%.
ONLINE CASINOS POKER AND BINGO IN ARIZONA
As with other states in the union there is no formal acknowledgement either way in regards to online casinos and gambling, with the technology advancing quicker than the law can keep up with.  The outdated wire act outlawing telephone betting is no longer fit for purpose and more recent regulatory acts only apply to financial transactions between banks and offshore casinos, not to individual players.
Therefore it remains legal for an Arizona resident to participate in online gambling activity at any online casino, online poker room or online bingo hall.  The only issues they will encounter are possible funding difficulties due to the restrictions placed on banks.  This is overcome in most online casinos that accept US players by the use of checks, credit cards or wire transfers directly to and from an offshore company that handles the finances for the online casino.
Depending on whether your game is poker, bingo or casino games we have gathered a shortlist of the best online locations for Arizona residents to play their favourite games online.   The casinos we have selected have a proven track record online for many years and outstanding reputations in the industry.  Beware of other casinos which may have only been around for a few months and often are there solely to take your money and run.
The casinos we feature offer safe, secure financial processing and a variety of superb bonus offers for new players and outstanding rewards for long term VIPs and high rollers.  There are even some that offer no deposit bonuses.  Check them out below.
Arizona has a population of around six and a half million people and is the sixth largest state in the US, with its extremely hot weather many residents and tourists alike have grown fond of taking shelter in the state's casinos which currently number 26.
Many of these are located in the state capital of Phoenix though some are spread out farther afield.  As the legal status of casinos in Arizona was only recently clarified you will find that the casinos are architecturally modern with all mod-cons.  However some stand out from the rest.
#1 Cliff Castle Casino – Consistently voted the best casino in Arizona, Cliff Castle offers every type of gambling activity you'd expect from a top-notch casino and plenty more besides.  At Club 52 you will find 24hr games of poker including such variations as Texas Holdem, Omaha, and 7-card stud with progressive bad-beat jackpots, tournaments and high roller promotions.
As well as casino games such as blackjack and 660 slots machines you can also take time out at the 20-lane bowling alley, or gourmet steakhouse.  Cliff Castle casino is located in Cape Verde which is about twenty miles south of Sedona, en route to many famous Arizona tourist spots.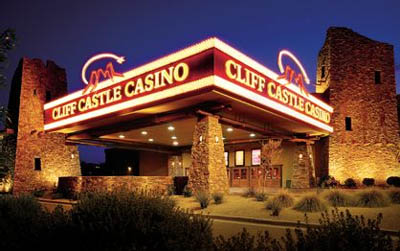 Cliff Castle Casino
#2 Fort McDowell Casino is a real gem of a casino, lying just to the north east of Phoenix.  There is over 150,000 square feet of gaming floor catering to most gambling tastes with 55 poker and table games, live keno and live bingo, over eight hundredelectronic slots and other electronic gaming machines as well as regular poker tournaments and traditional pull-tabs.
Unlike some other Arizona casinos they are good at catering to the very low stakes players with slots games available from 5 cents a spin with no need to play multiple lines.
The entertainment at Fort McDowell is second to none with free live bands and entertainers every weekend and non-stop partying every night at the Lucky 7 Saloon.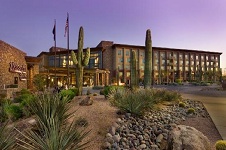 Fort McDowell Casino
#3 Wild Horse Pass Casino is a high-end style casino ideal for businessmen passing through Arizona looking for a bit of class in their casino, though also reasonable enough in stakes to be attractive to tourists and the more casual gamers.  Extra-gaming activities include a golf course and several fine dining restaurants.
Towering over the Gila River Indian Community, the Wild Horse Pass casino will transport you for free to the casino via their shuttle service from all over the Phoenix area.. and give you $10 free bonus play to get you started.
The 100,000 square feet of gaming space comprises 25 state of the art poker tables, 46 blackjack tables with variations including Triple Attack Blackjack, there is also three card poker, pai-gow progressive, bonus let it ride and every kind of electronic casino game from craps to slots.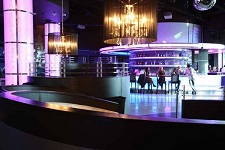 Night club at Wild Horse Pass Casino
Arizona Gaming Regulation
Arizona is very well served by the Arizona Department of Gaming which regulates and supports every aspect of gambling within the state of Arizona.
"We protect the public by providing a comprehensive regulatory structure that supports the continued integrity of gaming operations." – Mark Brnovich, Director
The ADG website features regular news updates and articles on gambling in Arizona.