Have a look in your purse or wallet, the chances are that your bank card has a VISA logo on it. VISA are the largest of the card companies, and like most financial companies these days they offer much more than just one service, and now include digital services and pre-paid cards among their services.
Visa is trusted around the world and used by almost all of the major UK high-street banks.
Can you use Visa in UK licensed casinos?
Yes, you can. And we're going to show you how to do so safely, how to get the best deals out of your visa casinos and how to assess Visa casinos.
We'll cover all that and more in this guide.
Visa Online Casinos UK Sites 2021
Once you find a site you feel you can trust and that has a great design and all the games that you want to play then you can look at its welcome offer.
The good news is that Visa cards usually qualify for welcome offers.
So all you need to do is make a deposit – over the qualifying amount – with your Visa card.
To do this you simply select the option to sign up: you'll be asked a number of questions that may include your address, and will certainly include your date of birth, and then be given an option to pay into your new account. Here you simply input the relevant details from your card – name, expiry date, long card number, and CCV code – and select the amount you'd like to deposit and your account will be credited instantly.
What is a Visa Online Casino?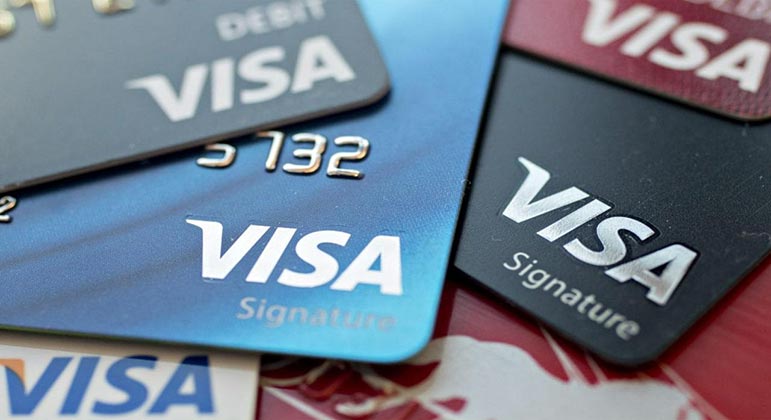 Most casinos want you to know which payment methods they accept. After all, a customer who can't transfer money into a casino account isn't much use to a casino site. So, casino sites list their payment methods on the front page, usually in the centre at the bottom of the front page.
Here you will almost always find the Visa symbol. In fact, we can't recall looking at a site that doesn't actually offer Visa, along with MasterCard, the other big card issuer in the UK.
Payment methods at UK licensed casinos come in five broad categories:
Banking transfers,
Debit cards,
E-Wallets,
Pre-paid cards, and
Mobile payments.
Every site will allow you to transfer money directly from your bank account. This is usually very quick and it is highly secure and trusted. Some sites use online apps like Trustly to handle bank transfers.
Debit cards are how most of us use Visa cards. These cards are directly linked to your bank account. You simply type in the card number, your name, the CCV security code from the back, and the expiration date along with the amount of money you want to spend and the money instantly disappears from your bank account.
E-wallets are a huge sector of the market now and they are how many people spend online. PayPal is the most common of these payment processors, but in the gambling market (because PayPal quit the market for a number of years for legal reasons) there are two other big names, Neteller, and Skrill. These systems are very fast, and work with a password, to transfer money from accounts that you must fill with money. You can also link you e-wallet accounts to bank accounts, which is something you need to be aware of when you're assessing if you're playing safely.
Pre-paid cards work at the coalface very much like debit cards: details are typed in in order to make an instant transfer of cash. But they are not linked to a bank account. Instead, you can buy cards with a set value, or buy cards and fill them with cash from another source, like your bank account or e-wallet. Because you can buy prepaid cards at physical outlets they are one of the surest ways of using cash online and can be used by people who don't have bank accounts. Payments are fast, but you may not be able to receive payments to your prepaid card. Visa now produces prepaid debit cards.
Mobile payments are somewhat problematic in the gambling industry as they are a form of gambling on credit in some cases. They put the cost of purchases onto your next phone bill. Because of this, the payment levels on most mobile payment apps – which include Boku and various pay by phone variants – are very low.
Apple Pay is sort of a mobile payment app, but it is much more like an e-wallet in the way it functions. It is available to Apple customers with iPhones, iPads and so on, and is becoming much more common in the online gambling industry.
Safe UK Visa Online Casinos
The first responsibility of any online casino customer is to keep themselves – their health and their financial health – in good order.
To do this you must find safe Visa sites.
Safety is less of an issue now than it has been in the past for the online casino industry. There is good regulation and it is very rare that you'll see an outright scam these days.
The first thing you must check at any online casino site that you're considering using is that it has an up to date licence from the UK Gambling Commission.
This should be shown on the front page of the site and it is your first and best indication that a site is safe and legitimate. You can click through to the UKGC site to check that it is up to date and to see if the site has any sanctions against it.
Beyond this, you should also check that the site is of good quality and has the safety and encryption facilities that you need to see before you start handing your banking details over.
It is our view that it is probably better for customers to use a small number of online casino sites, and if possible just one, and to use a good quality site that offers a long-term attraction rather than shopping around every time you see a new offer.
Visa Use at UK Online Casinos
You should also make sure that you understand how the payment method that you want to use is going to operate at the site you're interested in.
As casino sites know how important payment methods are to customers most of them are willing to give you a lot of information about how they operate in this area before you have signed up.
Have a look at the FAQ page or even click on help to get a guide to the casino site's operation.
You should find a section on payment methods, or if the site is being annoying, you may find separate guides to deposits and withdrawals.
Here, you can check what sort of service you can expect from your card.
The site should tell you: how long deposits take with each payment method, whether there are any charges incurred for making deposits, how long withdrawals take to process with each payment method, and whether there are any charges involved. There should also be a minimum and maximum deposit and withdrawal amounts.
The good news for Visa users at UK online casino sites is that payments are almost always made instantly and there are almost always no charges associated with using Visa debits cards at UK casino sites. Visa cards are trusted across the world so the limits on payments are usually the highest too.
Playing Safely with Visa at UK Online Casinos
We've mentioned finding safe sites but it's also important to keep yourself safe when you use UK casino sites.
This means cybersecurity to keep your identity and payment methods out of the hands of bad guys, and it means safe gambling, so you don't fall prey to addiction or get into financial trouble.
Cybersecurity means keeping your devices up to date and having all the right anti-virus software installed. It also means having a good understanding of how to stay safe online, including how to set good passwords, and using good behaviours like logging out of accounts you're not using, not using shared computers and not using shared wife networks for making online casino payments.
Your own safety is more complex.
Most online casino customers enjoy their play and never get into any trouble with online gambling addiction. However, it is a danger, and you need to know how to spot the dangers and how to use the tools that are provided to you to keep yourself safe.
A safe site is the first step, and as a licensed site, the site you've picked will have some information on safe gambling. You should take the time to read and understand it.
A Visa card is essentially a key to your bank account. While it isn't gambling on credit – which is now illegal in the UK – it is possible to spend beyond overdraft limits or to run up debts with a debit card with some bank accounts.
Tools that limit your spending are a great help. Deposit limits are used by all sites, but you can go beyond this and set your own deposit limits at lower levels. Sites should also allow you to set limits on how long you spend playing and will allow you to enforce breaks or to exclude yourself from a site for a period of time. Services provided by the industry allow you to exclude from all signed-up sites.
You need to use these tools if they are to have any use for you of course, and that means that you need to spot the signs that you might be developing gambling problems – all made more problematic by the well-documented role of denial in addiction.
Keep an eye on your feelings, and if you find you are playing online slots or gambling games in order to deal with difficult feelings or to avoid them or difficult real-life situations then this should be considered a danger sign.
If you keep your gambling secret from those you know and love then that is another bad sign.
The industry's advice is a blanket: When the fun stops, stop, and that's a good starting point. You should be gambling for fun, not in the expectation of making money. A quick look at the balance sheets of the UK's gambling companies, which routinely make hundreds of millions of pounds a year in profit (all gambling profit is lost bets) should show you that the industry will always come out on top.
You need to follow the rules yourself too. Precautions like age limits and self-exclusions are frustrating at times, as are the strict rules on proving your identity before receiving pay-outs. However, these mechanisms are there to keep you and the industry safe, including from organised crime and money laundering. Trying to get around industry rules is one of the quickest ways to get into trouble.
Advantages of Visa Online Casinos
The fact that Visa debit cards are linked to your bank account may be a good way to keep a lid on your spending, but you'll need to take those steps yourself and be aware that overdrafts and other bank borrowings might be fuelling bad behaviours.
Visa cards are super-fast with payments made pretty much instantly.
Visa are trusted and because they're linked to your bank you may be able to get compensation if you are ripped off online. Good safety procedures that stop this ever happening are your best protection of course.
Visa cards are accepted for almost all welcome offers and are accepted at almost all UK online casino sites. You won't have to shop around to find somewhere to take your money.
Visa prepaid cards can be a way to limit your spending as you cannot use your bank account to run up debts with them. However, prepaid cards are less widely accepted and may come with limits on payments that do not apply to Visa debit cards.
Enjoy Visa at your favourite online casino site today, but do it safely!