The great thing about Play 'n Go slots is that you'll hardly find two that are alike. That goes for themes, appearance, sounds, and features.
There are no copy-paste executions painted in different colors; these guys clearly put a lot of effort into delivering a completely unique product with each of their launches.
Check out our selection of the 8 best Play 'n Go Slots below and you'll see exactly what we're talking about.
8 Best Play 'n Go Slots Games in 2022
#8. Cops 'n' Robbers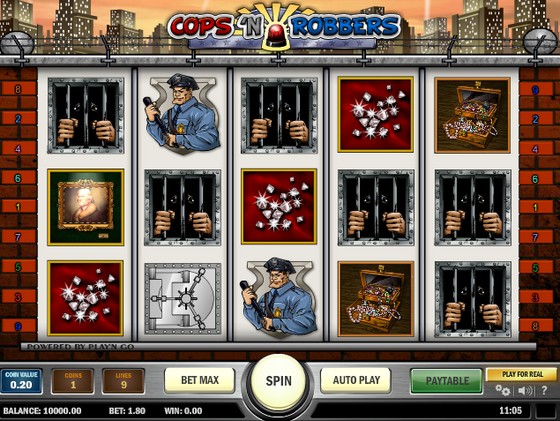 Cops 'n' Robbers have made it to the list primarily due to an entertaining bonus round – a free spins affair delivered in an unusual way.
You're basically a criminal on the run, chased by the police. A rearview mirror will appear on top of the screen and your job will be to drive the getaway car while reels spin for free. Each time you see a "roadblock" notice, you'll have a choice of turning left or right.
Picking correctly allows you to keep driving and accumulating wins until you get busted and end the bonus round. Prove you're a skillful driver by managing to get away and your prize will get doubled.
This exciting chase takes place at Mr. Play.
#7. Pimped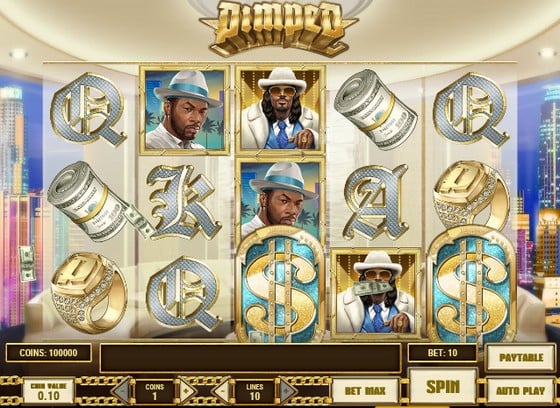 Who doesn't love a fresh theme? So here we go – Pimped!
This hip-hop/rap affair doesn't offer tons of features, but what's there has such a winning potential that you'll surely want to give it a try.
The wild icon is naturally included, but what you'll want to see are Scatters activating 5 free spins with a guaranteed win, plus 15 more to be claimed on top. The potential reward? A staggering 1 million coin win!
If you fancy getting pimped, turn your speakers on and visit Videoslots.
#6. 7 Sins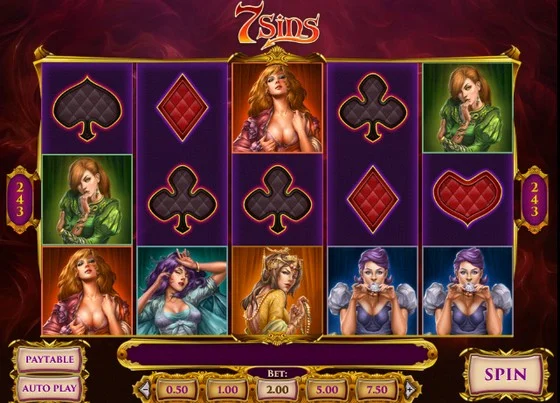 Who knew sinning could be so rewarding? Play 'n Go, that's who! They've made this happen by including both a regular and double Wild, the latter acting as two symbols and making 7-of-a-kind wins possible.
During free games only one of the seven sin symbols will be in play, appearing extended on reel 3, and each consecutive win will increase the multiplier up to x7. Two Scatters launch the Second Chance feature offering you to pick a sin (Gluttony, Lust, Greed, Laziness, Pride, Wrath or Envy), and land yourself the third Scatter necessary to start spinning for free, or an instant win of up to 15x your total bet.
Feeling sinful? Then go play at Mr. Green.
#5. Hugo

This cute troll, born in Denmark in 1990, has made countless appearances on TV, in magazines, and video games, before making it to this Play 'n Go slot.
The wild Hugo doubles all wins, while the evil witch Afskylia acts as Scatter and awards free spins. You'll be given a choice between 5, 10, and 15 free games with varying values of Hugo's one and only – Hugolina.
Treasure chests activate the bonus round, in which you'll need to make your way through a gold mine to find the treasure chamber and collect a generous booty. Stay clear of Don Croco, though, this nasty crocodile will promptly kick you out.
Hugo waits for you at Videoslots.
#4. Eye of the Kraken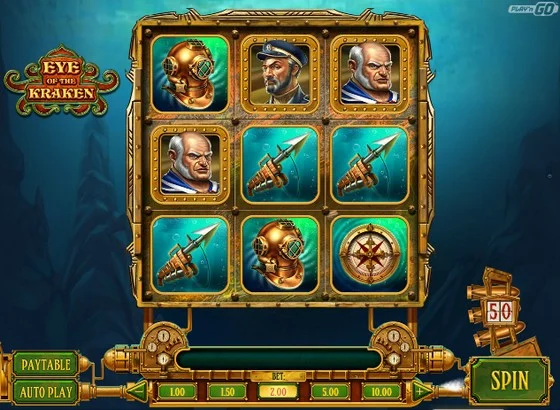 This one is probably one of the best underwater slots ever created – it looks and sounds great while offering interesting features and substantial prizes.
During the base game, Wild Kraken tentacles may appear out of nowhere to replace one or more symbols and transform a poor turnout into a win. Having collected 50 torpedoes, you'll get to fight the Kraken by targeting its tentacles and making him release the treasure worth up to 500x your bet. Diving helmets will send you into Dive Mode to find gold through Scatters while spinning for free.
This lucrative underwater adventure can be experienced at Mr. Green.
#3. Wild North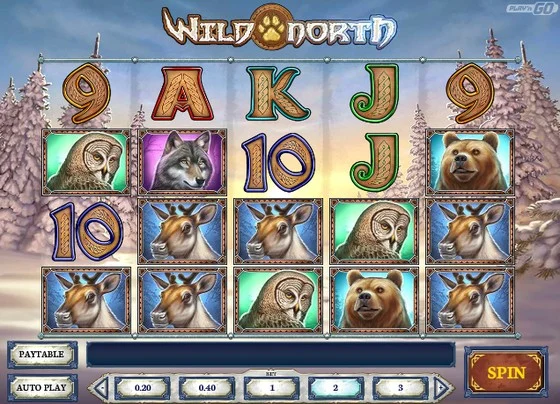 Once again, Play 'n Go offers an engaging bonus round – the Northern Lights bonus game with 7 exciting features to be won on the Bonus Feature Wheel.
The Great Wilderness launches 3 free games with 4×4 mega symbols, the Wild Lynx lets you spin for free with one or two completely Wild reels, while the Running Reindeer provides only 1 free game but will stack deer icons on reels 2 to 4.
The Savage Bear feature offers a re-spin and a multiplier of up to x30, the Wolf Pack adds 2×2 Wild wolves, and the Eyes of the Owl gets 2×2 Owl icons sticking to the reels until you win. Finally, there is the Wild North Explorer feature, which will display 20 tiles to click and reveal cash prizes and bonus features.
Feel free to go wild at Videoslots.
#2. Gemix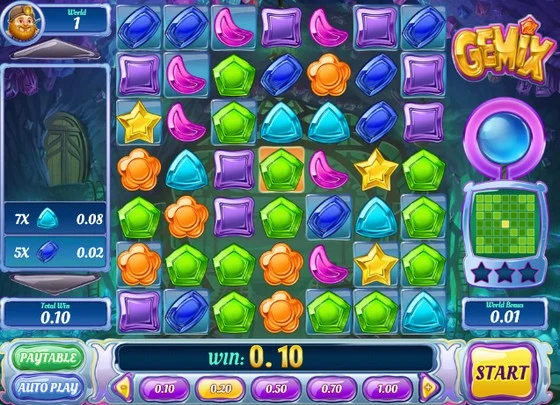 Colorful stones populate a 7×7 reel area, awarding wins whenever you get 5+ matching symbols touching horizontally and/or vertically.
By winning on indicated positions, you'll be clearing patterns and leveling up through different worlds. Why would you want to? Because clearing a world awards the World Bonus, duh!
Each world comes with its unique Wild icon appearing during non-winning rounds: in one, you can get up to 10 Wilds added to the reels, in the other Wilds will spread from edge to edge, and the third provides generous help with up to 8 sticky Wild icons.
The crystal ball on the right charges with each consecutive win and is activated after winning on 20 symbols; it triggers either Nova Blast, Crystal Light Beam, or Chain Lightning, each performing a symbol transformation of a kind.
This lovely Play 'n Go game packed with action can be played at Regent Casino.
#1 Cloud Quest
Cloud Quest is an impressively executed superhero story with unique features.
Three or more matching symbols need to connect in some way to win, after which they'll be removed to make space for new ones. When any 3 of the top paying symbols create a winning combo, the middle one will turn Wild.
The power stone fills a power meter and offers a chance to trigger a random Super Power – either x5 multiplier, sticky Wilds which remain on the reels until delivering an all-Wild winning combination, all symbols paying as Scatters, or all winning combos creating Wild icons.
Clearing a row to reveal bonus letters launches the bonus round with free spins playing on a 3-reel, 1-payline slot, and extra games won each time you defeat a monster. Defeating your opponents in the bonus round allows you to level up and potentially become the greatest hero of them all.
This wonderful, dramatic Play 'n Go slot is available at Mr. Green.
If you want to explore online UK casinos, check out our list of the top 20 UK online casinos!
4 Best Online Casinos to Play Play 'n Go Slots
Looking for some high stakes thrills? Check out our list of high roller casinos!
What Are Play 'n Go Slots?
Play 'n Go is an independent software and game developer from Sweden. They provide games to some of the largest casinos in the world and are recognized for their high-quality products.
Play n' Go is especially well known for its slot games. Not only do they manage to pump out games regularly so you never run out of new games to play, but they manage to do so without producing stale reused concepts.
Instead, Play n' Go slots tend to be super fresh, innovative, and loads of fun to play!
If you enjoy Play n' Go games, make sure you also check out our favorite Yggdrasil slots too!
Can I Play Play 'n Go Slots on Mobile?
One of the best features of Play 'n Go slots is that you don't have to be sitting at home to enjoy them.
With the rapid advancement of technology, people expect mobile options for almost all websites, online tools, and apps. This also includes many casino games. However, not all developers are putting out mobile-friendly games.
Play n' Go is one of the biggest developers that consistently produces slot games you can enjoy wherever you are. Whether you're taking a break at the office or traveling, you can enjoy many Play n' Go games on the go!
Related: