Super heroes come and go, they'll rise to fame by their deeds and heroics, but can just as quickly fall from grace. Marvel, for the past couple of years, has dominated the online superhero slot world. Nearing the end of 2016, let's see if DC has managed to challenge the Marvel Universe. We have a lot of new slots that came out this year, but, as always, we start with number 10 in our best superhero slots countdown.
---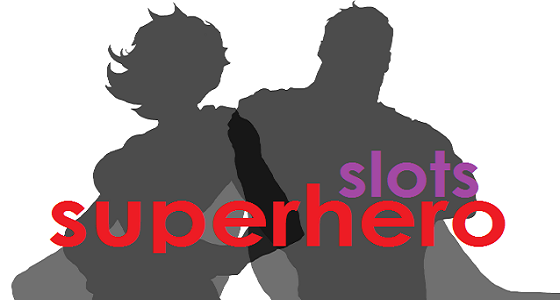 ---
Number 10 – Superman by NYX Gaming Group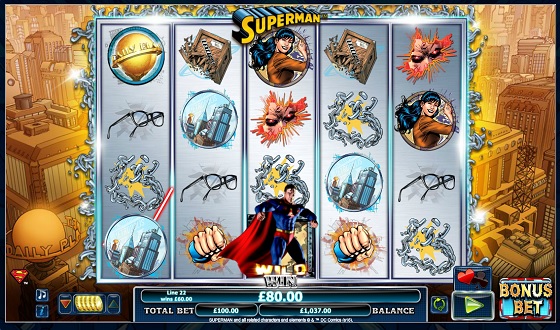 Crisp graphics for a DC game, and why it just about scrapes into the top 10. A first for DC since Playtech's Marvel games have been traditionally been the favourite among slots fans, but in 2016…their games are starting to look a little dated. I love the sound effects for this Superman, some slots can be downright annoying when it comes to the soundtrack, but I enjoyed the Superman's tunes. You can play Superman at Mr Green casino.
---
Number 9 – Iron Man by Playtech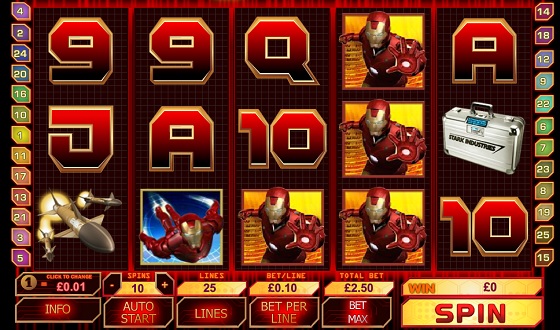 The first Iron Man was a treat when it made the transition from the silver screen to online slots; however, the old tin-can is starting to show its age. Graphics are a little sluggish, and the use of movie clips now seems somewhat clichéd. I was hoping that this year Playtech would continue to unfurl the Marvel Universe in their slot games and tackle some newer offerings like Guardian of the Galaxy, but so far nothing. You can play Iron Man at William Hill casino.
---
Number 8 – Superman Last Son of Krypton by NYX gaming Group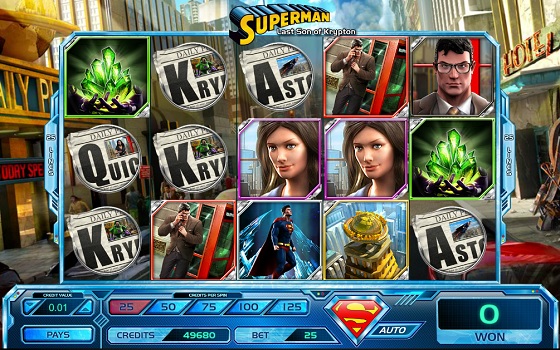 Fun, much better than the older Superman slot game. You can really see that this slot is on another level with the superb high-quality audio and graphics. The battles between Superman and Lex Luther are a treat to the eyes, not to mention giving a good kick of nostalgia. With Marvel's games aging fast, the newer DC slots are starting to hold up; however I have to say, for a more modern game, I was expecting a little more. You can play Superman Lost Son of Krypton at Mr Green casino.
---
Number 7 – Captain America by Playtech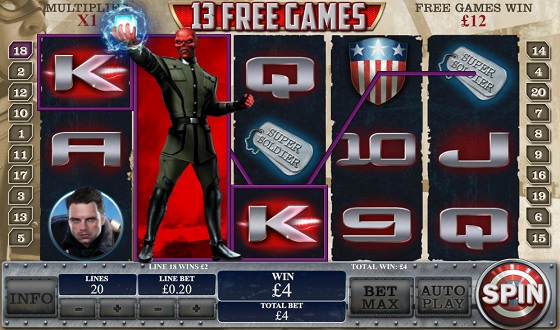 Very smooth animation, it doesn't look like stop-motions like some of the other superhero slots on this list. The villain battles, a theme that a lot of Marvel slots develop, is very much at the fore here such as the epic battle with the Red Skull for all those juicy wild points. This slot is highly recommended if you like the emphasis on that 'good versus evil' backdrop with your super hero slots. You can play Iron Man at William Hill casino.
---
Number 6 – Iron Man 3 by Playtech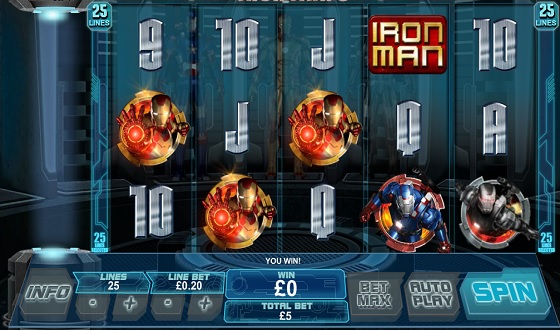 This was one of the toughest slots to judge. If they hadn't made an Iron Man 2 slot, this game would feel a lot better. But, they did make an Iron Man 2 slot. Iron Man 3 feels like a downgrade in all areas: sound, graphics, bonus rounds, etc. Don't get me wrong, it's a fun slot and deserves this spot, but I wish Playtech would've done more and been more creative. You can play Iron Man 3 at William Hill casino.
---
Number 5 – Batman by NYX gaming group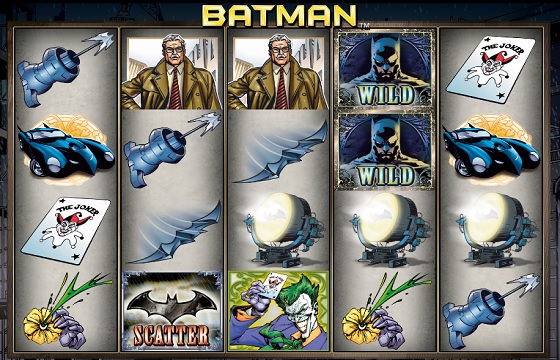 Now entering the top 5, Batman is one of the older slots, but it retains its charm. Unlike the Marvel slots which have been mimicking Marvel's movies, DC stuck to its guns with their focus on comics and it shows here. From Batman's battarang whacking evil doers, to fighting the diabolic joker, it's all here for the Batman fan. The Descent Into Madness feature is typically authentic while the 100x reward for capturing the Joker and the stacked sticky wilds make for some huge wins. You can play Thor at Mr Green casino.
---
Number 4 – Thor by Playtech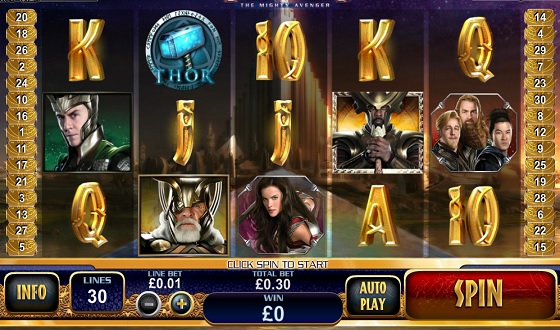 You want to wield the hammer of Thor and win? Brimming with special events from that trickster Loki to Thor's hammer, the big highlight here that easily allows a thunder god to take the number 4 spot is triggering the Rainbow Bridge event. Most other slots have a similar grand event, but out of them all, Thor's main event is a treat to watch and well worth the money you have sunk into the game. Give it a spin, it will bring a smile to your face I promise you. You can play Thor at William Hill casino.
---
Number 3 – Justice League by NYX gaming group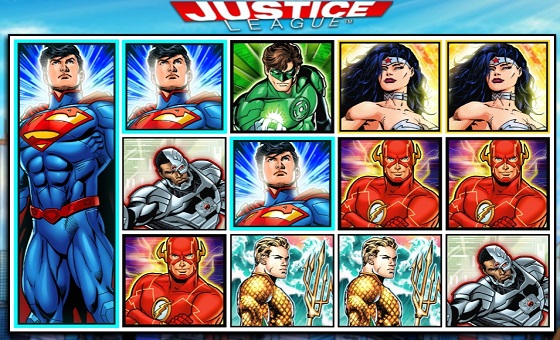 A new entry this year, and it shows. Great graphics, many special events, and an entire super hero roster not seen since the X-Men slot game. Unfortunately, that's where this game ends. It managed to put a smile on my face while I played, but as a newer title, I was hoping for more. The best super hero themed slots have a story to tell, a villain to fight, or friends to rescue. When I win a slot game, I want to feel that I am fighting the forces of evil or saving the day, but you won't find that here. Stacked wild respins and the Attack on Metropolis bonus game go some way to making you feel like a hero though. You can play Justice League at Leo Vegas casino.
---
Number 2 – Iron Man 2 by Playtech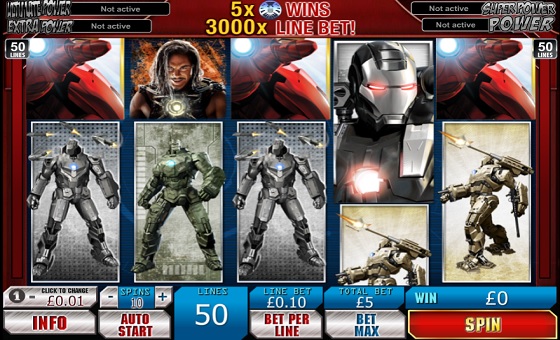 A gem that is oddly getting better with age. The second you see the the slot's screen in front of you, you'll immediately know that his is on another level entirely. The monstrous stacked reels display all the great heroes and villains from the movie while the sound effects are ominous and deeply atmospheric. Hitting the spin button creates a unique mosaic of spinning icons not found in any other online slot. And that's just the tip of the iceberg. With great versus events, great art, and awesome sound, you're going to want to hit that spin button again and again for the thrill of it. You can play Iron Man 2 at William Hill casino.
---
Number 1 – Super Heroes by Yggdrasil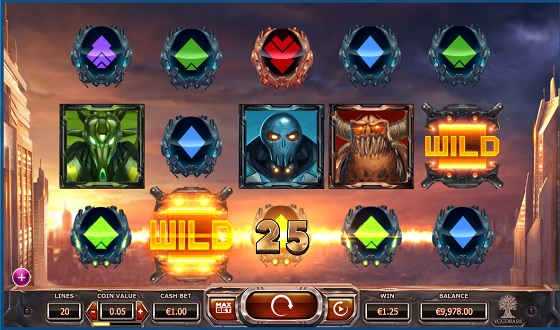 Released on October 24th of this year, this slot is a late entry, but, wow, what an entry.  After playing this, it is downright hard to go back to any other game on this list. Honestly, this game deserves to be on a list of its own. This is the standard that all other super hero slots need to be in the coming year. This game doesn't have any licensed characters and that is a first for this list. This game is such a surprise, I implore you to stop reading and give it a try. But be warned, you're not going to be able to play your favorite super hero slots again. You can play Super Heroes at Mr Green casino.
If you want to explore more casinos, check out our list of the top 20 UK online casinos!