The Biggest Casino Winners and Luckiest Wins of All Time
– Feel-good tales from the world of high rolling and jackpot winning players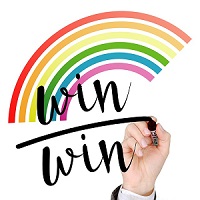 BIGGEST CASINO WINNERS
Ashley Revell
Londoner Ashley Revell made the gamble of his life when he sold all his earthly possessions including his house and nearly all his clothes and headed to Las Vegas with $135,000.  He placed every penny on red on the roulette table and the ball duly landed in 7 red.  He then left the casino and headed home with $270,000, it was his first and last casino bet. Ashley inspired Simon Cowell to create the primetime tv show Red or Black, based on roulette.
Elmer Sherwin
The Megabucks progressive slot has the highest progressive slot jackpot in the world, causing mania when it starts heading above the $30m jackpot mark.  It's only been won a few dozen times since launching in 1989 and the odds of hitting the jackpot are around one in fifty million.  So how lucky must 92-year-old Elmer Sherwin have been to win it twice?  He won the inaugural Megabucks progressive jackpot in 1989 for $5m and won it again in 2005 for $21m.  The odds of winning the Megabucks progressive jackpot twice are one in 2,500,000,000,000,000 (two and a half quadrillion).
Mike Ashley
Newcastle United football club owner Mike Ashley spent an extraordinary 15 minutes on roulette in the Fifty London casino in Mayfair in 2008.  Mike made a bet called a 'complete' whereby you bet on an exact number, colour, odd or even, and high or low.  He chose his lucky number 17 and the complete bet came in netting him a cool £1.5m whereafter he thanked the croupier very much and left the casino to applause from thrilled spectators.
Peter from Norway
Sometimes ignorance can really turn into bliss.  The biggest ever online progressive jackpot was won by a Norwegian player known only as Peter at Betsson Casino on the Arabian Nights slot machine. He had no idea how much he had won and had to ask tech support what €11.7 million was in Norwegian Crowns! It certainly seemed to sink in when he was told it was over 38 million in his local currency as he said he started 'trembling with excitement'.
Archie Karas
Archie Karas has to go down as the most extraordinary casino gambler of all time.  He drove from his home in LA to Las Vegas with just $50 in his pocket and after hustling a few games of poker had built up $10,000 to begin his assault on the Vegas strip.  Playing poker, baccarat and dice he quickly built up a $40m fortune, terrorising fellow poker players and casinos alike with his huge stakes and ludicrously ballsy bets.  It's the archetypal fairytale Vegas story, which of course meant he ended up losing it all which is why he also makes an appearance on our biggest losers page.
 Charlie Wells
While Karas used a combination of skill, cunning and luck, Charlie Wells 'the man who broke the bank at Monte Carlo' (song available below) made his fortune from sheer luck – he stuck rigidly to the roulette table for eleven hours straight, forcing the casino to refill the chip stock no less than twelve times.  He turned $4000 into $1,000,000 which was an astronomical amount in 1892.  The most incredible part of his winning streak came when he bet on the five spots and hit it five consecutive times.
The Man Who Broke The Bank At Monte Carlo by Charles Coborn
Gonzalo Garcia-Pelayo
Gonzalo Garcia-Pelayo was a rather unsuccessful record producer with a passion for roulette and mathematics.  He began studying roulette wheels in Madrid casinos looking for any sign of roulette wheel bias before finally uncovering a suspect wheel at the Casino de Madrid.  On his first night he tested his system and won €600, he knew he was onto a winner. Figuring that he'd turned the house edge of 5% into a player edge of 15%, he went on to win over $1m in that casino before they banned him, with no reason given!
Gonzalo contested his ban in court and the judge sided with him, saying it is up to the casino to ensure that their wheels are not biased.  Gonzalo still plays there to this day.
Don Johnson
Atlantic City casinos have been struggling since the recession and the influence of online casinos.  Several Atlantic casinos have tried to reverse the tide by opening up higher and higher stakes games to high rolling casino players. This tactic backfired spectacularly in April 2011 when one player, Don Johnson of Pennsylvania, hit Tropicana casino for $5.8m, the Borgata Hotel casino for $4.2m and Casino & Spa for $5m, all on blackjack.
In early June 2011, the Tropicana's tactics were once again turned against them as an anonymous player betting $100,000 a throw on the craps table took them for $5.3m in just a few days, leaving a $150,000 tip to the croupier.