Bingo Hall Review
Bingo Hall is an online bingo platform which has been around since the beginning of 2002, certainly long enough to demonstrate its qualities, or lack thereof. As they are serving millions of players daily, we can assume the promise of "a premium gaming experience for bingo enthusiasts all over the world" has been kept. Online bingo games, tournaments and prizes are delivered with the motto of "Home Sweet Hall", new members welcomed with gifts and treats for a starter boost, and loyal gamers awarded via numerous promotions and VIP levels. Bingo Hall is owned and operated by Digital Entertainment Services, licensed by the Curacao Gaming Commissioner and proudly displays Norton, McAfee and Gaming Labs seals of approval.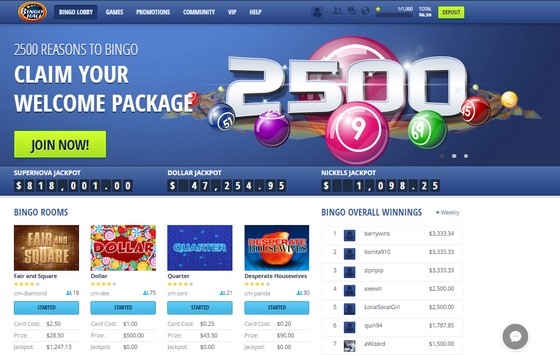 win, win, win
First Impressions: More Than Just Bingo
Before I actually visited Bingo Hall, I expected to find a whole lot of Bingo games and not much else. But as soon as I enter the lobby, it's clear there's plenty more to be found here. The site itself is of a pretty basic design, tempting me to join with multiple promotional offers, current jackpot values and list of wins claimed by other lucky buggers – I guess with the aim of making me think: "Wow, this could be me!" As I'm trying to count how many different jackpots are there to be won, some interesting names catch my eye. Desperate Housewife Jackpot, what could that be about?
Menu at the bottom is pretty packed with links to just about everywhere, including something called a Virtual Tour Guide. I launch the guide and love what I see. It gives me an overview of everything I'll need and can enjoy at Bingo Hall, in a simple, friendly way. It also shows me the amount of effort the Casino puts in building the community, connecting players to share their experiences and more. Apparently I'll be able to read game reviews and see what other gamers though about playing on this site. Now, if that doesn't add credibility, I don't know what does.
Welcome Bonus: 2,500 Reasons to Bingo?
First of all, you'll get $25 free as soon as you register, no deposit required. Promotional banner informs me there is also 2,500% welcome bonus to be delivered over my first five deposits. I learn only after registering that in fact the welcome package awards first 3 deposits: 500% on the first, 700% on the second and 816% on the third, a total of 2016% (as it's still year 2016). Standard wagering requirement is 3 times the deposit and bonus amount (yes, THREE!), irrespective of bonus type. Bingo games will contribute 100%, Pull Tabs 50%, and all other games 12%.
More Promotions Than You Can Count
You will literary get lost when you see the Casino's Promotions section. On-going offers, seasonal promotions, daily match bonuses, specific bingo rooms treats… It actually looks a bit much, at first sight. Didn't imagine I'd ever say there are too many promotions, but there you go.
A fantastic 400% bonus is offered on Mondays and you can claim it if you deposit $100 or more. A bit too high for you? No worries, if you add less than $100 to your account, you can still collect 250% match bonus. Nice! These kind of offers are available every single day of the week, and if you thought they can't possibly get bigger, you're wrong. On Saturdays, Bingo Hall gives away as much as 800% bonus!
up to 800% on daily basis
Morning Madness is hosted every day in the Afterhours, Dollar and Desperate Housewives Room. You'll get to play 2 hours of special speed games with prizes on every 5th call, and if you buy 12 cards, you'll get 12 more for free. Mid-Day Specials are hosted every day in the Dollar and Quarter Rooms, with $500 and $100 fixed pots respectively.
The Afterhours Raffle takes place daily and every deposit you make between 2 am and 7 am EST earns you 1 Raffle ticket. The prize? A generous $1,000 bonus. If at any time you get lucky while playing, you can easily boost your win. All you need to do is take a screenshot of your payout, share it on the Bingo Hall Facebook page and you'll get 10% of your winnings credited into your account.
Every Saturday, between 9 pm and 3 am EST, you can play in Million Dollar Party Room and compete for a share in a $2,000,000 prize pool. A Full Moon Party pattern comes with a fixed prize of $10,000 on all calls, 2 Coveralls per hour with $15,000 prize on first 50 calls, and 50 BBs per player.
What is BBs, you ask? BBs stand for Bingo Bonus/Bucks, a free value which you'll be awarded based on your deposits as a prize for playing Chat Games as well as for other Promotions. In order to receive BBs, you'll have to purchase and play a certain quantity of cards specific to each room. For example, in Nickels Room, you'll need to buy 10 cards at the cost of $0.05 per card, in Supernova Room 2 cards at $3 per card, and so on. The limits of BBS is a percentage of your last deposit based on your current loyalty level.
The VIP loyalty program features 11 (!) levels and delivers perks such as higher payout limits and payout frequency. It also increases the maximum percentage of Chat games BBs you can receive, based on your last deposit. The higher you go, the more you'll also get to benefit from special birthday bonuses, Bingo Shop access, entry to the Jet Set Room and VIP Tournaments.
Deposits & Withdrawals: Another Reason to Collect Loyalty Points
The list of available deposit methods is pretty standard. You are able to choose between Visa, MasterCard credit, debit or prepaid card, Skrill, Neteller and Eco. The minimum amount you can deposit is $25.
Depending on which method you use, it will take between 24 hours to 12 business days for the funds to reach your account. The minimum payout amount is $50 for all banking options, except Papercheck which carries a minimum of $300 and Bank Wire with a minimum of $500. The maximum you'll be able to withdraw will depend on the your VIP level and ranges from $500 monthly for Basic level members and up to $5,000 weekly if you're on the top Champion and Master levels.
Play Bingo Games and More
If you want to try the games for free, you can use $25 Sign-up Bonus, as I did. Alternatively, there is the Free Room which welcomes both players who have not yet made a deposit as well as those who've got less than $5 in their balance. To play Bingo games, first you'll need to choose one of the rooms available and click on it to get your bingo cards displayed. Next select the ones you want to purchase or let the system pick a number of cards for you.
Bingo Games
There are 7 Bingo Rooms featured: Desperate Housewives, Fair and Square, Quarter, Nickels, Crazy, Dollar and Fusion Room. Additional rooms are active during specified hours, such as the Taboo Room where, unlike in others, there are no boundaries to talking dirty, it's actually encouraged!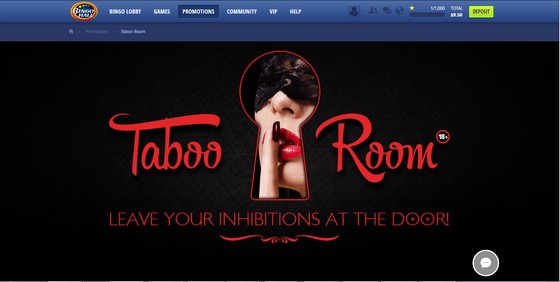 dare to enter the Taboo Room?
Chat window is active provided there is a chat moderator present in the room and you can tell players already know each other well enough, judging by the comments they're exchanging. Some of the rooms provide a jackpot and all of them feature a prize awarded for a specific winning numbers pattern. Numbers are called until someone hits Bingo, after which name(s) of the winner(s) are displayed and a new round starts. As you play, each of the selected cards will show how many more numbers to go before you hit the specified pattern, and chosen cards will start changing colours when you come down to 3 remaining. If you though Bingo was boring, give it a try and feel the rush of excitement as your card turns green.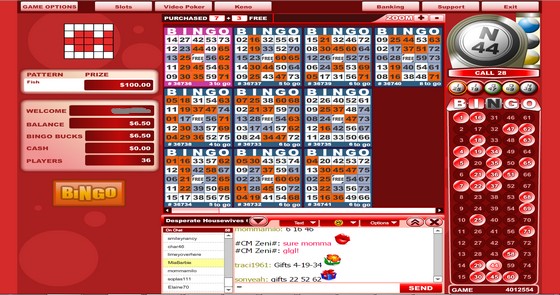 match the pattern to win
Classic and Video Slots
To add variety, Bingo Hall also features about 100 classic and video slots, including games by my personal favourite BetSoft. If you've not tried them before, spin the reels of A Christmas Carol, A Night in Paris or Birds! and check out their fantastic graphics and animations, as well as special features superbly integrated into the theme. Other providers include Pragmatic Play, Parlay Games and Rival. I don't see any of Rival's iSlots, though, which is a shame.
Jackpot Games
You can go after the big win either via one of the Bingo rooms or by playing a progressive slot game. As far as I can see, the biggest Bingo jackpot currently featured is just above $800,000 but it's tied to the Supernova Room which is only available from 6 pm to midnight EST. As far as progressive slots go, there is no special section and you'll have to hunt them down by name. To help you out, here are a few: Bingo Slot, Diablo 13, Grave Grabbers, Transylvania and Sweet Surprise.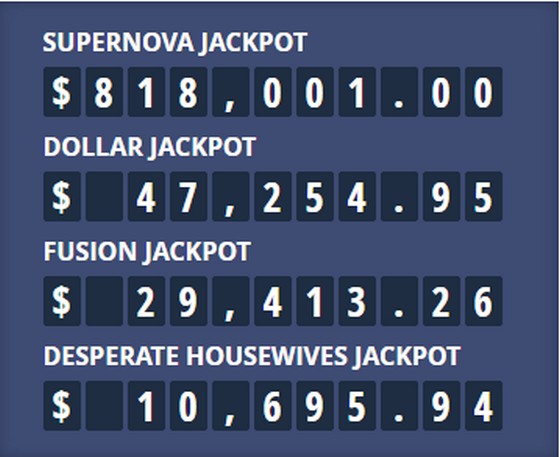 close to $1 million up for grabs in supernova room
Live Games
Only live games here are Bingo games.
Table Games
Sorry, no classic table games are available at Bingo Hall.
Video Poker
Clearly, Video Pokers are just a side act but this section still offers several popular games such as Deuces Wild, Deuces and Jokers, Pyramid Jacks or Better and a few more. Not tons of action, but a welcome break from staring at Bingo numbers.
Other Games
When we talk about other games, these are almost exclusively Pull Tabs. Now that's something you don't often see. In fact, what little there is, is almost always on Bingo sites. Similarly to its popular cousin, the scratch card, the aim is to reveal matching symbols in a row to win prizes. Sometimes they will come with a wild symbol and a multiplier. There are about 30 on display in Bingo Hall, in multiple denominations ranging from $0.25 to $1. All you have to do is peel back the tabs and discover what is hidden underneath. Different combinations will deliver different payouts.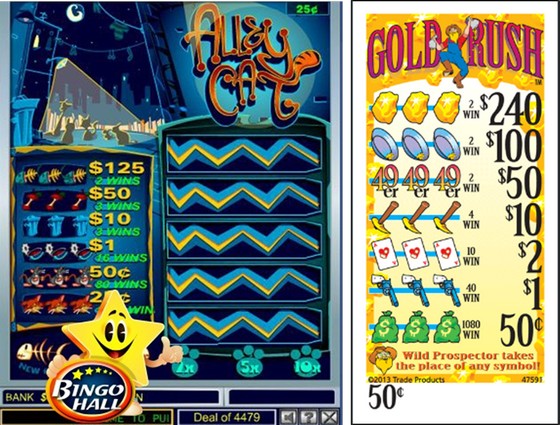 scratch and win
Chat With Customer Support Team 24/7
As I sign up, a chat window opens and I'm welcomed by a member of the customer support team. Imagine my surprise when I recognise the image of a person who's so proactively approaching me. Unfortunately, when we chatted on another online casino site, it felt as if we were speaking in different languages (which was not the case). Still, as always, I appreciate the casino offering help before I even ask a question. Just so you know, support is available 24/7 via live chat (evidently). I don't see a phone number or even an mail address I can use as an alternative. Personally I don't mind, though email is a good option if you want to keep record of all your direct communications.
Desktop or Mobile
Whichever you choose, you won't go wrong. Bingo Hall has a responsive website which looks really good on my Android tablet. No app download is necessary and the selection of games available on the go is more than good. In fact, all slots and Bingo rooms I've seen on my laptop are also accessible via a mobile device. Thumbs up for that!
Conclusion
It seems Bingo is more than picking a ticket and waiting for your numbers to be called. It's also about socialising and Bingo Hall does a great job in facilitating bonding between its players. Standard Bingo rooms are, well, pretty standard, but the Casino also provides a couple of specials which make it stand out, such as the spicy Taboo Room. And, of course, let's not forget the abundance of promotions offered on daily basis. The only problem you'll have is keeping up! One major objection I have is withdrawal limits, mainly due to a high $50 minimum. I'm also not too crazy about maximum limits determined by members' loyalty level, but I guess it's a good way to keep players coming back. If you don't mind these, it's likely you'll fall in love with Bingo Hall faster than you can say BINGO.
Visit Bingo Hall