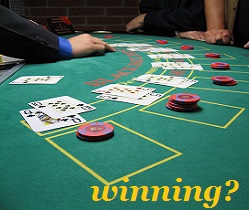 The World's Biggest Blackjack Winners
With films like "21" (2008), it's a well-publicised fact that you can win big at the blackjack tables…or at least you could, before the casinos learned about card-counting techniques. Nowadays, if they think you're card-counting, they'll ban you faster than you can say "Hit Me!" (N.B. Don't shout that at the bouncers when they're kicking you out. They might just take you up on the offer)
Despite the crackdown on card-counting, big wins still happen. It's clear that some people are using new techniques to win big, but they're not sharing their secrets publically. Oh well, we can always dream…
…or, we could study some of the big winners. Maybe, through careful scrutiny, we'll discover their strategies. There are enough high-winning videos on YouTube to help us in your studies.
In the meantime, let's look at some of the world's biggest blackjack winners and see if there's anything we can learn from them.
Winner Number One – Don Johnson
Don Johnson, won $15,000,000 in the space of six months back in 2011. Of that, he won $5.8m in a single sitting at Tropicana, Las Vegas.
What's his secret? Well, he doesn't give much away, but claims that it's pretty much down to luck. We're not sure that story checks out though, because he's also the owner of Heritage Development LLC. Who just happen to have developed computer assisted wagering for horse races.
Mmmmmmm…no wonder he's now banned from numerous casinos.
What have we learned from Don? Be good with computers and the principles of betting.
Winner Number Two – The MIT Blackjack Team
Yes, we know that this is a team, rather than an individual big winner, but we have to mention them; you need to think outside the box to avoid getting stuck with a losing strategy. That's exactly what the MIT Blackjack Team did when they combined the principles of card-counting with teamwork.
They were amongst the first people in the world to use card-counting at the Blackjack tables. They were almost certainly the first to card-count as a team. This teamwork meant the casinos took much longer to realise, they spent a long time racking up huge wins before the casino BUST them.
From the early '80s to the '90s, they won millions. The film '21' (2008), which is based on their story, grossed $157,000,000, but how much The MIT Blackjack Team won remains uncertain. They claim that the most they won in a single night was $500K, whilst their biggest loss was $130K.
What have we learned from the MIT team? Have smart friends that can keep their mouths shut for as long as possible.
Winner Number Three – Ken Uston
Between 1975 and 1981, Ken won a whopping $4.5m on the blackjack tables. Contrary to some of the other tales, this guy was a relatively low-roller, with small stakes. He definitely earns his place amongst the blackjack elite; he's one of a small number of players celebrated at the Blackjack Hall of Fame, Barona Casino, San Diego.
In fact, he's widely considered the best blackjack player ever, and, while he doesn't have the biggest wins, his book "The Big Player" (1977) provided the inspiration and some of the mathematics for The MIT Blackjack Team.
What have we learned from Ken? Be amazing at maths: good enough to graduate from Yale and then Harvard.
Winner Number Four – Kerry Packer
Now, this guy has won huge! He's lost hard, too. He's journey is a rollercoaster. For instance, he won $7,000,000 in a single night at the blackjack tables. Yep, that's crazy. Then, do you know what he did? Went and lost $10,000,000 a few months later! That didn't bother him though, because, in 1995 he won $20,000,000 at the Las Vegas Grand MGM casino. His advice is to roll high to hit big.
What did we learn from Kerry? Be a billionaire so you can roll big. Yep, the likes of you and me aren't going to win the $20m jackpot.
What have we learned then? High-roll or low-roll, to win big at the blackjack tables you have to be smart and willing to think outside the box. Good luck!
---