Bowie Resident Hits Progressive Blackjack Jackpot on a $5 Bet!
As it turns out, life is like a box of chocolate and you never know when a $5 bet will turn into $686K. That's exactly what happened to one risk-taking Live! Casino & Hotel visitor, who decided to take advantage of a somewhat lower side stake limit offered in Super 4 Blackjack Progressive. Apparently, it wasn't such a bad idea. The modest amount was multiplied by 137,228.4, hitting the progressive jackpot that had reached a boiling point of $686,142.00!
The Prophetic Words of the Wise Casino Manager…
Not long before Wendell Holmes placed the now legendary bet, the Casino Manager, Travis Lamb, made an official statement regarding two new table games introduced on the floor –STAX Super 4 Progressive Blackjack and Royal 9 Progressive Baccarat. Both games offer multiple jackpots, which can be won on a $5 optional side wager.
In his initial announcement, Lamb said: "You never know when a $5 side bet could turn into a life-changing win". For Mr Holmes, it happened in February, after he decided to try his luck with Super 4 Blackjack. It is safe to assume that it was the best decision of his adult life – he won hundreds of thousands of dollars, making the casino manager into the most quoted man of the past few weeks.
How to Play STAX Super 4 Progressive Blackjack?
Along with the regular 1:1 and 3:2 Blackjack payouts, this variant offers six Super 4 fixed payouts and no less than four progressive pays:
• Royal Flush in Diamonds
• Other Royal Flush
• Three-of-a-kind
• Straight
To qualify, the players must add an extra $5 stake to the main wager and keep their fingers crossed. Everything else is in the hands of destiny – you just need to have faith and $5 to spare…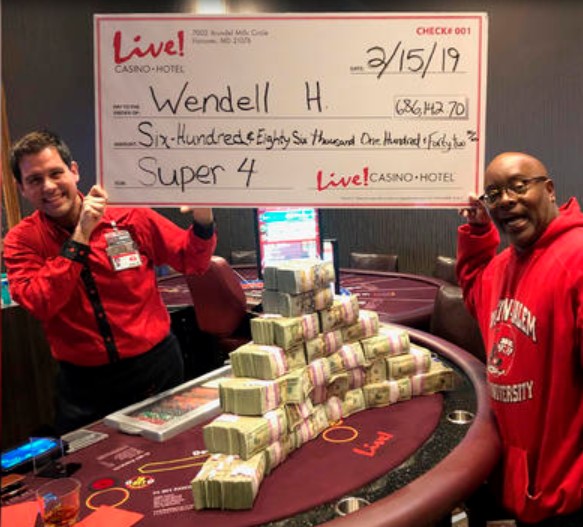 Lucky Wendell Collects His Jackpot