Best Craps Casinos Online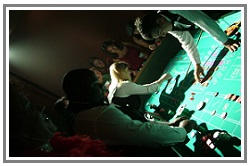 What is craps?
There is perhaps no other casino game that encapsulates the essence of casino gaming quite like craps.  This simple game combines the pure gambling of a throw of the dice with big bets, lively player interaction and a sophisticated high class image.
Although looking at a craps table might make it seem complicated, all that's happening is that players are betting on the total of two dice being rolled, that's it!
Are there any good craps sites?
Given the high status that craps enjoys you'd expect it to be a popular game online but it's actually quite difficult to find an online casino that offers craps.  As the most exciting table in the casino you would think that a live multiplayer online craps game would be a logical addition to any online casino but the fact is that there are currently no live dealer craps tables online.
This leaves the automated options as the only way of playing live craps online and this is where you have to be careful because there are some really awful versions of craps out there. The last thing you want to do is go through the registration at a casino only to find the craps table isn't up to scratch.
What makes a good online craps casino?
The best online craps casinos will have high quality graphics so that all the various bets are laid out in a relatively straightforward way.  The dice rolling should be satisfying and clear with good animation and it should be quick and easy to place and repeat your bets.  Good online craps games will also have a feature to automatically record previous dice rolls so you can check the dice history before rolling.
This isn't enough to make our top three craps casinos though, the casino will also have to meet our usual high standards for security, banking, software quality and customer service. The bonuses should also be regular, fair and generous.
Top 3 Best Craps Casinos Online
Our top three craps casinos provide the best versions of craps online as well as being top rated casinos in their own right. They each feature a free to play option so you can try each one out to see which is your favourite before laying down any money. While online craps has yet to feature a live dealer option at the moment, there is simply nowhere better to play online right now than our recommended best three craps casinos.

 Bovada / Bodog
Bovada offer a fabulous online craps table where the dice roll and glide realistically across the table in a very satisfying manner.  The graphics have a 3D feel to them making it easily the most attractive and intuitive version of craps available online today and as close as you're going to get to playing at a real craps table without leaving home. The craps table betting limits here are a $1 minimum bet and a $1000 maximum bet.
There is a great sign up bonus here of 100% which you can claim on your first eight deposits, up to $3000. Bovada love their table games like craps and you can take advantage by joining in on 'Table Mania Tuesday' which features a special bonus if you play any of their table games on a Tuesday. Bovada is open to US players although UK players are restricted.
♦ #1 Best Craps Casino
♦ crisp, clear 3D graphics
♦ $1000 table limit
♦ $1 minimum bet
♦ special craps/table bonus
♦ smooth animation
♦ USA players welcome 

♦ 100% deposit bonus

 Betway Casino
Betway offer a beautiful craps game powered by Microgaming's Quickfire casino software. The bet limit here is £100 although you can place multiple bets per throw, totalling several thousand if you like. Betway are considered to be the best casino for table games so you will also find other famous dice games here such as the wonderful Chinese dice game, Sic Bo.
♦  #2 Best Craps Casino
♦  beautiful graphics
♦  table game specialists
♦  holiday bonuses
♦  smooth interface
♦  offers Sic Bo
♦  100% bonus up to £250

Drake Casino
Drake Casino is another US friendly craps site that also accepts players from all over the world. Their craps software features unique voice commentary including all the favourite craps sayings such as 'puppy dog paws' for two fives etc. This adds a bit of atmosphere to the game which otherwise features a decent craps table with standard betting limits of $1-$100 with a $1000 maximum overall bet per throw.
Drake Casino is a great place to play in general especially when you throw in the amazing bonuses such as the 100% deposit bonuses of up to $5000, reload bonuses up to 100% every other day, and rebates on your casino table game losses.
♦ #3 Best Craps Casino
♦ craps commentary
♦ Arrow's Edge software
♦ best reload bonuses
♦ rebates on craps losses
♦ 6 tier VIP club
♦ USA players welcome 

♦ 100% deposit bonus
Other good craps casinos
While not quite making the top three best craps casinos due to the slightly dated graphics, we feel that Luxury Casino from the famous Casino Rewards network are worthy of a mention here. That's because they are the only online casino to feature a roll history and comprehensive dice value statistics for their craps game.
Luxury Casino also has realistic casino background sound effects and options to permanently set various bets to on. If the old fashioned graphics don't bother you then this is definitely one of the best places to play for serious craps players.