Top 3 Online Roulette Casinos

The top three recommended roulette casinos have the biggest selection of roulette games, the best roulette bonuses and a proven history of safe, reliable software, smooth banking and attentive customer service. It's not easy to earn our top three ranking but when it comes to roulette these three casinos have shown themselves to be the best in the business. There's simply no better place to play for dedicated roulette players.


 Leo Vegas
Leo Vegas sets the record for the most amount of roulette variations, offering a quite incredible 24 different types of roulette.  They add new ones regularly and remove some that aren't so popular so the current selection always features the red hot favourites.
All the classic versions of roulette are here – most notably there are four different versions of French roulette which is great if your preference is for a small house edge over exciting game features.
If you do like your features then don't worry, Leo Vegas comes out on top in that category too. Immersive Roulette is a version that stars beautiful live dealers, thirty different camera angles and slow motion replays; it's more like a hollywood action movie than a roulette game!  There is also a great variety of novelty roulette games such as Monopoly roulette, triple wheel and triple ball roulette, double spin roulette and a series of live roulette tables with added slots.
Speaking of live roulette there are currently six live streaming roulette tables to choose from at Leo Vegas. This is great because you don't have to stick with the same dealer if they're not your type of person! Top stakes at the live Extreme roulette tables are a mind-blowing £75,000 per bet.
Leo Vegas has just that bit more roulette variety than its rivals which, when you add Leo's award-winning interface, make it a comfortable winner of our top three recommended roulette sites.
♦ #1 online roulette casino
♦ 24 versions of roulette
♦ 6 live dealer games
♦ Immersive Roulette
♦ novelty roulette games
♦ triple & double wheels
♦ in-depth stats & graphs
♦ £1500 welcome package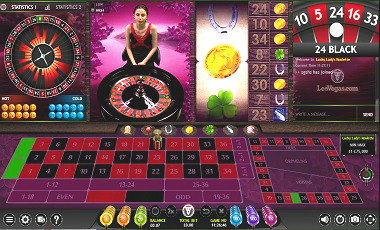 200% bonus up to £100


t&c apply

 William Hill Casino
William Hill has 14 different roulette games available, not quite as many as Leo Vegas but still more than you'll find elsewhere. They also have some unique variations that you don't get even at Leo.
There is the multi-wheel table where you can spin up to six wheels at the same time. They are also one of the only online casinos to feature live French roulette. Other novelty tables include the Marvel progressive roulette jackpot featuring four tiers of jackpots for you to aim at, all triggered by the bonus number next to the green 0. Other non-live options include the impressive 3D and 3D premium tables as well as a good selection of standard roulette tables.
The Live roulette streams provide access to a multitude of tables all with slight variations such as dual roulette, speed roulette, French roulette etc. There are more live roulette games here than anywhere else and If you include these live variants William Hill actually has more tables than Leo Vegas.
What William Hill is really good at though is with bankroll management for all player levels.  If you're into high stakes play the VIP club will give you access to tables where you can bet up to £500 per number!  Alternatively if you're a small time player you'll find very low limit roulette tables, starting at 20p a spin so whatever your bankroll you'll find the right table for you.
♦ #2 online roulette casino
♦  14 versions of roulette
♦  big live selection
♦  multi-wheel roulette
♦  3D roulette tables
♦  speed roulette
♦  progressive jackpots
♦  100% bonus up to £500

 Sky Vegas
Sky Vegas makes our top three by featuring no less than eleven different roulette games, all substantially different to each other. There are also a further five roulette versions available in the live casino which is part of their sister site Sky Casino (don't worry it's seamlessly linked).
Unique to Sky Vegas is the ultra low limit roulette table which features bets as low as 1p, seriously. But you can play at higher stakes up to £5000 per bet if that's more your style.
Deal or No Deal roulette is a fascinating roulette variant at Sky Vegas that features a phone and box bonus game. When this is triggered you enter a round of Deal or No Deal, just like the TV version but without Noel Edmonds. There is also a rare oriental roulette variant called Lucky Star which is surprisingly good fun.
Another top class roulette table here is the Hot Streak game which allows you to place special bets to multiply your wins by up to 25,000 X your stake. High pressure high rewards wheel spinning if ever we saw it!
There's no doubt the variety here puts Sky Vegas easily into the top three roulette sites but it's also just a very slick and sophisticated casino in general so don't pass it up, especially if you love roulette.
♦ #3 online roulette casino
♦ 11+ versions of roulette
♦ very low limit bets
♦ hot streak 25,000 X win
♦ Deal or No Deal roulette
♦ double bonus & 3 wheel
♦ Lucky Star roulette
♦ £1000 deposit bonus
Best Online Roulette Guide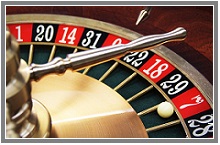 What top roulette sites offer
Online roulette comes in all shapes and sizes these days from multiple wheels to live dealers and progressive jackpot side games. The best sites for roulette will feature a wide variety of roulette tables, not just the standard American and European roulette options.  It is vital they also offer French roulette – serious players know that this is the version with the best odds.
Ideally the best roulette casinos will offer roulette games from several different software providers, simply for added variety and to make sure their long term roulette players find a roulette table that has just the right feel.
For high rollers the betting limits should be high, at least £1000 per spin should be the maximum. This applies the other way too, the minimum bets shouldn't be too high, if you want to bet less than a pound or dollar then that option should be available. There should also be access to the wheel history with a good range of stats indicating which bets are streaking or running cold.
While traditionalists might look down at all the frilly extras that are available to online roulette players like multi-wheels, bonus slots and progressive roulette jackpots, a growing number of players now expect these side games as standard and the best roulette casinos will have a great selection of added extras.