Connecticut Casinos and Gambling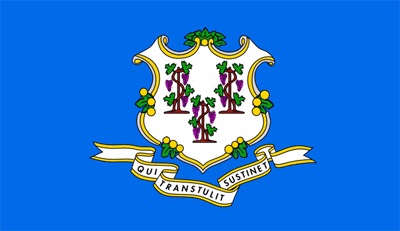 Casinos and Poker in Connecticut
The New England state of Connecticut has a very limited range of casinos but those few they do have are huge and successful mega-casinos whose fierce competition drives ever better deals for the punter ranging from free perks to higher slots payouts.  Some Connecticut slots are known to payout over 100% in an effort to attract customers.
All three major Connecticut Casinos are on Native American reservations and take the top spots for largest casinos in the United States.
Despite only having three principle mega-casinos this has proved enough for the state of Connecticut which whilst having a large population of around 3.5m is only 70 miles by 110 miles in size.  The casinos are large enough to cater for the the gambling needs of all Connecticut citizens as well as the many passing tourists.
There is also a state lottery and bingo halls in every town in Connecticut.
Poker in Connecticut is well served by two of the three main casinos with Foxwoods Casino poker tournaments starting at 9am running through past midnight and Mohegan Sun Casino starting their tournaments at 10am.  They have 100 and 40 poker tables respectively, featuring the whole array of modern poker variations ranging from Omaha to seven card stud and you will find cash games around the clock.
Online Poker and Online Casinos in Connecticut
With home poker games on dodgy ground in the state of Connecticut, due to the participants needing to have a pre-exisint relationship before being legally permitted to play poker for money, many Connecticut poker players have looked online for a game.
Of course with the US internet gambling laws being somewhat ambiguous many sites are not available to Connecticut poker and casino players.  There are some top, reliable sites that more than adqequately serve players from the United States though.  We have compiled and reviewed them on this site and now only feature those casinos and poker rooms with top class security and payment processing facilities.
Connecticut's Major Casino and Poker Resorts
Two of the three mega-casinos in Connecticut are located on the same Mashantucket Pequot Indian territory in Ledyard – The Foxwoods Resort Casino and the MGM Grand Casino.  Together they make the biggest casino in the United States.
Originally a high-stakes bingo hall, Foxwoods Resort Casino is legendarily huge with nearly five million square feet of gaming space, 380 gaming tables and over seven thousand slots machines.  It's no surprise that Foxwoods welcomes approximately 40,000 visitors every single day.
15 different types of casino game are available including keno, craps, baccarat, blackjack, pai-gow, roulette, money wheel, video poker and the world's largest bingo hall!  There is also a state-of-the-art racebook that has to be seen to be believed.
The Foxwoods Casino hosts some of the biggest poker tournaments in America included a stage of the WPT (World Poker Tour) with prizes exceeding one million dollars and buy-ins of over $10,000.   Smaller tournaments are available throughout the month with buy-ins from $50 to $2000 and there are regular sit and go's every day as well as 100 cash poker tables.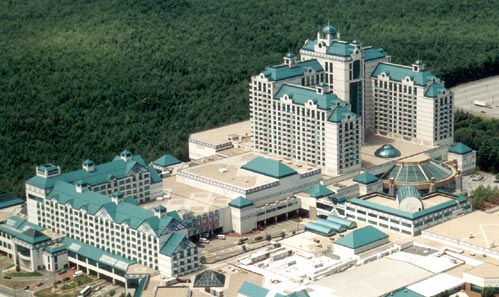 Foxwoods Casino – you can't miss it
MGM Grand Casino is in the same Indian territory and connected to the Foxwoods casino via a walkway.  The Pequot tribe leased the name to give their massive casino expansion a unique flourish and glamour.
It is primarily a casino but also a colossal entertainment centre.  There are over fifty casino table games and 1400 slots machines.  Overall the MGM complex is two million square feet with every popular casino game featured.
There are headline concernts and round-the-clock nightclubs as well as two golf courses and live sporting events.  The restaurants feature celebrity chefs and there is a world-renowned spa facility known as the G-Spa.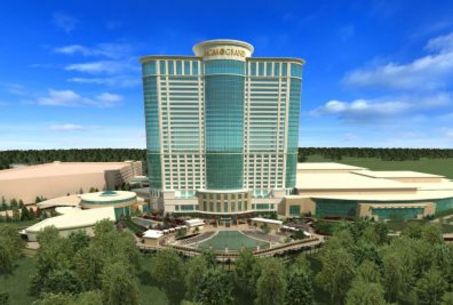 MGM Casino – best entertainment in the state
Mohegan Sun Casino is the second largest casino in the United States, second only to the Foxwood (above).  With a total gaming area of 365,000 square feet it is truly awe-inspiring and the Native American themed decoration adds to the sense of wonder.  There are mechanical robot wolves perched on high rocks that occasionally howl at the moon, a massive indoor waterfall and scenes depicting the history of the tribe.
The 'casino of the sky' is a gaming room of breathtaking extravagance that rivals anything in Vegas or the Far East.  It is a working planetarium which uses fibre-optics to represents the stars, moon, sun and planets.  Crystals, rare rocks and precious metals have all been fused to create a skyscape of spectacular beauty if you can take your eyes of your slots game for more than a few seconds.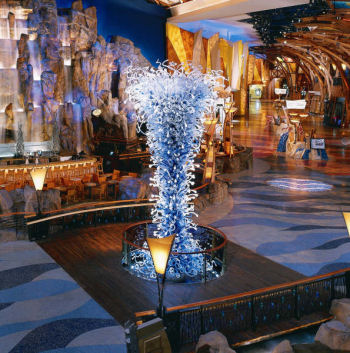 Mohegan Sun Casino – just WOW