Delaware Casinos and Gambling
Delaware Casinos and Poker
It has been an exciting time for casino fans in Delaware in recent years, with laws being relaxed and casino gambling facilities being expanded across the state.  Despite only being ninety miles long Delaware now has good options for casino gamblers and poker players alike.
There are three casinos based around pari-mutuel betting, which is betting on horse or dog racing and so the resorts are often referred to as 'racinos'.  Since 2009 the state has allowed a wide-range of sports betting to take place within the racinos including both professional baseball, basketball, NASCAR football and hockey betting as well as college bets with live simulcasts.
2010 saw the real watershed moment for Delaware's casinos though when the state legislature allowed table games to be played within the casinos.  Since then all three major 'racinos' have opened 24hr games of craps, blackjack, roulette, slots, video poker, let it ride, casino war, bingo, Mississippi stud, Spanish 11 and several other popular variations on common casino games.
The poker rooms at the three casinos are always packed with players due to the huge popularity of poker in Delaware.  There is also a dedicated poker establishment called The Poker Room at the Limestone shopping centre in Wilmington featuring all the common poker variations.  They have Texas holdem, Omaha tournaments, stud and five-card draw as well as blackjack tables to cool-off on if the action's getting too intense.  Best of all a large percentage of the rake goes to charity.
Bingo is not regulated to the same extent as casino and poker rooms and there are currently eleven bingo halls across the state so you shouldn't have to travel far if you want to play bingo in Delaware.
The three main casinos in Delaware are Dover Downs Casino and Racetrack, in the state capital Dover, Delaware Park Racetrack and Slots in Wilmington, and Harrington Raceway and Casino in Harrington.   They are not surprisingly founding members of the Three Is Enough coalition to prevent the construction of more than three casinos in Delaware.  The campaign has popular support and the status quo seems to keep most parties happy.
Dover Downs racetrack has been in business since 1969 but had been struggling after the introduction of the Delaware state lottery and the proliferation of bingo halls.   The Horseracing Redevelopment Act was passed in 1994 which helped to save Dover Downs racetrack with the introductions of video slots machines.
In the Dover Downs casino proper there are over three thousand slot machines and progressive jackpots of over $1,000,000 which you can start spinning for as little as a nickel.  They also offer gambling on credit.  This play on credit option follows the same procedure as if you were applying for a credit card.  The casino has seen a large rise in visitors since table games like blackjack and roulette were introduced in 2010.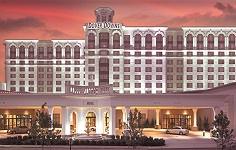 Dover Downs Casino
Harringtons Racetrack and Casino is situated on the Delaware State Fairgrounds and features nearly 50,000 square feet of gaming floor.  There are 1800 slots machines of which the star attraction is the Kenny Rogers, The Gambler slot machine (see music video below).
The casino at Harringtons has an impressive array of table games since the laws were relaxed as well as $10 free to play the slots on Wednesdays.  Some of the games on offer are imperial pai-gow, mini and midi baccarat, royal match 21, three and four card progressive poker, crapless craps, Mississippi stud progressive, lucky ladies blackjack, in bet blackjack, ultimate texas holdem progressive, caribbean stud progressive, triple attack blackjack, rapid roulette, double deck pitch and super fun 21.
Kenny Rogers The Gambler (Muppet Version 🙂
Delaware Park Raceway and Slots in Wilmington features two racetracks and a huge casino of 80,000 square feet.   The casino is a veritable holiday resort now as shown by the no less than eight restaurants available for all your culinary needs on premises.   A reflection of the growth experienced in recent years by the introduction of slots is evidenced in the increase of staff from 75 before slots to over 1500 today.  Who ever said gambling was bad for the economy?
The casino is set in the luscious Delaware Park and is based over two sprawling floors featuring over 2500 slots, video poker and video lottery games.   There are now table games across the casino and 24hr poker games with bad beat jackpot.  Sports betting is of course a major attraction with betting on football at college and professional a speciality.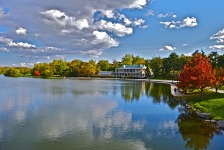 The beautiful Delaware Park with casino