England footballer Kieran Trippier Faces FA Charges for Betting Violations
October 20th, 2020 3.30pm
The English national football team took on Denmark in their Nations League match played at Wembley last week. Unfortunately, the Three Lions lost the game 1-0. Many fans believe the result could have been different if Kieran Trippier had been on the pitch.
However, the Atletico Madrid defender was absent, attending a disciplinary hearing for violating gambling rules imposed by the FA.
From Semi-Finals to Breaking FA Rules
The former Burnley and Tottenham Hotspur player was instrumental in England's run to the semi-finals at the 2018 World Cup in Russia.
Trippier was the one who gave England the lead in the semis against Croatia, but in the end, Gareth Southgate's men lost after extra time. Three days later, they lost 2-0 to Belgium in the third-place play-off. Trippier's good performance didn't go unnoticed, and a year later he moved to Spain, signing for Atletico Madrid in a £20 million transfer.
Now, Trippier is facing charges for violating two of the Football Association's rules during July 2019, the same month his move took place. The first rule prohibits a football player from placing bets, both directly or indirectly, on any football match. The second rule prohibits revealing any information that could help another individual when betting on football.
Giving away insider information on the transfer market is considered to be a serious offence.
This is not the first such case in English football. Back in 2018, Daniel Sturridge was accused of breaking the same rule and was even found guilty of giving his brother inside information on his move from Liverpool to Spanish side Sevilla, which took place in January that year.
Sturridge subsequently received a suspension and was banned from all football-related activities for a period of four months.
If found guilty, Trippier could face a potential six-month ban.
His Absence Was Felt on the Pitch
After the scandal was revealed, Trippier issued a statement, saying he was always adhering to the FA rules. He also pointed out he had never made any football-related wagers, nor had he received any financial gain from wagers placed by others.
Trippier was unable to help his teammates on Wednesday, and after having a man sent off, the Three Lions suffered a surprising 1-0 loss to Denmark. Their next game in the competition is scheduled to take place in November when the English travel to Brussels to face Belgium.
The 29-year-old players would have been in the starting eleven against the Danes, especially as he was one of the best players in the 2-1 win against Belgium a week before. He was replaced by Kyle Walker, who conceded the penalty that allowed Denmark to take all three points home.
More Problems for England
The issue with Trippier is not the only concern for Gareth Southgate. He also had several disciplinary problems with his players both on and off the pitch. Last month, midfielder Phil Foden and forward Mason Greenwood were removed from the squad for breaking social distancing rules. This happened only a couple of days before the match against Iceland, in which England managed to record a 1-0 win.
Commenting on this, Southgate said some things were not in his control. He explained there were a million distractions, but added he had to remain focused on his job.
Speaking about Trippier's case, Southgate referred to it as yet another distraction but admitted the FA was the one to resolve the matter.
Southgate also stated he had spoken with Trippier about the current situation, and he didn't have any influence whatsoever on disciplinary procedure.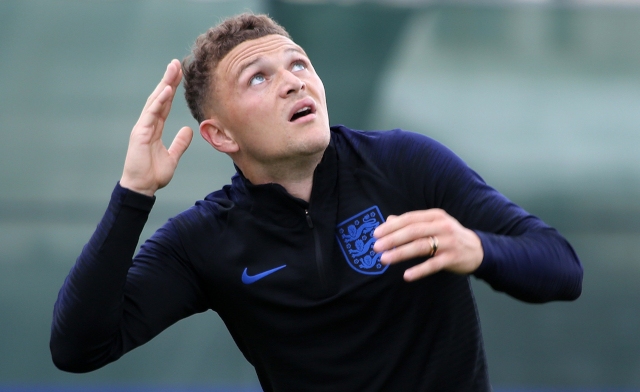 The Atletico Madrid defender denies all allegations