Everything You Need to Know About Slot Features
Click on the slots page at your favourite casino and you are going to be faced with the scourge of the modern internet consumer: absolutely endless choice. It feels infinite. It's not far off it in fact. So how do you choose what to play?
Players have aesthetic choices, liking a particular graphic style, or soundtracking perhaps (give us a dance music game any day of the week). And games come in two big styles, classic and video slots, before fragmenting into a zillion different genres.
But have you ever thought about picking by feature?
Game features are probably the biggest determinant of how your gaming experience will go. This is the stuff under the bonnet, yet most players seem happy to drive a car based on its colour!
Let's get into the engine and see what those features mean.
How Many Features?!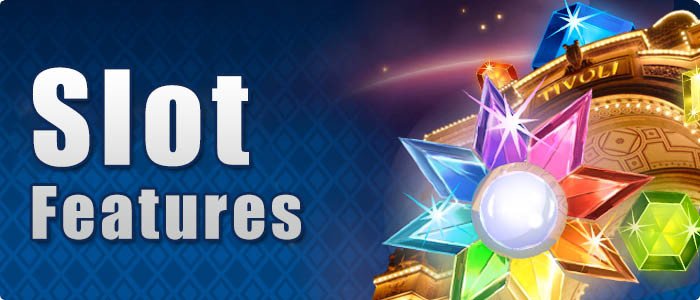 The first thing we have to say is that we can't cover the complete range of features here. There are just too many. So we're going to stick with broad feature categories. These often have many many sub-categories, which we'll mention as far as we can. Some features are branded too.
Ways to Win and Pay Lines
The standard slot back in the day was super simple to read because it came with just one pay line. There were three reels and to win a prize you had to see a straight line of matching symbols across the centre of the reels.
Things aren't so simple now, and games are usually split into a number of different ways of registering winning combinations of symbols.
Pay lines run across the reels and symbols must form sets along these lines in order to award you with prizes. You may be able to turn pay-lines on and off, and your betting might be staked only on as many pay lines as you select. Reviews usually tell you how many pay lines there are, and a 5 by 3 reel game might have 20 pay lines.
Ways to win engines are more flexible and may allow you to score wins with matching symbols on adjoining reels. This gives you many more possible winning combinations – 243 ways to win is a common number – but it doesn't increase your chances of winning.
Clusters and other groupings award prizes to groupings of adjoining symbols. They are usually found on games with large reel sets and bigger numbers of symbols.
Megaways is a new way to win system that can offer over 100,000 ways to win. It commonly comes with other features like cascading wins.
Free Spins
Free spins are the standard bonus round in most slots. But not all, and for many players, this is a deal-breaker.
A free spins round is most often awarded when three scatters are shown on the reels. A scatter is a symbol that scores wherever it appears on the reel in relation to other scatters.
You should be looking for what extras you get with free spins. These commonly include extra multipliers, more high paying symbols, or a symbol collection feature to open other bonus games.
Free spins may come in a variety of types in a game, and players may be offered a choice at the start of the round that asks them to weigh up whether they would like more free spins or a higher multiplier on wins for example.
Free spins can sometimes retrigger, but not always. Numbers like 5, 6, or 10 are common free spins rounds. Retriggers may have a maximum, but can be unlimited, and the triggering mechanism may be different.
Respins
Respins are either a second bite of the cherry after a loss or they are a continuing win. They can also be called cascading wins or avalanche wins or other branded variants. Megaways games come with cascading wins, and the massive Gonzo's Quest game pioneered cascading blocks.
Respins might come as a simple respin of the reels, but more often than not they include a visual effect of some sort that removes winning symbols and replaces them with new symbols.
Respins very often have a multiplier effect, counting up until the respins stop and the feature ends.
Wilds
Wilds are the most common bonus symbol in slots and are often found in even very cut-down classic games. Wilds do what a wild card does in poker – all slots are descendant of poker remember – and stand in for any other symbol in order to make the best possible winning combination for players.
Wilds can come in a huge number of varieties. Common options include: stacking or expanding wilds that cover large areas of the reels or even whole reels, sticky wilds that stay in place for one or more spin, or walking wilds (of some sort) that move across or up or down the reels continuing to register until they leave the reels.
Extra wilds are often added as a function of other bonuses.
Gambling!
We all gamble on every spin, but a gamble feature is a simple but effective extra game. It's one of the oldest features in the slot world and it's also one of the most high risk and it's one you should think very hard about before you trigger it.
Simply, after a win you will be offered a choice, and if you get the right answer your prize will be doubled. If you get it wrong you lose the original prize.
That's how the simplest versions of these features work. The choice is most often a 50/50 choice of a card – red or black. There may be a limit on gambles, but if you're doubling prizes and you get lucky this can be a low-tech way to big wins. (And a quick way to want to put your fist through your screen.)
Everything is for sale
Some features allow you to pay more to trigger them. You can also find betting options on some games that increase your winning chances when you stake more.
These features are usually fairly easy to understand, but they do come with lots of potential risks. Buying features is generally pretty expensive, particularly if they're a free spins round, while raising your stakes for a better RTP is probably a slightly safer option.
There are more features to explore, but you can certainly choose your game using just these options once you know which ones suit you.