Blockbuster movie titles have always been made for the most popular slot games; everybody loves film-based slots.
And to no wonder. After all, it's always fun to see how your favourite clips and characters are going to show up in the slot version and who is going to star as the highest-paying symbol.
And that's why we compiled the definitive list of the best online film-based slots out there. If your favourite movie doesn't have a slot version yet then get on the phone with your local politician and see if they can get the ball rolling.
Top 13 Film Based Slots
Without further ado, here's a countdown of the best mashup of two of our favorite things: films and slots:
#13. Aliens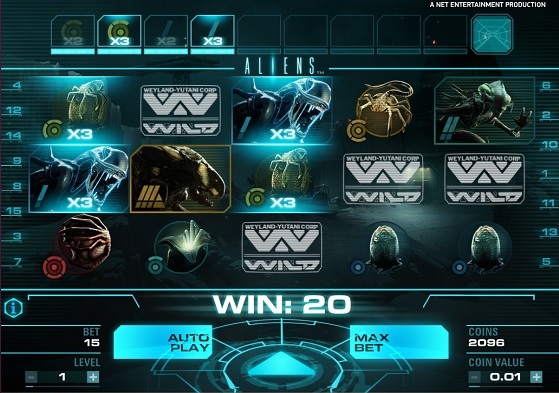 The Aliens film script is followed closely in this fantastic slot from NetEnt.
Progress through the different stages of the movie picking up ammo and blasting through high-paying cut scenes before a jackpot jangling encounter with the Queen Alien herself.
Aliens can be played at Mr. Play.
#12. Scarface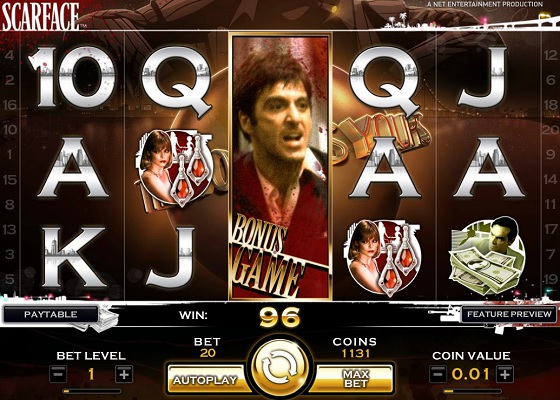 Say hello to my little friend, the fantastic Scarface film-based slot game from NetEnt.
Stacked wilds are the order of the day here, with a full Tony Montana stack triggering the violent bonus game. Michelle Pfeiffer starts the free spins.
Scarface can be played at Mr. Play.
#11. Ghostbusters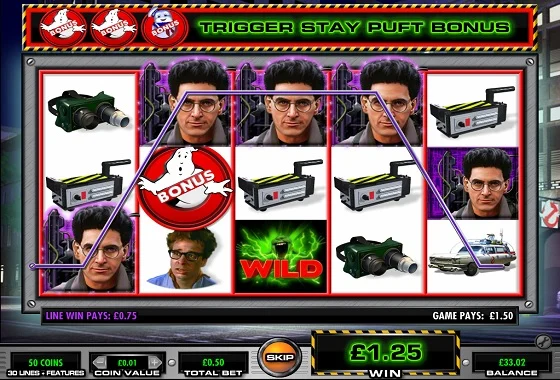 The original Ghostbusters film-based slot from IGT is truly fabulous, with an abundance of spooky and hilarious features including several random Slimer bonuses, an amazing Stay Puft bonus round, and various clips from the 80's classic.
Ghostbusters can be played at Casino Planet.
#10. Psycho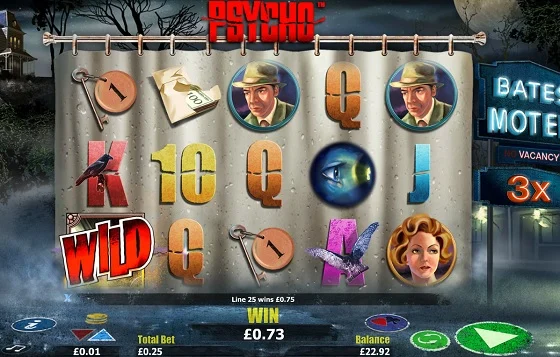 Psycho is a NextGen slot based on the blood-curdling Hitchcock classic.
Bates Motel is the scatter symbol, while a random knife can flash across the screen giving free wilds. Terrifying stuff!
Psycho can be played at Casino Planet.

#9. Life of Brian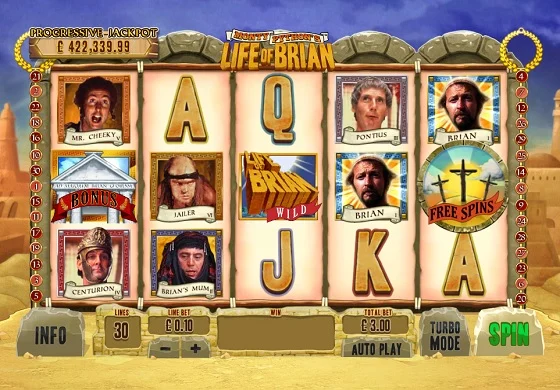 The hilarious Monty Python comedy gets the full treatment here with no less than ten bonus rounds, each based on a particular part of the film.
There's the crucifixion bonus, Romans Go Home bonus, and people's front of Judea Bonus. Even Brian's mom makes an appearance!
With a huge progressive jackpot, Life of Brian can be played at William Hill Casino.

#8. Judge Dredd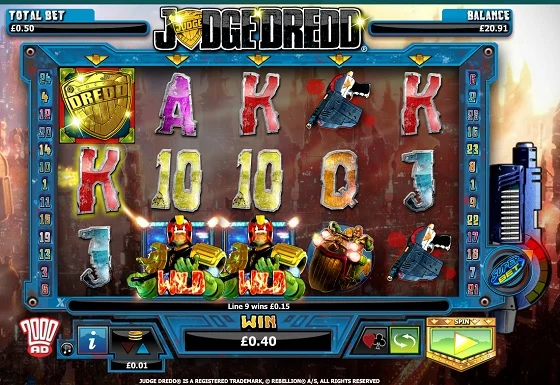 Dredd is wild in this exciting film-based slot from NYX (NextGen).
Super bets make Dredd wild on all slots and Dredd himself can appear at any time to deliver his extrajudicial brand of justice – a random prize.
Judge Dredd can be played at Mansion Casino.

#7. Creature From The Black Lagoon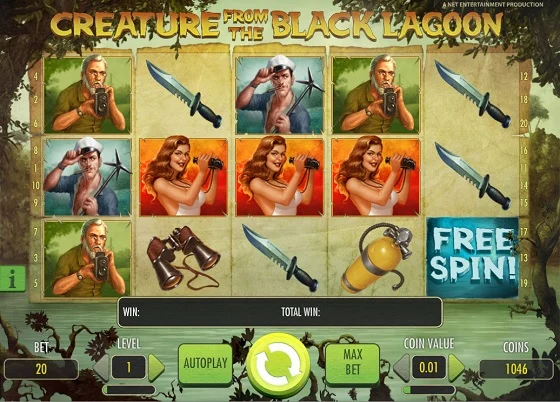 Creature From The Black Lagoon is an eerie and atmospheric film-based slot from NetEnt big on sticky wild respins, mad scientists, and dastardly beings from beyond the netherworld.
Creature From The Black Lagoon can be played at Spin Rio.

#6. Game of Thrones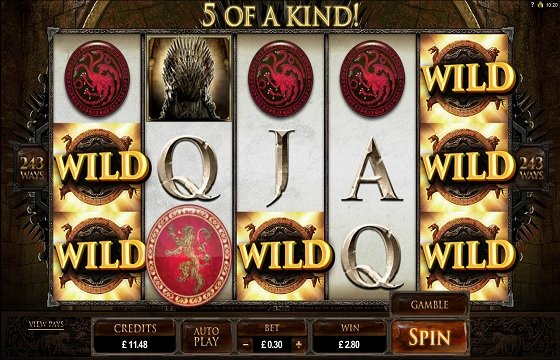 OK, not technically a film but it's just as much a blockbuster as any of the movies listed here.
Game of Thrones has a slot version based on the crests of the main houses of Westeros. The throne itself is a scatter symbol triggering the bonus game.
With a map-based gamble feature, Game of Thrones can be played at Mr. Play.

#5. Tomb Raider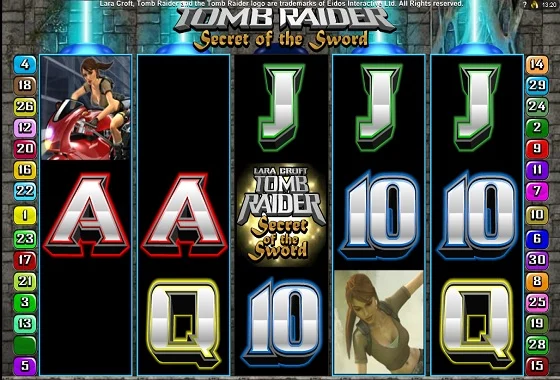 Tomb Raider is a thrill-a-minute slot based on the Lara Croft movie and video game character in an exclusive slots-based adventure story called Secret of the Sword.
The exciting bit? The falling symbols feature is available in the bonus feature.
Tomb Raider can be played at William Hill Casino.

#4. Jurassic Park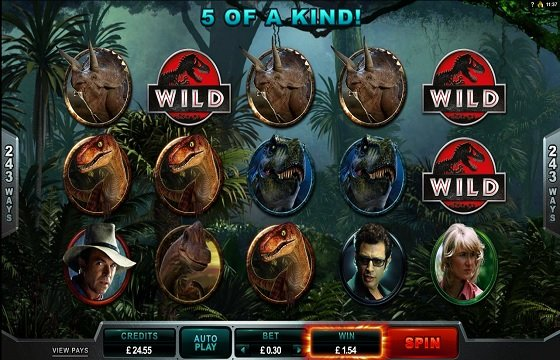 Jurassic Park is the blockbusting, groundbreaking dinosaur adventure that inspired a generation of young palaeontologists.
Well, the slot version is just as epic with a variety of different wilds features available across multiple bonus games, each based on a specific dinosaur.
Jurassic Park can be played at Casino Planet.

#3. A Nightmare on Elm Street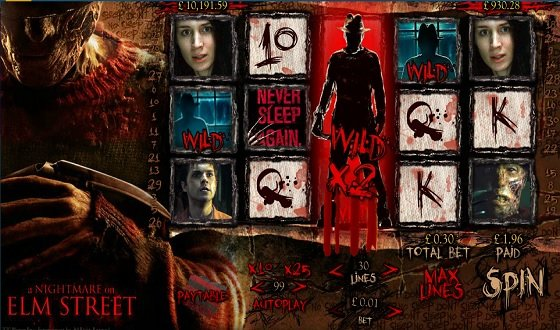 This terrifying and atmospheric film-based slot stars Freddy Krueger and some hefty progressive jackpots.
Cut scenes abound so make sure there are no children present when you play this – it's seriously scary stuff!
A Nightmare on Elm Street can be played at Mansion Casino.

#2. Terminator 2 – Judgement Day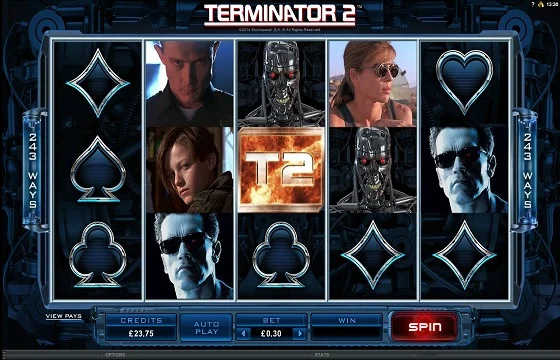 Sarah Connor? Yes. That was Terminator 1, but Terminator 2 was an even bigger blockbuster and this slot game lives up to the sci-fi film classic in every way.
Bonuses include 1024 win lines during free spins and random T-800 and T-1000 bonuses. Not to mention, the high-resolution graphics are really excellent.
Terminator 2 can be played at Mr. Play.
#1. The Big Lebowski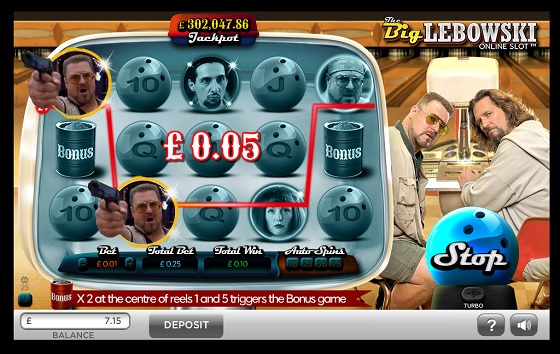 If you love the Big Lebowski then this is the perfect film-based slot, fully packed with funny and memorable quotes from the film.
Best of all, when you don't win anything on a spin that's classed as a 'spare', you get another spin for free!
The Big Lebowski can be played at Spin Rio.
If you are on the lookout for more slots games, check out the best online UK slots here!
9 Other Awesome Slot Games
If you enjoyed our slot recommendations, make sure to also check out our list of the best online Yggdrasil slots in the UK.
Related Articles