Florida Casinos and Online Gambling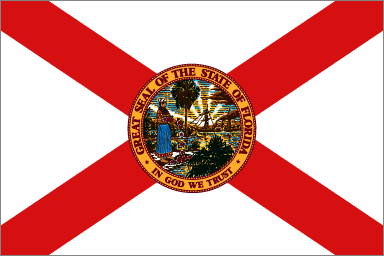 Casino gambling laws in Florida
Casino gambling activity in Florida has seen a boom in recent years with both offshore boat casinos and racinos expanding their operations to compete with the established Native American casinos.
With a significant proportion of the population having plenty of leisure time on their hands Florida has become known as the 7th US casino state as laws have been relaxed and attitudes more tolerant.
While technically gambling is illegal in the state of Florida the few exceptions to the rule have proved more than successful.
Indian Casinos run the by the Seminole tribe are allowed to offer all major casino and poker table games such as blackjack, pai gow, baccarat, three card poker, roulette and Caribbean stud as well as video slots.  They have signed a compact with the state of Florida for twenty years which started in 2009 and will see the state coffers receiving $150m every year directly from the Indian casinos.  There are currently eight Indian Casinos in the state of Florida, with games open to anyone of 18 years or older.
Pari-mutuel Racinos have a long tradition in Florida.   What does pari-mutuel mean?  Pari-mutuel means co-operative bet which means basically that instead of making individual betting contracts with a bookmaker when you place a bet you actually just purchase tickets at a fixed price with the winnings coming from the 'mutual' prize fund of the ticket sales.  Of course normally a betting establishment will take a small percentage of the pot in a pari-mutuel bet.
In Florida the traditional racino activities are dog-racing (greyhounds) but since successive laws in 2005 and 2008 most counties have allowed video slots machines to be installed at pari-mutuel betting tracks turning them into proper racinos.  Some racing tracks have even changed their names to reflect this new gambling hub status, Hollywood Grehound Track for example is now known as the Mardi Gras Casino.
Table games such as blackjack and roulette are not currently permitted at pari-mutuel racinos in Florida but many have tried to emulate the feel of a real Vegas-style casino.   Video poker and video blackjack are common as only electronic versions of these games are allowed.  Some Florida racinos even feature live dealers who operate the games electronically with video screens embedded on pseudo-blackjack tables.  Have a look at the video below to see how they manage this effect at the Mardi Gras Casino:
Electronic Live Dealer Blackjack at Mardi Gras Casino
Casino Cruise Boats sailing nine miles off the coast of Florida (so technically not in Florida waters) are an ingenious way of offering casino gambling to Florida's leisure gamers and tourists.  There are at least a dozen casino cruise ships in operation, departing from ports around the coast of Florida.  The casino cruise business has seen a downturn since the 2008 recession but it still remains a popular day trip amongst Floridians on any budget.
The Casino Princesa sets sail from Bayside Marketplace, Miami, every day and you can come aboard for just five dollars.  There are over 10,000 square feet of gaming area aboard with 32 table games ranging from blackjack to roulette, craps, baccarat, poker and more.  The entertainment, fine-dining and multi-decked casino facilities are typical of Florida casino cruise ships.
Some of the best known casino boats in Florida are the Big Easy Casino based from Palm Beach, the Victory Casino Cruise at Cape Canaveral, the Suncruz at Hollywood, Silversea Cruises based out of Fort Lauderdale and the Leisure Lady and Big Cat Express at Mysers Beach.   The Suncruz Casino is consistenly voted the best casino in Florida in publications such as Trip Advisor.
Poker Rooms and Laws in Florida
Despite having such a variety of gaming destinations, Floridians have been severely restricted when it comes to playing poker.   Until 2010 the maximum stakes you could bet were $5 and the maximum tournament entry was $100.  Of course this meant the most popular variant, cash game no limit texas holdem, was impossible to play and made Florida something of a laughing stock in the poker world.
You can find poker rooms at all the major Florida casino destinations.
Online Poker and Online Casino choices in Florida
Many Floridians tried to get around the ludicrous low stakes poker limits in Florida by playing online at one of the offshore poker sites that accept US players.  However online poker is not regulated in the US as four of the big US poker sites serving American players found out in 2011 when Absolute Poker, Ultimate Bet poker, Pokerstars and Full Tilt Poker were forced to shut their doors to US players by DOJ.
Online casinos have attracted less attention from the US government and there are a number of options open to Floridians who want gamble online and perhaps have difficulty getting to one of the boat casinos or racinos.  In fact due to Florida's more mature population it has proven to be the most popular state for online casinos per capita, simply for the convenience of playing from the comfort of home.
You should still be wary of some of the cowboy casinos though and only use those online casinos recommended in our US casino guide.
Online Bingo in Florida
Is online bingo legal in Florida?  It is on a much better footing than both online poker and online casino games and there are an abundance of bingo sites which allow US players.  Bingo is huge in Florida with every town having at least one bingo hall and if you are a Florida resident who for whatever reason finds it difficult to get to your favourite bingo hall then you will be pleased to know you are well catered for online with a number of casinos offering free no deposit bonuses which means you can try for real money before depositing any of your own.
We have put together a recommended list of online bingo halls that allow US players and are offering some fantastic deals to get you started.