Free Play Casinos
Don't run away! If you go use the maxim: anything that looks too good to be true, probably is too good to be true, then we salute you. But is free too good to be true? Not always, in all circumstances. But in order to find and play free casino games, including free video slots and free live games, you need to have your head screwed on, and you need to understand the limits of "free" in casino terms.
In this guide, we'll walk you through how to look for free play casino opportunities and how to understand them and make the most of them – safely.
Let's get started.
Best Free Play Casinos to Play Free Demo Games
When Free Isn't Too Good to be True
You can probably play a free casino game now. Find the name of a game you like, make it one of the popular slots, find a review site (or look at one of our reviews) and check out who made it. Then go to the company's website and see if they have demo versions of their games. Most do. Once they've clocked that you're from the UK you'll have to put in a birthdate that shows you're over 18, but you can play as long as you like for no money, with no risk.
You can do the same at some review sites. Again, you'll need to show that you're of legal age to gamble in the UK, but after that, you're good to go, and you can play video slots, probably casino games (in simulator form), and other styles of the game as often as you like.
And you should absolutely do this.
Playing games for free is a good way to get some of the fun of the gambling experience with absolutely zero-risk to your pocket. It's also a good way to make sure you understand games that you might play later for real money.
For most video slots there's little time pressure involved, and you can always hit pause and check the rules. But if you're playing a live casino game you've got less time to mess around, and it's easy to feel under pressure, so free versions of live casino games are good practice for you. Find the exact rule variants that you want to play at the live casino for the best experience.
Signed Up and Playing For Nothing
Another way to enjoy free play casino games is to sign up at a casino site, and simply not give them any of your money!
You can absolutely do this at many casino sites.
From the site's point of view, it's not ideal to have players wandering around using up their hosting and bandwidth while playing games on demo mode all day. Even sites that do allow it will do a lot to try to talk you out of doing this – you can expect a lot of prompts to put some money in your account – but they can't force you to type in that card number can they.
But it can be done. And, again, it's something that is worth doing because it gets you in a position where when you do play for money you know what you're doing and it also reduces your spending and slows down your losses.
So bear it in mind.
The Free Play You Really Want
That gives you a couple of options for playing games without paying. However, when most players think of free play casino games they are thinking of games with bets – that don't cost.
Here things get a little more complicated. And, of course, it gets harder to find this free play.
We're not economists at this site. Perhaps you are. Even if you're not half-way through your MBA we think you'll understand this business plan: gifting money to customers that they can use to make wagers that you must pay out on will soon cause you to go out of business.
However, because you're here you also know that "free play" is very popular.
So, how do casinos square the circle of large numbers of players who are desperate for free play and the fact that actually giving it to them will drive them out of business?
They kind of make you believe things are free that aren't really completely and uncomplicatedly free.
Free Offers – the Lifeblood of the Casino World
The fact that you're here reading about free casino play means you know it's something that is offered in the online gambling world. In fact, we'd be amazed if you can so much as put the words "online casino" into Google without being offered free play.
But is it really free?
Yes and no. And understanding the way that free play offers work is the key to getting the most out of them and to getting any actually free play that is available.
The Meaning of Free Casino Play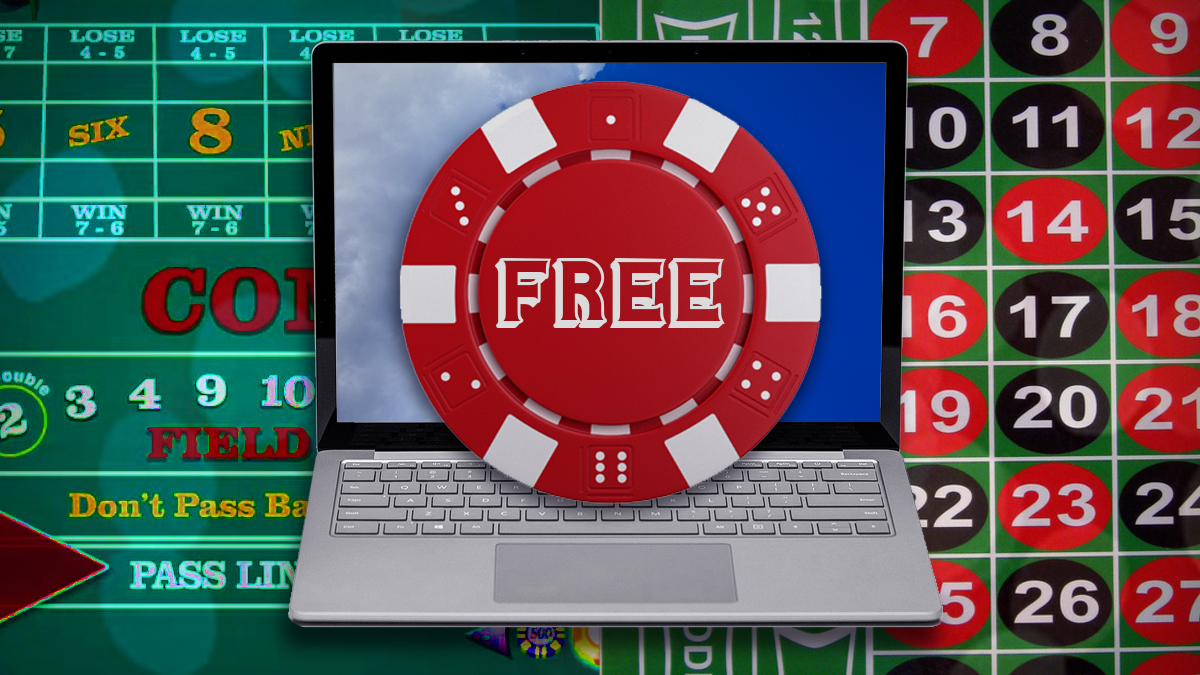 Free to you probably means the headline offer.
And that tells you that you're getting something free. So why wouldn't you believe it?
Here's a good example:
"40 Free Spins + up to £200 welcome offer."
That looks pretty straight forward right. You get 40 free spins! Hooray.
And up to £200 as well! Wow!
That's under 10 words making a very big promise.
But the truth of this free offer lies in a list of terms and conditions that is well over 4,000 words long and that has nearly 30 clauses.
You'll be unsurprised to learn that those clauses and those words aren't simply telling you over and over again that you're getting free stuff.
What they do tell you is that you will get "free" gifts, but that they're so tied up with restrictions that they're essentially not free.
First of all, you have to deposit your own money to trigger either part of this offer. The "free" money comes as a cash match on the money you put down, so to earn £200 in free bonus money you have to deposit £200 of your own money.
Free spins are slightly less complicated.
In fact, this is a good offer!
Players have to register an account and then they'll be given 40 free spins on two games.
You can simply play these free spins and you're free to leave.
With your winnings?
No, not quite.
In order to free up your winnings, you must fulfil the "wagering requirement" of the offer.
A wagering requirement is an amount of money that a player must deposit at a site in order to release winnings associated with an offer.
In this example, the wagering requirement is 1-times the value of the offer. That's really generous in the current market, but a wagering requirement requires that you deposit and spend the money, so you'll be spinning 40 times, and the spins are set to play on the highest number of pay lines, and then you'll have to match that amount before you can take any money that you win out.
The deposit match offer has terms that are more typical for the industry. In this case, you are rewarded with bonus funds that match what you deposit.
This bonus comes with a 35-times wagering requirement.
So, for example, if you deposit £10, you'll receive a £10 bonus, but you must then deposit £350 (deposit and play with remember) of your own money.
There are a load of other restrictions too.
Our example site only converts rewards in steps of £10, so a £15 deposit would have a wagering requirement of £350 to convert the first £10 you win, followed by a £175 wagering requirement for the next £5 – a total of £525.
To convert your winnings you'll need to play games, and these games usually come with a "weighting". Weighting means that not all of the money you play on a game will go towards your wagering requirement.
Here, you will often find that games that give the best return to the casino are encouraged. So slots, which have a house edge of around 4 – 5 % at minimum, will contribute 100% of the money you spend on them to your wagering requirement. The exceptions include some of the biggest progressive jackpot prizes, and these only contribute 50% of their value, so that would double your wagering requirement if you, for example, wanted to play on Rainbow Riches titles.
Roulette games contribute just 20% of their value, so you need to spend five times as much. The same figure applies to most other casino and live games, with blackjack, baccarat and video poker (the games that give the best returns to player) putting just 10% of their worth to the wagering requirement. So, this £350, is now £3,500 if you want to play on jackpots.
Another Free Play Offer – No Deposit Free Play
One way to find more genuinely free play is to look for a no-deposit bonus.
This means that you put none of your own money down.
Here's an example:
"£10 FREE – No Deposit Required"
There you go, that looks pretty good, doesn't it?!
However, if you attended our Beginner's Guide to Casino Economics guide up above you'll expect to see some restrictions here.
And they are a big deal!
The most you can win and withdraw is £50. And the wagering requirement is 50-times the bonus, so that's £500 of your own money you need to play with in order to withdraw a maximum of £50.
The Truth about Free Play Casinos
We haven't even covered all of the conditions on that no-deposit bonus offer, which include this:
"The wagering requirement must be completed within 7 days of claiming the £10 bonus or the offer will expire and any remaining bonus funds or winnings will be void and removed."
And this is crucial to understanding welcome offers and other free play offers. They are not designed by you and they are not designed with your best interests at heart. They are designed to maximise the profits of the casino site and the profits of any casino site are 100% only and exclusively lost player bets.
So, a £10 free offer is designed not to give a player £10 to enjoy playing with – but to deliver £500 of spending from that player within a week. OK, so the player is going to win, say £50 at maximum, and will also win from the £500 they deposit, but the fact is that casino sites are profitable because most players lose money.
Free Play Offers that Are Worth Your Time
Should you even accept free play offers?
Possibly yes. Though you need to understand them, and you need to know how to behave healthily around your gambling and you need to know when to turn them down and sometimes when to ditch them.
Using that £10 no-deposit offer as an example. If you consider that offer as the chance to enjoy £10 of free play, along with a chance to look around the site in question and you completely disregard any money that you might win from it then you might be able to enjoy it healthily.
If you want to claim your winnings you need to factor in that £500 of spending within a week. Is that sustainable and healthy for you?
If it's not then you need to walk away.
Using Free Play Casino Offers Safely
Casino offers are everywhere. They are the primary promotional tool of the industry. And most players should completely ignore most of them.
If you're going to look at free play casino offers you need to know how to understand the terms and conditions (and to do that you need to read them carefully!), and the implications of each offer.
Most of them are designed to get you to spend as much money as possible as quickly as possible.
Perhaps a better way to choose which casino site to play at is to choose the site that you like the best – despite its offer.
Then, if you sign up and do accept an offer, make sure you're clear in your mind that it might well not be worth fulfilling the wagering requirements in order to cash it out.
That's a good start to healthy free play casino play.
Free Play Casinos FAQ
Are Free Play Casinos safe to use?
Yes. That is they should be. If you use UK licensed sites with up-to-date UK Gambling Commission licensing then you should be OK. However, when people look for free things it is often because they are either vulnerable – in that they can't afford something – or they are trying to get around the rules. Both of these things make you vulnerable to scamming too, so be more aware.
Can you win at Free Play Casinos?
You can, in some cases, and in some senses, but you are very very unlikely indeed to make a large amount of money or even a profit from free-play games. The economics of this are obvious, but they are not presented straightforwardly. Restrictions on free-play games almost always mean you'll be committed to a big spend to unlock your winnings so understand them before you sign up.
How do I find Free Play Casinos?
Google is always a good start, but marketing people have long known how that search engine works and how to get around it. The top Google result is unlikely to be the best site, so check out review and recommendation sites that you trust – we hope you trust us, we always tell it like it is – and read forums and fan sites.
How Do I Stay Safe at Free-Play Casinos?
Wherever and whenever you're gambling you should be aware of your own personal safety in two ways. You need to keep your personal details and your tech safe and clear of viruses and so on. To learn how to set safe passwords and keep bad software off your device. And you need to be mindful of your personal safety, your financial safety, and gambling addiction. Those are big questions that we explore in full elsewhere on this site, and we encourage you to get as informed as you can on these matters.
Are Free Play Casinos Legal?
It is not legal to offer gambling games to people under the age of 18 in the UK. It used to be possible to play these games without any age verification as long as there was no cash gambling involved. Now, you need to verify your age to even try out a gambling game. These checks are simple, but their absence is a good sign that a site isn't legit, and the absence of proper ID checks is a good sign that a casino site is trying to rip you off.
Can I get Rich from Free Play Casinos?
No! There may be one-in-a-million exceptions to this rule, but the expectation should not be encouraged by gambling sites nor entertained by customers. The first rule of safe gambling is to accept that it is an entertainment that must be paid for. Playing to win big off no stakes is a fool's game when we know that the vast majority of gamblers lose relatively small amounts of money in the long term.