There's always another dimension to slots. They started off around a century ago with three reels. Then there were five. Now you can play games with six and more reels. And the same is true for the speed and tech the games use today when the 3D slots are concerned.
So as soon as a third dimension in graphics turns up you can be sure that the best online UK slots companies and Internet casinos are going to be straight on it.
Let's find out more about the fabulous world of 3D slots in this guide and not lastly, try some free 3D slot games online for free!
Best Sites to Play 3D Slots Online
What is the Third Dimension?
What does 3D actually mean?
And, more importantly, what does it mean to online video slots players.
To answer that we need to digress for a moment. You probably know this stuff anyway, but if not, welcome to the beginner's guide to dimensions!
There are two dimensions in most representations, which are often represented as axes (plural of axis, like in graphs, not big chopping things like in the Viking slots you love): there is a horizontal axis (often called the x-axis in maths), and there is a vertical axis, which mathematicians call the y-axis.
And that is your canvas for any most representative art under current technological conditions. And the same limits are applied to your computer, which creates pictures on an (essentially – no-one likes pedantry) flat screen.
Now, the real world is not like that. The real world has a third dimension: it is often called "depth", and it gives us a third axis: z.
There are all sorts of tricks for representing depth, to putting three dimensions onto a two-dimensional frame. You probably started doing them instinctively when you were a little kid and started doing drawings that had some sort of perspective to them.
Three Dimensions V Computer Graphics
Three dimensions can be depicted with artistic sleight of hand. This was true first on the artist canvases of the likes of Leonardo Da Vinci and Piero Della Francesca and Holbein, who were masters of perspective.
And that stayed the same way for a long time, with artists getting better and better at using the artistic tricks needed to represent three dimensions on two.
That changed somewhat with the introduction of Stereoscopy.
This is still a "trick" but it's a technological trick.
Human beings see in three dimensions in part because we have two eyes that see things from a very slightly different angle. Even this is a trick of sorts, but as it's made possible by our enormous brains and it's a world we live in it's something we can't perceive that way.
Stereoscopy was the first attempt to match what our eyes are doing by presenting two slightly different images to us.
This creates an "illusion of depth". These images are not actually true 3-D images, although they appear that way because our brains try to take a sense of two slightly off-kilter images and do this by combing them into a single image that looks three dimensional.
A 1830s Technique
This technique dates back to the 1830s, and it used to be practised with some pretty hefty hardware in the shape of stereoscopic viewers that isolate each eye to ensure they each see something slightly different.
There are a number of ways that the two images can be differentiated, including by colour coding, which is popular in old 3-D viewers that look a little like binoculars.
These stereoscopic images cannot be seen without using a viewer. Or rather, they appear odd (because of the two-colour profile or mismatching images) without them.
And they're still tricks.
Computers also do tricks to make things appear as if they are in three dimensions. It's just that computers are the most advanced calculating machines that we've ever made, so they're much better at doing the tricks than human artists ever could be.
So, computers can produce two sorts of 3-D image: the sort that needs a special viewer to decode a treated or separated image, and something that looks very three dimensional because of its brilliant perspective.
The only genuinely 3-d images are holograms, which do not exist on a flat surface. If there's a flat surface you need a trick to produce something that looks three dimensional.
Virtual reality slots can do this by enclosing you in a space where images can be projected all around you. If you've ever seen a virtual reality film without wearing the viewing device then you'll see it is distorted to the naked eye.
Slots and 3D Images
So, it's pretty clear that unless you're playing a holographic slot (and you're not) then you're looking at a visual trick that appears to be three dimensional rather than an actual 3-d image.
Sorry.
However, that doesn't mean that 3-D slots aren't very impressive pieces of graphic design and programming ingenuity. And it doesn't mean you shouldn't love this particular style of game.
The First 3D Slots
Because this isn't really a major technological breakthrough, it's quite hard to pinpoint when and where the first 3-d slots were produced and by whom. It's hard to define what a 3-d slot is, too – beyond, it's a game that says it's three-dimensional and presents its imagery convincingly enough to persuade a good number of people that that's the case.
Among the earliest 3Dslots are the Slots3 trademarked line from Betsoft.
These titles first came out in 2010.
Betsoft – who are very keen to talk about these games – saw the games as a way to tempt new players into the market, adding younger slot spinners to an already established army of off-line players who wanted an approximation of the experience they had in bricks-and-mortars casinos.
These games were first made available in online and offline settings. They used newer tech to deliver better quality graphics and 3-d effects for players. Betsoft launched Slots3 and then launched a new programming platform to make the whole lot available on all platforms.
Again, the purpose here is nakedly stated: it's to get people who don't think of themselves as slot players to play slot games by making them look more like standard computer games but to put a wagering element in place.
The Success of 3D Slot Machines
The Slots3 range promised "richly vivid, true 3D cinematic graphics and animations," though as we've established it's not really possible to produce 3-d graphics without using a 3-d medium, like a hologram, or a viewing apparatus.
The games are supposed to provide "rapid action" for "high-value players", with "large potential winnings.
It's always interesting to read about the casino business from the point of view of the businesses that run the industry because the perspective shared between these companies is not always that that is offered to players. So a "high value" player here is one who is going to spend a lot of money at a casino.
3D slot machines from Betsoft now come in two flavours: Arcade and Interactive, which has a more developed storyline to draw in even more console gamers.
More 3D Slot Machines – 3D Slots in the Real World
By 2014, casinos in the US were announcing real-world 3D slots, from GTECH.
These games used a lot of very impressive-sounding tech if you're impressed by autostereoscopic technology with eye-tracking. I am, I think.  A bit scared too! THEY'RE TRACKING OUR EYES!
This is another tech breakthrough being trailed as True 3D when in reality it's another trick. However, here we see how the super speed and sophistication of a computer can make 3d work – in our brains.
The eye-tracking is there so that the images can adapt to where the player sees them from and show a slightly different angle. Very clever.
3D Slots in All Styles and Genres
A couple of things to get clear here.
3D slots are a visual trick. And that's all. There's no inherent gameplay or prize enhancement to a 3D slot, it's just a way of looking at the action, and that's all.
That's not to say that a 3D slot won't have a huge amount of other great things going for it. The investment in 3D graphics isn't inconsiderable, and the companies who make 3D slots need that investment to pay off. They need players!
And you're smarter than to just fall for a visual gimmick, right?
Well, yes, you are – after the first time in any case – so you need good gameplay as well as pretty graphics.
Best 3D Slot Games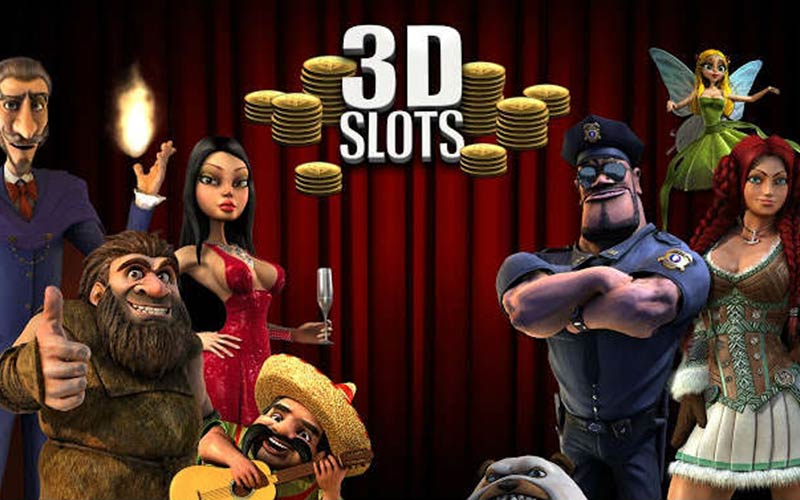 Let's have a look at some of the biggest 3D slot games we can find. This isn't as easy as you might imagine. If you're in the business of making updated lists of things then please make a list of the most popular 3D slots because it'd be very useful to people like us.
In the meantime, you'll have to accept this somewhat unscientific list, which shows the sort of variety available in 3D slots.
Charms & Clovers
From the title you've already guessed that this is an Irish-themed game. It was released on July 2017 by Betsoft. It's a six-reel game, with a 96.31% theoretical return to player and a top prize of 350,000 coins.
Jungle Spirit Call of the Wild
NetEnt are one of the biggest companies in the online slot world, and Jungle Spirit Call of the Wild is a big release from them, coming out in 2017. It's got a theoretical return to player of 96.47%, with medium volatility, and a top prize of 15,000 coins.
This is a great example of how games get called 3D slots. This is a graphical trick, but it's a very good one, and it looks fantastic, with jungle beasts seeming to come out of the screen at you during the bonus rounds.
Genie Jackpots Megaways
This 3D slot game is a big jackpot game, with a top prize of 250,000 coins from a theoretical return to player of 96.52%. The main gimmick here are six reels and 15,625 potential pay lines. The 3D effect here is quite limited, with the animated genie appearing to float in front of the reels in bonus rounds.
And here we see another aspect of 3D slot labelling. We've already established that there is no way in a 2-dimensional medium to produce a truly 3-dimensional image. All you can do is produce the appearance of three dimensions. And every piece of art you have ever seen, pretty much since Ancient Egypt, has done some version of this. So where do you draw the line? The fact of having reels that appear in front of a backdrop is a 3-dimensional effect of a sort. Having a character appear "in front" of the reels is a 3-dimensional effect of a sort.
Ninja Master
SkillOnNet are behind this 2015 title that gives players a 95.9% theoretical return to the player with a top prize of 300,000 coins.
The 3D effect here is in the set up with the reels seeming to float in a room, in which our ninja hero stands.
Archangels Salvation
Another 3D slot title from NetEnt that was released on April 2018. This one is really stunning, with a convincing 3D effect that makes the title characters appear to float by the sides of the reels. It's a great effect, and the 30,000 coins top prize doesn't hurt either. The reels are non-standard too, with a six-by-12 setup.
Age of Gods Prince of Olympus
Playtech throw their muscle into the 3D genre with this standout title from their Age of Gods series. There's a massive top prize of 2,000,000 coins in this jackpot game that's themed around Ancient Greek myths. The game came out in 2017, and the 3D effect goes beyond the reels with a bonus screen featuring a 3D effect game with a hydra.
Butterfly Stax
Another 3D title from NetEnts that came out in June 2017. The graphics here are great, with a 3D effect both on the reels, in the symbols, and in the bonus screens with objects that seem to float out towards the player. It's very convincing. The game is rewarding too, with a 96.8% theoretical return to player and a 240,000 coins top prize.
Fruit Warp
Fruit Warp look really up to date for a game that's been out since 2014. The game has a great 3D effect, though it's actually a classic fruit-style slot in some respects. The game has a 97% theoretical return to player, and a 1,100,000 coins jackpot prize. This is one of the most convincing 3D slots ever made, and it's truly a great game from Thunderkick.
Black Ice
The 3D effect here is based on the reels appearing to float in a cave. The game from Realistic has a 10,000 coins top prize, betting up to €200, and a 10-pay-line, 5 by 3 set up. It's not the most convincing 3D effect on the market, but it's a good game.
There are a lot more other titles that are labelled as 3-D with varying degrees of honesty. Some of the titles that we enjoy, for their 3D effect, are:
Ted,
Great Blue,
Jungle Jim El Dorada, and
Flux.
Playing the 3D slots
You know how to play slots. And 3D slots aren't really any different. There is rarely anything different in the way that a 3D slot operates.
The only likely difference will be in the visual presentation of the controls, which might appear to float in front of the reels or alongside them. You still have to press to play through, and that's about all you need to know.
We always advise our readers to read the instructions for any game before they play it.
We also advise players to make sure that they are playing only at licensed, legal sites. To not do so is to invite trouble.
The Truth About 3D Slots
3D slots are, as we've seen – designed to temp players in, particularly those who are not traditional slot players. That's OK, that's how the slots industry works – they need new players.
We always remind players to be aware of their online safety and safe gambling rules around games that have a particular visual attraction.
We apply this warning to live casino games because we're aware that casino sites use attractive young dealers as a way to entice players in and, frankly, to get them to forget they're playing real games for real money.
The same applies to 3D games. Looking at their history, we've seen that the companies who introduced these games did it specifically to tempt gamers in.
So when you're playing 3D slots remember that they're gambling games, and remember that you can lose your real money when you're playing them.
Always keep your wits about you, play for fun, don't play in order to make money. Don't play when you're in a bad mood or to try to alter or improve your mood. Don't play when you're intoxicated. And don't play with money you can't afford to lose.
These warnings should be on your mind every time you play any online slot or casino game.
The Future of 3D Slots
The future for 3D slots is exciting. Slots games are always at the vanguard of innovation in computer games. In order to stand out and in order to attract players, slot games need to have something different and something exciting. So you can expect 3D slots to continue to change and grow. And in time you can expect actual 3D slots.