Aloha! Cluster Pays Slot – Review & Free Play Demo
Put your sunglasses on for this game. Not just for the sunny theming around Hawaii, America's (invaded and stolen) Pacific Ocean state, but also for the super-bright tropical colours of this strikingly designed game with a gimmick or two up its sleeve.
The headline attractions are a big top prize of 100,000 coins; the swapping out of pay lines for NetEnt's cluster pays feature and a lovely mellow soundtrack.
This Aloha! Cluster Pays slot is a cute and laid back game (though if you're sensitive around cultural representation you may not be all that keen on the grinning icon faces) that captures a tropical holiday feel.
Should you get on the plane and head off to Hawaii to spin these clustering symbols that have been on the market since March 2016?
Let's take a look in this Aloha! Cluster Pays slot review.
Play Free Aloha! Cluster Pays Slot Demo
Aloha! Cluster Pays Slot Q&A
Aloha Clusters Pays is a hit tropical game in the top 300 UK titles and available at most UK online casino sites.
What game provider developed Aloha! Cluster Pays Slot?
NetEnt make Aloha Culster Pays. NetEnt is the UK's most popular slot provider with nearly 400 titles, including long-time number 1 Starburst.
When was Aloha! Cluster Pays slot released?
March 25th, 2016.
What is the RTP of Aloha! Cluster Pays slot?
The RTP is 96.42% or a house edge of 3.58%.
What reels and pay lines does Aloha! Cluster Pays slot have?
The game uses a cluster engine, on six reels with five rows.
What is the theme of the Aloha! Cluster Pays slot?
Hawaii, tropical, holidays, Hawaiian culture and myths.
Can I play Aloha! Cluster Pays on mobile?
Yes, play on any system that supports HTML5 and JavaScript.
What is the variance of Aloha! Cluster Pays slot?
This is a low variance game, expect more frequent smaller wins.
What are the minimum bet and the maximum bet in?
The minimum stake is 0.1 coin, the maximum stake is 200 coins. This should be 10p to £200.
What's the top prize in?
You can win 2,000-times stake, capped at £400,000.
Is there a jackpot in?
There's no progressive jackpot.
Are there any free spins and bonus rounds?
There are free spins, cluster wins, wilds, and respins on wins. Free spins retrigger to a maximum of 60 and come with more higher paying symbols as the game progresses.
Is there anything else I should know about this slot?
If you like Hawaiian slide guitar music you'll love the soundtrack.
If I like Aloha! Cluster Pays slot, what else should I look at?
Tahiti Gold, Tiki Runner and Tiki Mania are Hawaiian themed. Golden Ticket 2, The Demon Code, and Star Clusters Megaclusters use cluster wins. NetEnt also make Gonzo's Quest, Hotline 2, Reel Rush, and Narcos.
The Developers of Aloha! Cluster Pays Slot
NetEnt are huge. The company is often credited with having around one-fifth of the market for slots in the world, and more than a quarter of the market in Europe.
Not bad for a company from Sweden founded as recently as 1996.
From that start, the company has built up enormous power. Its Starburst slot is the number one in the UK and it is pretty much the standard free-spins game at many casinos. It's also a damn fine game. As is Gonzo's Quest, which is rated at number four in the UK market and is a complex and engaging title.
NetEnt's position as a maker of digital casino software can only add to its market power and the likelihood that games will get good positions in the many sites it runs or provides gear for.
The company keeps adding awards to its trophy cabinets, and it is licensed fully for UK players, so you can use this game with complete confidence.
The Facts and Figures
The theoretical return to player on this trip to Hawaii is 96.42%, which is a house edge of 3.8%. That means that over the lifetime of the machine you should expect it to return that nearly 4% as profit to the casino site. However, this is a measure of lifetime performance and might not reflect how you get on in any particular session.
This figure is very average. Less average is the high variance rating. Variance is the ratio between the frequency of prizes being paid out and the size of the prizes. High variance games pay out higher prizes but are programmed to pay them out less frequently.
The top prize here is 100,000 coins. This can be won in betting from between 10p to £200. That's a very high top stake, and you should be careful if you're playing for stakes like that.
The reels are set up in an atypical 6-by-5 set up, and the cluster pays system means there are no recorded pay lines in the traditional sense.
You can play this game on any desktop, tablet, or mobile device that supports the use of JavaScript and HTML5.
The Game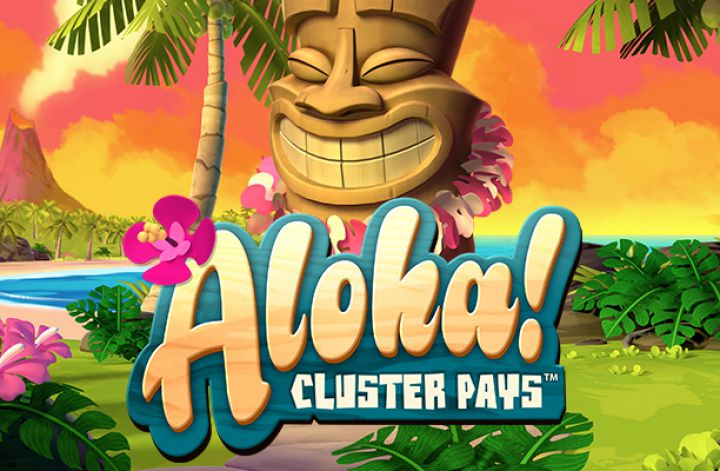 Cluster Pays and the reels here are very different from the average slot, but there's lots of familiar stuff too.
The control panel is standard to NetEnt games, running along the bottom of the screen.
At the left is an information key, which you can use to bring up the paytable and game rules. Next to that is the bet amount, which is set by setting the bet level on the adjoining indicator and the top coin value on an indicator at the other side of the screen.
The central console holds a spin button, with a sophisticated Autospin function to the left, and a max bet button to the right. Finally, your balance is shown at the right of the screen.
Some of these controls and other options are shown in the game frame.
How to Win
The cluster pays system rewards players when symbols are gathered in groups of nine or more.
At the bottom of the paytable is the pink flower, paying 2,000 coins for 30. The shell pays 2,000 coins for 30. The coconut pays the same. So does the pineapple. The three tiki totems pay 5,000 coins for a set of 30 blue totems and green totems and 10,000 for a set of reds.
The tiki symbols can appear as double symbols.
Aloha! Cluster Pays Slot Bonuses
There is a bonus in the base game called Sticky Win Re-spins. This triggers randomly to hold winning symbols in place and to respin the rest of the reels to give you more winning options. This can repeat as the cluster grows with new wins.
There is a wild in the shape of a question mark that completes the highest possible win wherever it appears.
Free spins are triggered by a free spins symbol. In the main game, three of these trigger 9 free spins, four = 10, five means 11, and six gives you 12 free spins.
These can also be retriggered with three to six symbols triggering an extra one to four free spins.
The Verdict
What a lovely, fun, and different game this is!
The standout features speak for themselves: something different in the reels, a new way of aligning winning symbols, and a big top prize.
Put on top of that some really beautiful graphics and you have a game that really attracts players in. If you've read many of our reviews you will know that we almost never like the music on slots. However, we love the music here! It's laid back and pretty true to the spirit of Hawaiian music (as far as we can tell, and we're no experts.)
This could be a holiday you go on and come back with more money than you set off with, so we think this is a trip we think you should definitely consider taking. Check it out at your favourite online casino site now.