You'll need to hurry if you want to see the actual Arctic before it all melts away as climate change continues to heat up the world. Perhaps a big win at this game will help you feel better about that!
Well, that's asking a lot, so please continue to pressure politicians to make the systemic changes we need to survive as a species before, during or after enjoying a few relaxing – and hopefully rewarding spins on this Microgaming release from the tail end of 2019.
The theme here is obvious enough: the beautiful, white wastelands of the Arctic, with some beautiful northern wildlife to keep you company on the journey.
The Arctic Magic slot is a beautiful looking game, really well optimised for mobile users. But is it one you should head north for?
Let's have a closer look!
Play Arctic Magic Slot
Arctic Magic Slot Q&A
Arctic Magic is a floating symbols game with a magical, ethereal ambience and a wildlife theme.
What game provider developed this slot?
Arctic Magic is from Microgaming, a UK developer who claim to have made the first online casino software. They're the 10th most popular UK-market developer and their biggest hit is Mega Moolah.
When was the Arctic Magic slot released?
December 12th, 2019.
What is the RTP of Arctic Magic slot?
Arctic Magic has an RTP of 96.1% or a house edge of 3.9%.
What reels and pay lines does have?
The game has a five by three classic reel set with 15 symbols but just nine pay lines.
What is the theme of the Arctic Magic slot?
Arctic wildlife, northern lights, magical landscapes, white lights, magical animals.
Can I play on this game mobile?
Yes, you can play on mobiles. You need JavaScript and HTML5 enabled.
What is the variance of Arctic Magic slot?
This is a high variance game, meaning larger wins that arrive less often.
What are the minimum bet and the maximum bet?
You can bet between 0.09 coins and 45 coins, which should be 9p to £45.
What's the top prize?
The top prize in Arctic Magic is 3,333-times stake.
Is there a jackpot?
There is no jackpot prize and no progressive jackpot.
Does the Arctic Magic slot have free spins and bonus rounds?
Yes, there are free spins, and there are wilds and scatters in the base game. Free spins come with a 3-times win multiplier, in sets of 15 that can be retriggered.
Is there anything else I should know about this slot?
Wilds come with a doubling multiplier.
If I like this slot, what else should I look at?
Northern Sky has a very similar feel, and the Wolf Gold family of games are wildlife-themed – wolves are every popular in slots land.
Microgaming – The Developers of Arctic Magic Slot
Microgaming and small in name but big in size and industry impact.
The company has 500 slots, at least, on the UK market. It's one of the rare slot makers that has a base in the UK, though it's in the semi-off-shore jurisdiction of the Isle of Man.
The company has been around for a long time now and its games are well known and include some of the biggest and best titles in history.
The company's most famous game is a world record-breaker. Mega Moolah has probably made more millionaires than any slot game in history and has at least two Guinness world records for the top online slots pay out. It's one of the few games that have their own fan bases and dozens of websites set up to help them follow it.
Microgaming do more than just big progressives though. Mega Moolah is their top title at the moment, but Immortal Romance, the vampire game, and Thunderstruck II, the Viking game are close behind.
Microgaming are licensed, legal, and you can play their games in complete confidence.
The Facts and Figures
This is a five-by-three grid game, with 15 symbols in play. There are nine pay lines, which is low. But this measure has no effect on how likely you are to win. That is decided by the theoretical return to player and the volatility. On this game, those figures are 96.1% (or a house edge of 3.9%) and high volatility.
The RTP here is about on the industry average, so you should expect to have a familiar feeling experience. The volatility is high, which means that wins are likely to come slightly less often, but when they do come they are likely to be bigger.
Both of these measures are assessed over the length of a game's entire lifespan. You shouldn't consider this as a measure of how your game experience will go.
The betting runs from 0.09 coins to 45 coins, which should equate to 9p to £45, and with these pay lines that means 1p a line to £5 a line. The maximum exposure on this game is 3,333.
You can play this game on any desktop, tablet, or mobile device that supports JavaScript and HTML5.
Playing the Arctic Magic Slot Online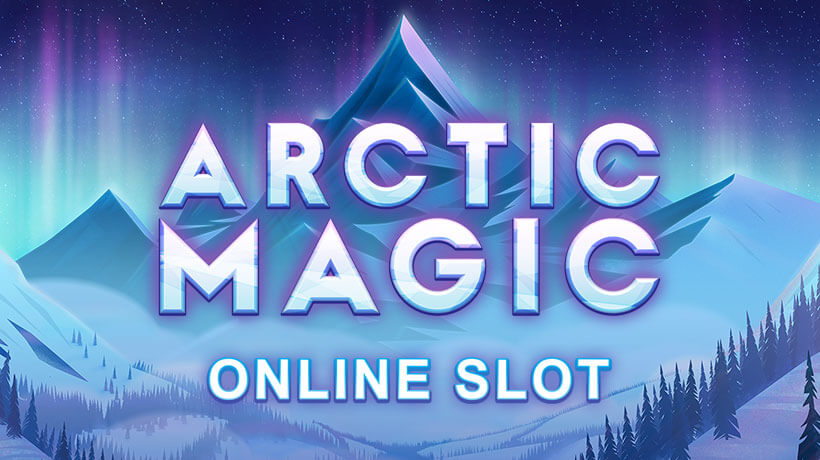 Microgaming games are always a pleasure to play, and Arctic Magic slot is no exception.
The game frame contains further controls, and there's a modern-style menu button (three lines) in the top left.
Your game frame is completed with a credit amount and the amount of the current bet. The number of lines in-play is listed too.
The main controls float. They include the autoplay function and the turbo function to the left of the spin button. To the right, is the coin value selector and the max bet button.
Payouts
Click on the menu to open up the pay table, where you'll find:
Nines, 10s, Jacks, Queens, Kings, and Aces, with above them, hares, foxes, stags, wolves, and polar bears.
At the top of the pay table are the wild, an Arctic Magic symbol, and a scatter, in the shape of a snowflake symbol. The scatter pays the top prize in its own right.
Arctic Magic Slot Bonuses
The scatters activate the free spins rounds, with three, four, or five of them setting off 15 games.
These rounds come with tripled wins. They can be retriggered. This is when scatter pays come into play.
Wilds come with doubled wins.
The Verdict
We love this game from Microgaming. It's as cool as an Arctic lake but can deliver big wins to keep you warm through a long winter night.
The game is very simple, and we love that.
You click and spin and watch the reels go around and wait for your wins. There's a big pay table with a lot of symbols – as is often the case with higher volatility games – so you may wait a little longer for the reels to click for you, but take a look at those figures when they do come in. The wilds and scatters are fantastic value.
The same is true of the bonus games, which are simple and beautifully so.
Wilds deliver double prizes. All good news!
And that's it!
And scatters deliver free spins rounds. We've gone over those above, but the big prizes are likely to come pouring in like an avalanche when you hit scatter wins in the free spin round.
Don't let the lower number of pay lines put you off and don't let the high volatility put you off either. This ice cool game is a joy to play whether the wins are coming in or not and it could be highly rewarding.
Like all the games we recommend, Arctic Magic slot is licensed in the UK and safe for UK players to play, like the company that produced it. This game might not know Mega Moolah off the company's pedestal, but it's a great game and worth playing whatever the season!