Aureus Slot Review
Crazy name and an eccentric main gimmick on this ancient civilisations-themed Aureus slot game that was released in March 2021.
The playing area chucks out reels and gives us three floating columns of coins – an Aureus was a Roman gold piece – and other symbols that change place by spinning when you click. There are a load of novel gameplay features and a lot of bonus rounds.
It's a super modern looking game though, with an animated Roman fellow waiting with his lightning bolt at the side of the reels. Give him a click for a funky move!
The game uses a ways-to-win model to deliver prizes and the mathematics are pretty attractive. It's obviously a game that's going to work well on mobiles in the way it's designed and laid out.
But this is a crowded area of the market. You can play with the gods of Greece, Rome, Egypt and a fair few other older civilisations at any number of games.
So should you travel back to this ancient temple to flip Aureus' coins?
Let's have a look.
Bets Sites to Play Free Aureus Slot Demo
The Game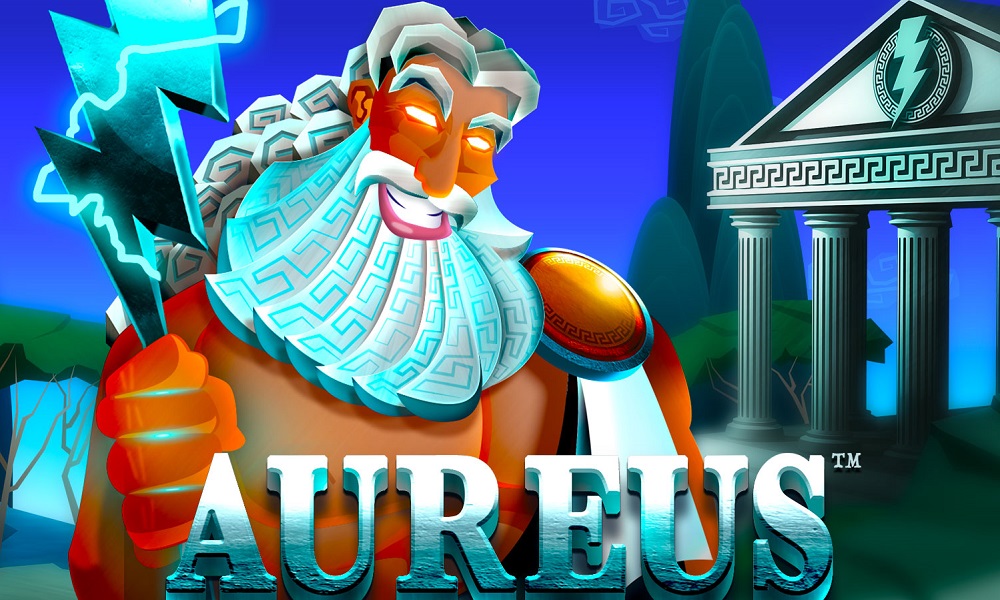 While a lot is different about this game you won't have any trouble loading it up and playing it.
The symbols float in the centre of the screen with the controls to the right. There's a spin button, with an autoplay option and a turbo mode above that (soon to be against the rules). Gamble levels are set with a simple total button, and a menu switch above that allows you to read the pay table and game settings.
Look for other settings in the game frame.
Coins are collected when they are enclosed within pairs of matching brackets.
Coins come with various values and functions. These include high, medium, and low credit value prize coins, plus multipliers up to 5 times. An upgrade coin boosts the value of other coins and the lightning bolt awards the player all the coins on the column in which it appears. A gold bolt expands that to the whole play area. The top value of a coin is 100.00 (and, yes, it is a bit sneaky to write that as 10,000).
Respins are awarded by another coin that can give you up to five extra turns.
The Verdict
It's always nice to see something novel and different and Aureus slot delivers that triumphantly, even if it does it by taking the well-trodden path back to ancient Rome.
The look, feel, atmosphere and animation of this game are really excellent, and it's an entertaining slot to spin as well.
The game play is clever and could be rewarding if you hit multipliers. It's quite complicated though and we suggest you take a full tour of the pay table before you spin. Or play Aureus for free at your favourite slot site.
There's a lot to recommend this game which is an exciting and different addition to the Ancient Roman genre and we think you should check it out.
Aureus Slot Q&A
What game provider developed the Aureus slot?
Crazy Tooth Studio are new to us, but they've been around for a while. With a foundation date in 2011 you'd expect them to have more titles on offer than the 13 you can play in the UK at the moment.
The company is based in a real gambling country, in Reno Nevada, and from the company's very swish website it looks like the company has done a fair bit of behind the scenes technical work in those 10 years.
Its most popular releases are this title, 3 Devils Pinball, 777 Mega Deluxe, Seven 7s, Lady Earth, Fortress Charge, and the Incredible Balloon Machine.
That's pretty much all of the company's most recent releases too, though they've also released the East Asian-themed Ancient Warriors, and the fruity Banana Drop recently too.
When was the Aureus slot released?
This game was released on March 4th, 2021.
What is the Aureus RTP?
The RTP (theoretical return to player) is 96%. That's about average – but generous – currently. RTP measures how much of the money wagered on a game is returned to players over its entire lifetime. The simulations used to compile this figure are based on idealised player behaviour, and that's just one idea of why you shouldn't consider this vague figure (a house edge of 4%) as a prediction for your own play.
What's the layout?
The game eschews reels for columns of symbols, with a five by three set up of floating coins.
What theme is used in this game?
This game is themed on Ancient Rome, money, Gods, Roman mythology, and gold.
Can I play this game on mobile?
Of course, you can! The game uses JavaScript and HTML5, so if your device has these programmes installed you can play it on any compatible device.
What is the variance of the Aureus slot machine?
The published variance is "medium". Variance is a measure of the size of prizes against the frequency of wins – sometimes written more precisely as a hit frequency. Low variance means smaller prizes won more often, so this game should sit somewhere in the middle of the current range. It's hard to make much sense of this measure in the abstract unless you've played a lot of slots already.
What is the minimum bet and the top prize?
Start your betting at 0.2 coins and finish up at 80 coins a spin. That should be 20p to £80 in UK sites, but make sure you're aware of any limits on pay-outs and prizes on the site you're playing. Never spend more than you can afford to lose.
Are there any free spins and bonus rounds?
It does. Lots of them! Prizes are awarded by collecting coins, which are grouped in bracketed sections. A series of special symbol coins give you extra features. Free spins are delivered with sets of up to 5 respins.
Is there anything else that I should know about the Aureus slot?
This is quite a different game, you should definitely read the instructions..
Is there anything else that I should know about the Super Bar-X slot?
Super Bar-X can be played in two modes; up close and personal and immersive. Choosing to zoom in allows you to focus on just the reels while zooming out gives you that feeling of playing in a land-based venue.