Barry the Disco Leprechaun Slot – Review & Free Play Demo
How on earth did we end up with a dancing Leprechaun as the theme of an online video slot?
We'll probably never know, although we can take a good guess that there was some head-scratching about how to continue the seemingly never-ending rainbow of Irish-themed games and give the "lucky Irish" ambience something of a different feel.
Barry fits all the Leprechaun stereotypes to a tee (and I haven't asked an Irish person how they feel about these games, but I would guess they're a little tired of them by now), with his red hair, big smile, and smallness, but he's squeezed into a gold suit and set dancing on a big disco floor with a couple of girls.
This Barry the Disco Leprechaun slot game itself is relatively straightforward, with extras like respins, expanding wilds, and a free spin round for the biggest prize of up to 200-times your stake.
Should you head to the dancefloor with Barry? Let's take a closer look.
Best Casinos to play free Barry the Disco Leprechaun Slot
Barry the Disco Leprechaun Slot Q&A
Barry the Disco Leprechaun is an Irish-themed game from 2019 with a high variance to attract in the risk lovers.
What game provider developed Barry the Disco Leprechaun?
This game is from Leander Games, a UK-licensed slot developer with around 90 games to their name. They're from Argentina and their big hits are Kraken Conquest and Glam or Sham.
When was the Barry the Disco Leprechaun slot released?
May 31st, 2019.
What is the RTP of Barry the Disco Leprechaun slot?
The RTP is 96.26%, a house edge of 3.74%.
What reels and pay lines does this game have?
The game has a classic five by three fried of 15 symbols with 30 pay lines.
What is the theme of the slot?
This has Irish, club music, discos, glitter, and retro themes.
Can I play Barry the Disco Leprechaun slot on mobile?
Yes. You can play this on any device that has JavaScript and HTML5 available.
What is the variance of Barry the Disco Leprechaun slot?
This is a high variance game that should pay out higher prizes but deliver wins less often.
What are the minimum bet and the maximum bet in?
You can bet from 0.3 coins to 300 coins on this game, which should be 30p to £300. Stay safe!
What's the top prize in?
The top prize is 30-times stake.
Is there a jackpot in?
There is no progressive jackpot.
Does Barry the Disco Leprechaun slot have free spins and bonus rounds?
Yes, there are free spins as the main bonus round. The game also has resins on wins, scatters, wilds, and stacking symbols. Wilds expand in the free spins round.
Is there anything else I should know about this slot?
Respins work as a near-miss feature, giving you a chance to turn sets of two into threes.
If I like this slot, what else should I look at?
There are millions of Irish themed games, most notably the Rainbows Riches series.
The Developers of Barry the Disco Leprechaun Slot
Barry the Disco Leprechaun slot is made by Leander Games. They are behind around 70 slots currently available in the UK market, and their biggest hit is Ave Caesar. They produce games across all genres.
Leander describe themselves as an independent studio and it's not that easy to find out a great deal about them as their website is currently down. They were founded in 2008 and are registered in the Bahamas. Their games are found at a number of completely legit and reputable casino sites and they are a developer you can trust.
The Facts and Figures
Thirty fixed pay lines are Barry's to play with on a standard layout game of a five-by-three grid with 15 symbols in play.
This game is rated as a high variance game. This is relatively unusual, and it means that prizes are likely to be larger but delivered slightly less often.
The theoretical return to player is 96.26%, which is good for a high variance game, and pretty much in line with the current average in the online slots market.
The advertised top prize is 9,000 coins. That prize can be won by staking at the top end of a betting range from 0.3 to 300 coins. Check coin values and maximum pay-out and prize limits on the actual game that you are playing. In the UK, a single coin should translate to £1.
You can play Barry the Disco Leprechaun slot on your mobile, tablet or desktop, as long as you can support Javascript and HTML5.
Barry's brand new to the scene, having been released on 31st May 2019.
The Game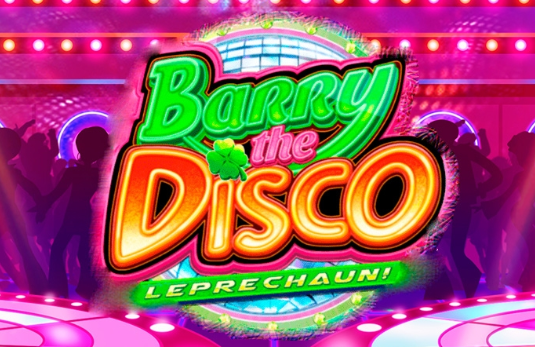 The gameplay here is fairly standard and there's nothing to shock or surprise even a relative beginner.
The screen layout puts the reels in the centre of things with controls along the bottom, they are mocked up to look like the electronic dancing arcade games that you see youngsters playing.
The balance window is at the left, next to that is an auto spin function, in the centre is the spin button, to the right of that is the bet button, which is a simple plus or minus option taking you up a scale of totals. Finally, your wins are recorded on the right.
How to Win
The paytable is split into two, with a run of cards (in glittery disco colours) from 10 to ace, paying: 10s pay 2, 5, and 10-times stake; jacks pay 2, 5, and 20; queens and kings pay the same, and aces pay 5, 10, and 40-times stake for sets of three, four, and five.
The "main symbols" paytable contains: champagne glasses paying 10, 25, and 80-times stake, disco shoes, and a record paying the same. Finally a shamrock pays 20, 50, and 200-times stake for three, four, and five.
There is a wild of a pot of gold.
Bonuses
That wild stands in for any and all other symbols. Wilds drop to the bottom of the reels, expanding upwards to cover the whole thing. Expanding wilds then trigger a respin, called a "drama reel".
A star is the scatter, and they trigger the bonus feature.
Two scatters trigger a respin for a second chance to score the third scatter that sets up the Disco Fever bonus game.
Disco Fever is how you earn free spins. This is an arcade game like a dance game, but instead of using your feet you tap coloured buttons to match a sequence to win free spins.
Free spins jettison the low-paying symbols from the game and can be retriggered. The expanding wilds feature also remains in play during the free spins round.
The Verdict
We came to this game with a bit of a cynical sigh. How many more Irish themed games will there be? Are people really so addicted to leprechauns?
It was a pleasant surprise then to encounter a game that has had some genuine thought given to it.
The arcade game element is an extra skill challenge that younger players will enjoy, and the array of bonus games and extra symbols is an engaging and even funny experience – having Barry dress up in new outfits to head to new clubs shows that the theming is more than just skin deep.
Barry the Disco Leprechaun slot offers much more than fist glances might suggest and whether you like Irish-themed games or a bit of a boogie it's a game that's well worth checking out. While no strategy and no game rating can ever be relied on fully, the high variance and good theoretical return to player indicate that this game should be a good value experience for players.
Thank you for surprising us, Leander games. If we're looking for negatives here, we'll mention the slightly old fashioned visuals, but beyond that this is a great game that we recommend you check out today at your favourite online casino site.