Beat the House Slot by High 5 Games – Review & Free Play
We all want to Beat the House, don't we! That's the ultimate aim of any gambler stepping up to the tables or a slot.
High 5 want to help you out in that aim with this game, based on retro video games, and classic slots, and delivered with lovely retro-futurist graphics, a somewhat Japanese aesthetic, and a lovely dancey house soundtrack.
Beating the house here isn't just winning the game, it's "beat" as in 4/4 beats, and this is a very musical game, with rhythmic pulsing going on on the reels, and an up-for-it crowd waving their hands in the air underneath.
This Beat the Hous slot is a great game for mobiles, and the design reflects that, tending towards a portrait orientation and with really clear graphical symbols.
This is a really clever game, but should you pay to enter this rave (once it's safe to rave again!)?
Let's have a look!
Play Free Beat the House Slot Demo
Beat the House Slot Q&A
What game provider is behind Beat the House?
This game is from High 5 Games. High 5 have a big catalogue of more than 280 games on the UK market. They're ranked highly too, at 29th most visible and popular provider in the UK market. This title has done well for them and is rated in the top 300 UK titles. Even bigger hits are Platinum Goddess Extreme, and two Da Vinci games, Da Vinci Extreme, and Triple Double Da Vinci Diamonds, surely one of the most successful series in modern slots. The company is American, founded in New Jersey, and dating back to 1995. They started out in cabinet games, and now have a load of Facebook games.
When was Beat the House slot released?
This new release was put onto the market on 9th May 2020.
What is the Beat the House RTP?
The RTP on this game is a nice round 96%. That's just about average, and it's the figure we most often quoted as the current going rate in the market. RTP is not a precise measure of how your game experience will go, let alone a prediction. It is audited though and is calculated by running huge numbers of spins on a mock-up of the game's mathematics.
How many reels and pay lines does Beat the House have?
This game has a non-standard reel set up of 4 reels and 4 rows, those 16 symbols have 20 pay lines across them.
What theme is used in Beat the House slot?
This game is based around house music, partying, raves, retro-futurism, EDM. The graphics are neon, sci-fi, and retro-futurist.
Can I play Beat the House on mobile?
Of course, you can play this game on mobile! It requires HTML5 and JavaScript to run on any device.
What is the Beat the House variance?
This is a high variance game. Variance or volatility is a rough prediction of how prizes will be paid out, with high volatility games expected to pay out larger prizes but to pay them out less often. Again, this is not a prediction, and all games are random.
What is the minimum bet and the maximum win?
You can bet from 0.2 coins to 100 coins in this game. This should equate to 20p to £100 on UK sites, but be sure that you check coin values, payout limits and other financial settings on the games you use.
Does Beat the House have free spins and bonus rounds?
Yes, there is a free spins round. There is a whole new set of reels for the bonus round.
Is there anything else I should know about Beat the House slot?
There are numerous types of Wild symbols in Beat the House.
The Game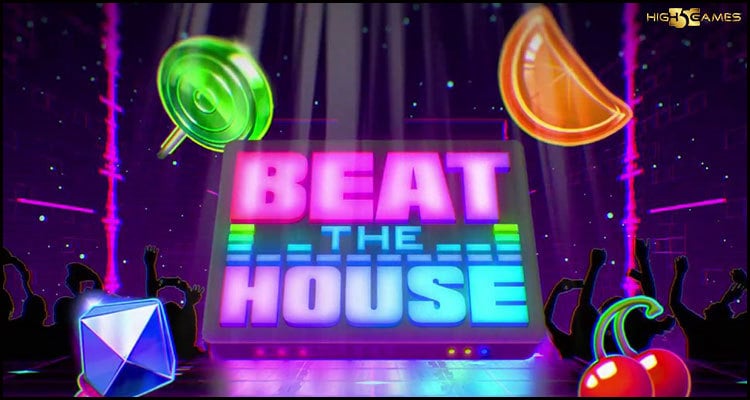 This is an archetypal modern slot in its controls.
The spin button floats to the right of the reels, with the auto spin underneath it. This has incredibly advanced settings that allow you to fine-tune the game to your spec.
Betting is set by clicking the bet amount, which is in the bottom panel of the game, along with all the other bits of information that you need.
Everything else you need is behind the plus button.
Paytable
Here you'll find the pay table that includes:
Card symbols (in a futuristic style) that pay .05, .25, and .5-times stake.
Oranges pay 10, 50, and 100 times stake as do cherries.
Diamond rings pay 15, 100, and 200-times stake, as do lollipops. That's the top single spin prize.
There are a load of bonuses.
Wins with frames are doubled. Locked wilds stay in place for three spins. An extra reel activates to award the free game.
The bonus game has 10 free spins on different reels. One reel on each spin will be wild for the duration of the spin.
A pick bonus symbol can award a prize picking game in the base game.
The Verdict
This is an excellent game that really lives its theme. There aren't many games we'd leave on in the background just so we can listen to the soundtrack but Beat the House has a really great groove to it, with nice effects for wins and other feature hits.
The graphics are fantastic too, pulsing in time to that music and really evoking the feeling of an EDM rave (other genres of electronic music are available).
As to the gameplay – what's not to like?
It's original from the reel set on out. There are wilds everywhere, operating in different ways, and the bonus game comes with real win potential, though the single spin top prize is relatively low (though it could get up to £20,000
The stats are good: the RTP is great. Not everyone likes high volatility games but this is one you can safely give a spin too, though stay at the bottom end of the staking ladder if you're doing that.
If we have one criticism of this otherwise exemplary game it's of the instructions, which aren't written super clearly, but that's a minor issue in an otherwise massive hit.