Billy Gone Wild Slot by Live 5 Gaming – Review & Free Play Demo
Chickens! There aren't many games themed around chickens, so Billy Gone Wild has something that makes it stand out from the get-go. It's also got a different set-up in 5-by-4 reels, and it's also from a developer we don't see too often: Live 5 Gaming.
The farming theme is delivered via a fairly standard but very nice graphic style that gives some character to the animal stars of the game – pigs are nasty apparently!
The main extras are, as the Billy Gone Wild slot game title hints, based around wilds of various sorts.
Another atypical feature is the volatility, which is high, meaning that the game is likely to be aimed at players who are more tolerant of risk. Whatever your tastes in play, always make sure that you play safely and that you only play with money you can afford to lose.
So, if you want farming-themed games that offer big prizes you don't have much choice. But should you head on down to this yard on your tractor?
Let's have a look!
Best Live 5 Gaming Casinos to play free Billy Gone Wild Slot Demo
Billy Gone Wild Slot Q&A
Not from one of the big-name slots developers, Billy Gone Wild is about a goat rather than a gunfighter and has a load of classic features.
What game provider developed Billy Gone Wild Slot?
Live 5.
When was the Billy Gone Wild Slot released?
April 8th, 2020.
What is the RTP of Billy Gone Wild Slot?
RTP is 95.33% or a house edge of 4.77%.
What reels and pay lines does have?
There are a standard five reels with four rows of symbols. Fifty pay lines run across this 20-symbol playing field.
What is the theme of the Billy Gone Wild Slot?
Farm animals, goats, cartoon animals, the countryside, rural life, farming.
Can I play Billy Gone Wild on mobile?
Yes, you can play on any device that has HTML5 and JavaScript.
What is the variance of Billy Gone Wild Slot?
This is a high variance game: expect slightly bigger prizes, but longer dry spells.
What are the minimum bet and the maximum bet?
The betting runs from 0.1 coins to 25 coins. This should mean 10p to £25 on UK sites but check values on the site you use.
What's the top prize?
The top prize here is 5,000-times line stake.
Is there a jackpot?
There is no jackpot. Always check pay-out limits on the games you play.
Does Billy Gone Wild slot have free spins and bonus rounds?
Yes, there are free spins and a lot of base-game features. Free spins come with a choice that balances the number of spins against the number of stacked wilds.
Is there anything else I should know about this slot?
There's a huge variety of wilds in the base game, including stacking wilds and walking wilds. If you don't like the sound a goat makes then mute the sound!
If I like this game, what else should I look at?
Check out Pigasus, Twistin' Respins or Tractor Beam on the farm theme.
Live 5 Gaming – the Developers of Billy Gone Wild Slot
Live 5 Gaming are not a big game developer. They are UK based, which is very unusual, so if you're into supporting local companies then here's a game you could try.
Live 5 are based on an industrial estate in Staffordshire, so they're not especially glamourous, but that doesn't mean their products aren't top quality and that they don't have an international fan base.
They've been around since 2015, and they've released 17 games that are currently on the UK market.
The company has a license from Alderney, a semi-UK jurisdiction, and also from the UK Gambling Commission, so they're someone you can deal with safely.
You'll find their games at a lot of big-name casinos, including Ladbrokes, Vera & John, and Sky Vegas, and they've also partnered with other developers, including NYX, blueprint gaming, and Scientific Games.
Their most recent titles are Bjorn The Frostlord, Billy Gone Wild, Hercules, a blackjack game, and Ship's Bounty.
Of these, the most popular is Bjorn the Frostlord followed by Hercules, Fortune Lucky, The Sky's the Limit, and Prize of the Valkyrie.
Coming up is the Mexican-themed game, Roco Loco.
The Facts and Figures about Billy Gone Wild Slot
This is a new game, released in April 2020.
The game has a theoretical return to player of 95.33%. This equates to a "house edge" of 4.77%. This figure means that the game will make that amount as a profit over its lifetime if the player behaves in a particular way. Your own experience with the game could be very different in either direction.
This is not particularly generous. The top prize though reflects the high volatility rating, which usually means bigger prizes that are paid out slightly less often. The top prize here is 5,000 times your stake. As your stake can be as high as £25 (25 coins, always check the actual values on the game you're using) that could be £125,000, which is life-changing for most people. The entry-level bet is 10p, so you can play at a much lower level too.
The game layout is a 5 by 4 grid, with 20 symbols, across which run 50 pay lines.
Play Billy Gone Wild on any device that supports JavaScript and HTML5.
The Game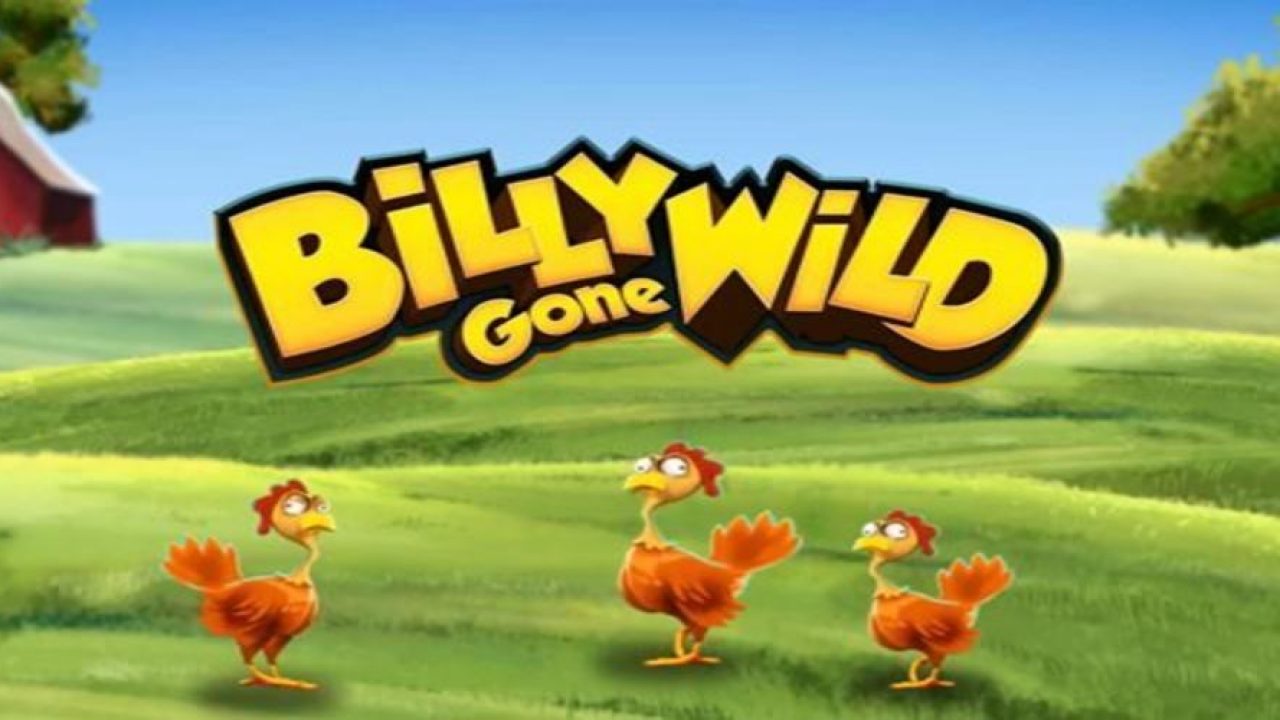 This Billy Gone Wild slot is an easy to game to understand and to play.
The controls float to the right of the reels, with the spin button sitting in between the auto-spin function, and the staking control.
At the bottom left is the settings control.
Look for more information in the game frame, make sure you press the menu button to check out the rules and play the game on demo to be sure that you know what's going on.
Payouts
The pay table is big!
It starts with cards, with 9s, 10s, and jacks paying out (on a £1 bet), 20p to £2 for sets of 3, 4, and 5.
Queens pay 20p to £4. Aces pay 30p, 60p, and £4.
Then we're off to the farm.
Tomatoes and carrots pay .4, 1, and 6-times stake. Corn pays .5, 1, and 8-times stake.
Chickens and cows pay .5, 1, and 10-times stake.
Pigs pay 1, 2, and 12-times stake.
Tractors pay 1, 5, and 50-times stake.
Goat Wilds pay the same.
There's also a Free Spins scatter, and more wilds: standard, billy wilds, flying egg wilds, and milk churn wilds that we'll cover in the bonuses.
Billy Gone Wild Slot Bonuses
The game's big features are wilds.
Standard wilds just sub in the usual way.
Billy Wilds with his brown face moves across the reels to the left until it leaves the reels, respinning with each move. New billy wilds continue the feature.
Egg wilds arrive at random when chickens land on the reels. Milk churn wilds are giant wilds, four symbols deep, that trigger randomly.
Free spins are awarded by scatters and come with a choice between spins (pick 6, 8, 10, 12, 16, or 20) against the height of stacking billy wilds in the round (3, 4, 6, or 8).
The Verdict
This is a great, fun game, and if you haven't played a Live 5 Gaming title before then this one is a great introduction to this exciting studio.
The gameplay is superb, with a cracking representation of the theme, that's fun without ditching the sophistication and humour that befits an adult pursuit like slot games.
The mathematics are interesting. Big top prizes are great news, though you may have to wait for them to pay out, while the base game has a lot of variety to keep you interested.
If you like wilds as your main bonus then you should definitely check this one out, and the free spins round also has a nice extra feature to bring even more colour to a game that really delivers on gameplay.