Bounty Raid Slot by Red Tiger – Review & Free Play Demo
The Bounty here is a Wild West prize hunter's paradise for this Bounty Raid slot 2020 release from Red Tiger, one of the most newsworthy slot developers in the world right now.
This game opens with a promise of a top prize of more than 1,000-times stake and a cast of characters that – cynically – focuses heavily on sexualised imagery. Oh well.
It's a 5-by-3 game with really nice aesthetics and graphics – and very loud music – that seems to deliver on its aesthetic and theme. There's really nice animation in the character graphics too.
Red Tiger are known for delivering quality titles, and last year they were valued at £200 million in a takeover deal, so their titles are likely to get more and more visible. They base their success on a gaming engine called RTG Core that claims to be the best in the industry. It certainly delivers superb quality graphics and animation.
The volatility and hit rate are medium, but it looks like this game is very above average in a load of ways, but should you join the posse to hunt for these bandits?
Let's have a look.
Play Free Bounty Raid Slot Demo
Q&A
What slots provider is behind Bounty Raid?
Red Tiger are the producers behind Bounty Raid. Red Tiger is now part of the NetEnt empire, which they joined last year in a massive takeover deal. They remain their own brand though and have produced more than 150 games since their founding in 2014. They have a major progressive jackpot network, which can't have made them any less attractive to NetEnt.
When was Bounty Raid by Red Tiger slot released?
Bounty Raid was released on 25th June 2020, so is a very new title as we review it.
What is the Bounty Raid by Red Tiger RTP?
The theoretical return to player is a measure of how much of the money bet on it will be returned to player. This measure is a lifetime measure and imagines players behaving in a certain way so it is not precise. Bounty Hunter has an RTP of 94.72%, which is at the low end of the industry average.
How many reels and pay lines does Bounty Raid slot has?
This is a 5 by 3 grid with 15 symbols. The game has just 10 pay lines, which is low.
What theme is used in Bounty Raid by Red Tiger slot?
This is a Wild West-themed game, with gangster theming, and cartoon graphics.
Can I play Bounty Raid slot on mobile?
You can play Bounty Raid on iOS and Android phones.
What is the Bounty Raid slot variance?
This game has a medium variance. This just means that you should expect your experience of play to be similar to most other games in terms of prize size and frequency.
What is the minimum bet and the maximum win in Bounty Raid slot?
The lowest bet is 0.1 coins, which should be 10p on UK sites. The top bet is 100 coins or £100. The top prize is a 1,000-times stake, which could be as high as £100,000.
Does Bounty Raid by Red Tiger have free spins and bonus rounds?
There is no free spins round, but there is a respin feature that is similar. There are only high-value symbols in the bonus round.
Is there anything else I should know about Bounty Raid by Red Tiger slot?
The game is relatively low risk.
The Game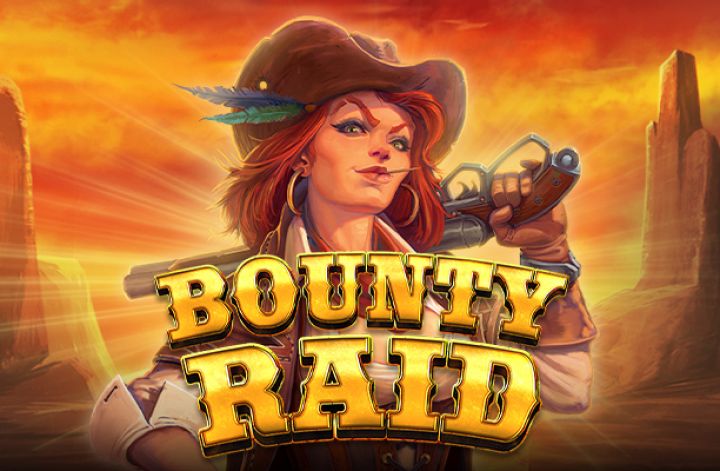 Load up Bounty Raid and you'll see a very familiar set-up and control panel.
The spin button is at the bottom right, with a turbo feature next to it. In the centre of the screen is the win amount window, which you'll hope to see lit up often.
To the left of that is the auto spin feature, and you set your bet as a single amount selected from a list.
Sound and menu controls are in the top right.
The pay table opens on cards with clubs paying 2-times to 10-times stake, and spades paying 6 to 25-times stake.
Then we have boots paying up to 30-times stake. Hats paying up to 40-times stake. Saddles at 50-times stake. Crossed pistols at 60-times stake. Treasure chests at 80-times stake.
The bandit characters pay from 3-times stake to 50-times stake.
The sheriff lands on the reels to collect up all the bandits and adds all of their values into a single prize.
The bounty hunter locks all bandits on the reels for respins with only bandit symbols and golden coin symbols on the reels.
The Verdict
The Bounty Raid slot is simple but very effective.
In fact, for a modern slot, it is remarkably lacking in features and seems to us to have been designed to be best appreciated on mobiles, which is where the vast majority of players are playing most of their slots these days.
The graphics are superb in quality and the animation really works, adding another dimension to the visuals.
It's the gameplay that is simple, with everything packed into the base game rather than into bonus rounds.
With only 10 pay lines and a relatively low RTP, you might think this game isn't generous, but the pay-table is comparatively high paying, so when wins do hit you'll be well rewarded.
There's also the matter of the bandits, which are fantastically designed characters, that are also highly rewarding. The sheriff feature and bounty hunter feature will also deliver big prizes, but without the reward of a really differentiated second round of play.
If you like a simple game that is also stylish and looks beautiful – as well as having a great soundtrack – then Bounty Hunter is a game you should definitely check out.
It's a game that's easy to find, being in nearly half of all casinos in the UK, and with its great look, it's no surprise that it is featured in a lot of lobbies. Get on its trail!