Butterfly Staxx 2 Slot by NetEnt – Review & Free Play Demo
We're in sequel territory with Butterfly Staxx 2 slot, a return to the insect- and flower-packed jungles that NetEnt first brought to us in Butterfly Staxx in the summer of 2017.
The big features of that game, which we'll assume has proved popular, were its relatively novel design, and some nice gameplay features that worked around butterfly symbols that fluttered to the left of the reels in order to keep respins, free spins, and big wins coming in sequences.
Butterfly Staxx 2 slot continues the theme, but adds a couple of extras to the gameplay in the bonus games, and also spruces up the graphics a little bit.
The facts and figures are a little different from many games in the current market, and signpost the game towards players who like longer, low-risk play.
NetEnt are world leaders for a good reason, so this game, released by them in August 2018 – these games are perfect summer releases – should be available for you to play at your favourite online casino site.
Should you land on the petals to take a nectar hit though?
Let's have a look.
Play Free Butterfly Staxx 2 Slot Demo
The Lowdown on: Butterfly Staxx 2 Slot
A follow-up to the success of Butterfly Staxx, this game keeps the mellow, chilled out vibe of the original but throws in even more gameplay innovation.
What game provider developed the Butterfly Staxx 2 Slot?
This is from NetEnt, just about the biggest company in the world of slots and maker of the UK's favourite slot, Starburst.
When was the Butterfly Staxx 2 Slot released?
August 22nd, 2019.
What is the Butterfly Staxx 2 RTP?
RTP is 96.35%, a house edge of 3.65%.
What reels and pay lines does the Butterfly Staxx 2 slot have?
The layout remains a non-standard 5 by 4 grid with 20 symbols and 40 pay lines.
What is the theme of the Butterfly Staxx 2 slot?
Themes are: wildlife, ecology, relaxation, flowers, insects, wildlife, and light.
Can I play this game on mobile?
Yes, you can play on any device with JavaScript and HTML5.
What is the Butterfly Staxx 2 slot variance?
This game's low variance means you should expect slightly lower than average prizes that should pay out slightly more often than average.
What are the minimum bet and the maximum bet?
You can bet from 0.25 coins to 1,250 coins. This should equal 25p to £1,250. Always play safely.
What's the top prize?
The top prize is 300,000 coins. Check financial limits on the site you use.
Is there a jackpot?
There is no progressive or networked jackpot.
Does the Butterfly Staxx 2 Slot have free spins and bonus rounds?
Free spins are the main bonus round. Stacking symbols in the base game trigger a respin with the potential to keep delivering. You can play with up to 3 sets of reels with a lot of potential for extra respins. A Frenzy mode is an alternative bonus round, a simple prize pick game.
Is there anything else I should know about this slot?
This is one of the few games that is actually a pleasure to listen to.
If I like this game, what else should I look at?
Obviously the preceding Butterfly Staxx or nature-themed games like Platinum Goddess or White Orchid.
NetEnt – the developers of Butterfly Staxx 2 slot
NetEnt are among the biggest companies in the iGaming field. Industry figures have put the company as holding around 1/5th of the world market for slots and more than a quarter of the European market. The company's reach is enormous and they have considerable market power.
That means they have big hits and when they release games they are pretty much guaranteed a major platform.
Their biggest hits are Starburst, Gonzo's Quest, Twin Spin, Reel Rush 2, and Conan. That's a great mix of new releases, like Conan, and old favourites like Starburst (by some measures the UK's favourite slot) and Gonzo's quest that are free spins favourites.
It also shows that NetEnt can produce titles in all styles and genres and still get hits. Butterfly Staxx, with its natural-world and female-friendly (if you'll pardon the stereotyping) design is something new and different.
The Facts and Figures
A couple of figures in the stats for Butterfly Staxx 2 slot do conflict.
There's a very big top prize, of 300,000 coins, but the volatility is reported as low. Low volatility games typically have lower prizes that pay out slightly more often. The discrepancy here is easily explained though, because you can bet very large amounts here, with a top stake of 1,250 coins. That should be £1,250, which is quite a risk on a single spin. You can start off at a much friendlier 25p, but make sure you check the limits on pay-outs and wagering at the site you're using.
The theoretical return to player records how much a game will return to players over its whole lifetime. In this game, it's 96.35%, which is slightly lower than the very generous RTP in the first Butterfly Staxx game, but still very good in the current market.
The layout retains the non-standard four reels with the usual five reels of part one, along with the 40 pay lines. If you've got Javascript and HTML5 on your machine you should be able to play this game.
The Game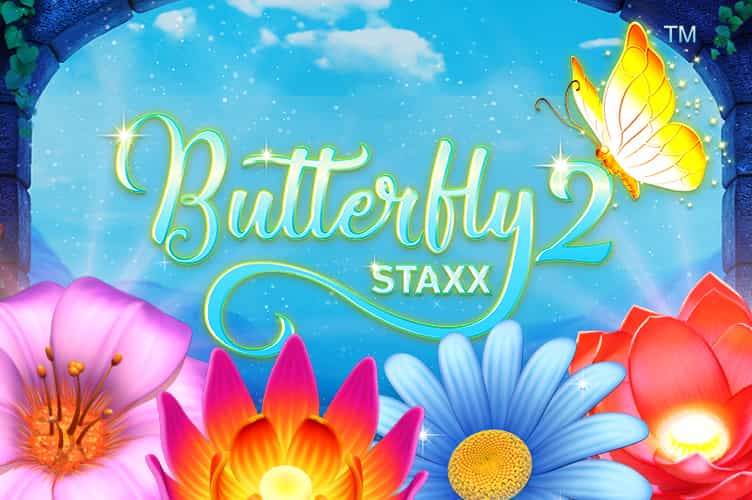 Playing NetEnt games is very easy, and Butterfly Staxx 2 uses the company's standard layout. That means an information button at the bottom left of the screen, with a bet level control to the right of that. In the centre is the usual arrangement of autoplay, maximum bet, and spin controls. To the right of that are the coin value control and your balance.
How to Play
Click the "information" button to open the pay-table and you'll find a lovely looking array of symbols from the natural world.
Cards open the bottom end of the pay-table as usual, paying up to 0.8-times stake for a full-house of five symbols.
Then we see flowers, paying up to 1.6-times stake for a blue flower, purple flower, or red flower set. At the top of the table is the butterfly that pays 2-times stake for a full set.
Butterfly Staxx 2 Slot Bonuses
Bonus features can be found in the base game and as a stand-alone free-spin round.
Butterfly symbols can stack and a full reel triggers a respin, with butterfly symbols moving across the reels to the left. Respins continue as long as butterflies keep landing.
A new feature is the second set of reels that unlock if the first two reels fill with butterflies. Fill the third reel and you get a third set of reels.
Free spins are triggered via a scatter, which gives you a choice of two features.
Butterfly spins are very similar to the free spins round in the first game, with cocoons filling the reels. These symbols either become winning butterfly symbols or don't, with respins as butterflies move across the reels.
Butterfly Frenzy is a prize pick game.
The Verdict
This is a lovely game from NetEnt and it's a great game for players who enjoy playing for its own sake.
The facts and figures show a game that is going to pay out more often, but the prizes are pretty low. If you want really big wins you're going to need to bet a really large amount of money. That's fine, but please remember to always play safely, and also look at the RTP. Independent of the volatility, games have almost identical RTPs, which is the amount of money a game is *likely* to return to players.
NetEnt produce games that work well, have high-quality graphics, sound, and animations. That's all in place with Butterfly Staxx 2, and the extras, like help and information facilities, are also excellent in quality. It's great to see some different theming, too, and the increasing number of wildlife and natural-world-themed games is something we're always glad to see.
Did Butterfly Staxx need a sequel? The game obviously proved worthwhile enough for NetEnt to consider it, so there should be a ready market for this new game.