Cash Compass Slot by Hacksaw Gaming – Review & Free Play
Pretty aggressive name there, Hacksaw Gaming! OK! Take it easy, we're going to look at this Cash Compass slot game!
Cash Compass is a 6 by 6 slot on a beach/tropical island theme.
The game has a nice unique feature, the "spreading feature". Plus there's a more standard bonus game, with a spin wheel that can deliver 7,400-times your original stake. A free spins round comes with extra-high-value symbols and more of the "spreading" feature.
Very nice!
Hacksaw aren't great big developers, but they've delivered a beautiful looking game here, complete with swaying palms backdrop, and some lovely cartoon symbols. It's stylish and sophisticated.
Despite the big reel-set, the game is clear and easy to follow on mobile screens as well as desktop computers.
It's a real pleasure to load up and play this laid-back title, but should you journey across the oceans to land on these sandy shores?
Let's have a look.
Play Free Cash Compass Slot Demo
Q&A
What slots provider is behind Cash Compass?
Cash Compass is made by Hacksaw Gaming, who are a relatively new company, born in September 2018, but with 45 slots already on their books. This game is very much in their house style and is their current top title. The company also makes scratch card games. This title is their biggest current hit, and they have released the Haunted Circus, Frogs Scratch and Cubes are their most recent slot releases.
When was Cash Compass slot released?
Cash Compass is the most recent release from Hacksaw Gaming and it was released on 24th June 2020.
What is the Cash Compass RTP?
The RTP – or theoretical return to player – on Cash Compass is 96.42%. This is very typical for the current market, if not slightly generous. The rtp is a long-term measure, audited usually over 1 billion spins on a mock-up game, you should not use it as a guide to how a game will perform on your session.
How many reels and pay lines does Cash Compass have?
Cash Compass has 6 reels and 6 rows, giving 36 symbols. Cash Compass doesn't have pay lines, paying out instead on clusters of symbols.
What theme is used in Cash Compass slot?
This game is themed on treasure hunting, tropical islands and beach themes with cartoon graphics. Symbols include sharks, messages in bottles, and treasure maps.
Can I play Cash Compass on mobile?
Yes, if your device supports JavaScript and HTML5 then you can play Cash Combo.
What is the Cash Compass variance?
Hacksaw Gaming hasn't published a variance figure for Cash Compass. Variance, or volatility measures how often prizes are paid out in relation to the size of the prize. In the absence of evidence and looking at other stats for the game, it is most likely that the volatility will be medium.
What is the minimum bet and the maximum win in Cash Compass slot?
You can start your betting from 0.2 coins, or 20p in UK sites, and bet as high as 100 coins, or £100. The top prize is a jackpot of 7,400-times stake, which could be 740,000.
Does Cash Compass have free spins and bonus rounds?
There is a bonus round on Cash Compass, a free spins along with base game extra, the spreading feature.
The Cash Compass free spins come via scatters and has extra high value and special symbols that mean the base-game spreading feature is more likely to trigger.
Is there anything else I should know about Cash Compass slot?
The autoplay function allows you to limit the function by win size or loss, with custom features on both.
The Game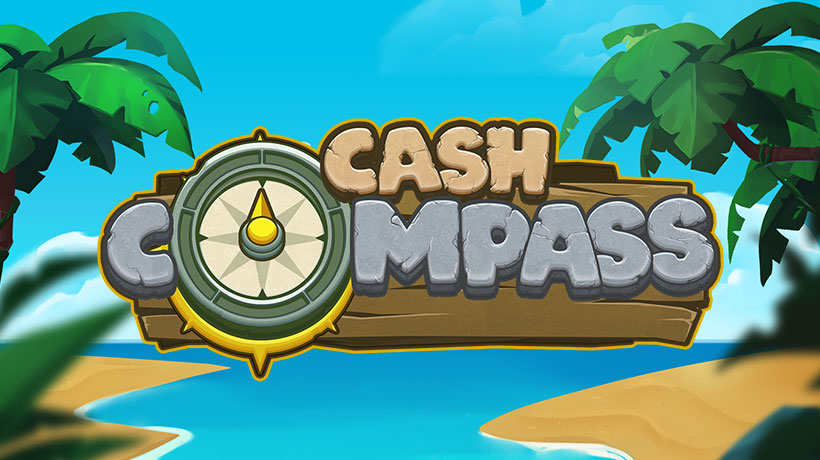 This Cash Compass slot is a lovely game to play.
The control panel sits at the bottom of the screen with a central win/information window.
At the far right of the panel is the auto spin function, next to that is the spin button and to the left of that up-and-down arrows that set your bet, a single figure control.
At the far left of the panel is a menu option, which opens up the sound, music, turbo play, information, and home controls.
The main bonus features are:
Spreading compass. The compass symbol can trigger a spread feature. Five symbols on the reels trigger a compass to spin. When the needle stops the compass symbols on the reels start to spread in the indicated direction and trigger even bigger wins. It's a sort of respin, as standard wins are paid first.
The message in a bottle symbol delivers free spins. Three of these scatters open the free spins round. Spins come in 10s, and have extra compasses on the reels, with every single symbol triggering the spread feature.
The bonus wheel is triggered via a bonus symbol and is a random prize game.
The pay table opens on card symbols paying in groups from 6 to 15+.
Cards (jacks to aces) pay between 0.1-times stake and 10-times stake.
The treasure map and the shield pay from 0.5-times stake to 60-times stake; the bottle and the parrot both start at 1-times stake, shooting up to 70-times stake and 130-times stake respectively. It's a generous looking setup.
The Verdict
We had a great time checking out this beautiful game and we think you will enjoy it too. Hacksaw are relative newcomers, but if titles like this keep coming off their workbench then they will only grow and grow.
Cash Compass is beautiful looking and sounding with great design every step of the way. It's super smooth and really up to date. A fantastic game to look at.
The gameplay also delivers, with novel features like the compass spread, a nice prize pick game via a bonus wheel and a free spins round that could be generous thanks to its extra features.
Even the music is good!
There's sophistication even in the controls and the menus of this game and if you fancy a bit of sun this summer then you should take this desert island trip. We'd love to know the volatility and hopefully, this figure will be revealed in time.