Cash Volt Slot by Red Tiger – Review & Free Play Demo
What's that you have there?
A vault full of cash – but with a pun – great! How do I get in?
There's already a couple of games called Cash Vault, which is a great name for a slot, as we all want to break open a cash vault when we load up our favourite online video slot. Here the name is just a pun, as the Cash Volt slot game isn't particularly themed around electricity or batteries.
What it is though is retro! This is a very classic slot, with a 5 by 3 layout and a classic two-screen set up of the sort that was popular in real-world slots back in the day.
This means the game is relatively simple. There's no free spin round, and in fact not much in the way of bonuses or extra features at all.
But this game is part of Red Tiger's progressive jackpot network so maybe available to you with a massive prize attached.
Should you fire up this battery and sin the reels of Cash Volt slot?
Let's have a look.
Play Free Cash Volt Slot Demo
Q&A Cash Volt Slot
What slots provider is behind Cash Volt?
This game is from Red Tiger. Red Tiger is, since 2019, part of the NetEnt empire, after a take-over that valued the relatively small UK provider in the hundreds of millions. That's almost certainly not because of the company's not gigantic stable of games (160 since 2014), but because of the company's record of innovation, including the likes of their jackpot network.
When was Cash Volt slot released?
This game was released on April 1st, 2020.
What is the Cash Volt RTP?
The theoretical return to play of Cash Volt is 92.05%. That is low: the current average is around 96%, but that's because the game has a progressive jackpot. Progressive jackpots work by taking a tiny slice of every bet to build a massive prize pot. This lowers the RTP, which is a measure of how much of the money spent on a game will probably be returned to players – over its whole life. Don't take any RTP as a prediction of how your game will go.
How many reels and pay lines does Cash Volt have?
This is a classic 5 by 3 game with 15 symbols on the grid. There are 20 pay lines.
What theme is used in Cash Volt slot?
The game is themed as a classic or retro slot. There is an electricity theme too (though it's pretty light!).
Can I play Cash Volt slot on mobile?
Yes, you can play Cash Volt on any machine that supports JavaScript and HTML5.
What is the Cash Volt variance?
This game has a medium variance, or volatility, which means it should give you an experience much like most other games on the market in terms of the size of the prize and how often they are paid out.
What is the minimum bet and the maximum win in Cash Volt slot?
The minimum stake on Cash Volt is 0.2 coins, which is 20p in UK site. The top bet is £100 or 100 coins. The top prize is a progressive jackpot that will be announced at each site that hosts the game, and in the main game, you can win 2,500-times your stake.
Does Cash Volt slot have free spins and bonus rounds?
There are no free spins, but there is a bonus round. The bonus round is a multiplier.
Is there anything else I should know about Cash Volt slot?
There are mega symbols in the fame.
The Game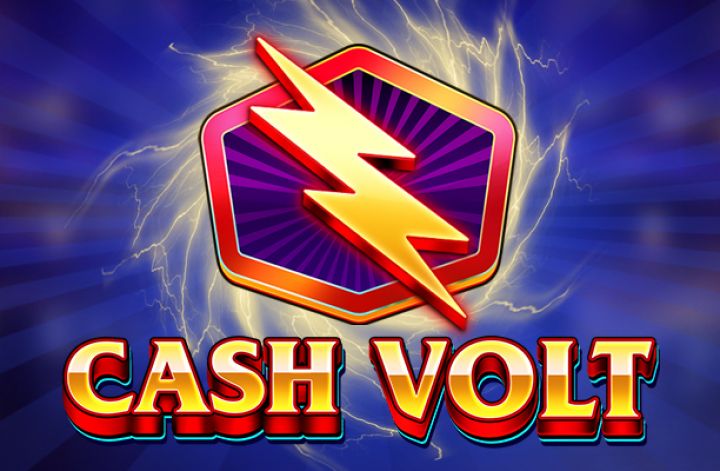 Red Tiger always deliver a quality gaming experience and Cash Volt is no exception. The spin button at the bottom right, with the turbo mode button next to it. At the left of the screen are an autoplay control that allows you to stop spins on a number of spins, a loss limit, a win, or a bonus trigger.
The stake button opens a sliding scale bet window. Menus and other game controls are in the top right of the screen, click on these for more information.
The pay table opens with cherries and lemons at the bottom, with bars, stars, horseshoes, bells and sevens at the top of the table.
There are mega symbols, which can deliver bigger wins.
The main bonus is a multiplier that climbs up on a meter in a second screen above the reels.
This is triggered via Cash Volt symbols. The multipliers are on wins, and deliver these prizes:
Six symbols pay a 5-times multiplier, 7 wins you 15-times multiplier, 8 Cash Volt symbols = 25-times stake; 9 is 50-times; 10 is 100-times, and 11-cash volt symbols are a 250-times multiplier on your win. Twelve cash volt symbols win you a 500-times multiplier on wins; 13 Cash Volt symbols is 750-times win, 14 is 1,000-times win, and 15 wins you 2,500-times your win!
The Verdict
Red Tiger haven't got to where they are in the online slots industry without delivering fantastic games. Cash Volt is another great addition to their catalogue it's a game we think you should check out at your favourite licensed online casino site.
The game is simple, and works really well on mobiles, with a retro feel that is very on-trend at the moment.
If you like classic slots then this is certainly a game to try.
Then we get to the maths of the game, which offer potentially very large prizes.
The key to the success of this game though will be the progressive jackpot. Red Tiger's progressive networks have been a massive success, and they've innovated with daily drop jackpots too (even hourly drop). Progressives need fans to really grow, so the news that this game was a top-10 hit in the UK in July 2020 means it is likely to stick around for a while. You will be able to find it everywhere, in no small measure thanks to the tie-in with NetEnt.
The only minor complaint we can come up with is the name and the lack of theming back up! It's just a pun guys, we see what you're doing there!