Chocolate Cashpots Slot by Inspired Gaming – Review & Free Play
Who doesn't love chocolate? Lots of people, obviously, but we do, so sod them!
Inspired Gaming have decided that us – the chocolate loves – are numerous enough to be a marketing ploy for their cute looking March 2020 game, Chocolate Cashpots. slot
The aesthetic of this game is cute, colourful, and frankly is not going to help the gambling industry in any arguments about whether or not is games are being made too attractive to children.
We'll call it nostalgic for childhood though. These cute games certainly have a market, often in bingo sites, where the biggest hit of all is an incredibly cute game called Fluffy Favourites!
There's more to this than Easter egg themes though, as this is a very grown-up game with some great mechanics and very good value stats.
The game has a cash pot prize at the top of the pay-out tree – or perhaps at the bottom of the pay-out basket – and a big free spins round.
Do you like chocolate? Enough to play Chocolate Cashpots?
Let's see.
Best Casinos to Play Free Chocolate Cashpots Slot Demo
Chocolate Cashpots Slot Q&A
What game provider is behind Chocolate Cashpots?
Chocolate Cashpots is from Inspired Gaming. Inspired Gaming were founded in 2002, and a lot of their work is done in the video lottery terminals market. They've made 90 online slots at least, including at least one award-winner. They're highly rated, at 16th in the UK market, and their biggest hit is Centurion Megaways. They also make casino games.
When was Chocolate Cashpots slot released?
This game was released for Easter, in March 2020, so it's a newcomer.
What is the Chocolate Cashpots RTP?
The theoretical return to player is 96.5%. The theoretical return to player is a long-term measure, arrived at by running many millions of simulated game rounds. You shouldn't use this as a prediction of how your experience with a game will go.
How many reels and pay lines does Chocolate Cashpots have?
This game plays out on a classic grid of 5 reels with 3 visible rows, making 15 symbols in play, over which run just 10 pay lines.
What theme is used in the Chocolate Cashpots slot?
As we've mentioned, the theme is Easter, chocolate, Easter eggs, and sweets. The game has cute, pastel-coloured graphics.
Can I play Chocolate Cashpots slot on mobile?
Yes, you can play this game on your mobile. Chocolate Cashpots needs JavaScript and HTML5 to run.
What is the Chocolate Cashpots variance?
The variance on this game is medium. It's not worth reading too much into this, other than to say you should probably have a similar experience in terms of prize size and frequency as you would with most other games.
What is the minimum bet and the maximum win?
Betting starts at 0.1 coins (usually 10p) and goes up to £60, or 60 coins. The top prize is 4,166.66-times stake, which we make to be worth £250,000.
Does Chocolate Cashpots have free spins and bonus rounds?
Yes. There is a free spins round in Chocolate Cashpots and numerous other bonus features. The free spins round is part of the Cashpots feature.
Is there anything else I should know about Chocolate Cashpots slot?
You can set this game up for left-handed play, just click on the settings icon.
The Game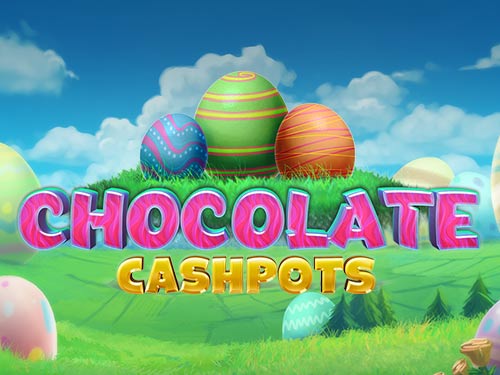 Click onto the pay table and you'll see:
Jacks to Aces all pay .5 to 10-times stake for 3 to 5 symbols on the reel.
Blue and red eggs pay 2, 10, and 50-times stake for 3, 4, and 5.
The egg square pays 1 and 5 times stake for sets of 3 or 4.
The lamb, the chick, and the bunny pay 3, 15, and 100-times stake.
The cash pots logo pays .5, 5, 20, and 200-times stake.
The Bonus
The bonus is triggered via the egg square (you need six or more) and a bonus symbol.
Cash Collector Bonus respins reels that do not contain egg square symbols or golden egg baskets. The final prize is awarded from the totals on the symbols.
The spin chance feature allows you to use the credit that otherwise might go to waste. It triggers when your credit falls below the current stake (but you have some money left), allowing you to wager the money you do have left at the current stake. A stopping game selects whether or not you've won another spin.
The game is easy to play and has a lot of very sophisticated features in the controls. The spin button is to the right of the reels, with a cog above it for the other menus. You hold down the spin button to get the autoplay function, which allows you to limit your losses. The other menus include the game stats, the left-hand play option, a turbo setting, an exit button, game history (a nice feature), and the sound options.
Betting is controlled to the left of the reels with a simple plus or minus control. All the game information is in the game frame.
The Verdict
This game has cute, fluffy graphics but it's a very serious slot game that will bring in all sorts of players.
The graphics will be to your taste or not to your taste, so take a look and see what you think. We liked the music, which was dramatic and filmic without getting in the way of the game too much.
And, Inspired Gaming have been inspired in the way they put together their controls and menus. It's a beautifully presented game that's a pleasure to us and to play.
The gameplay lacks a classic free spin round but isn't short of bonuses or of novelty, and we think there's a decent chance of big wins. Again, innovation is a big thing here, with the final bet function a nice feature that we're sure will be used in other games and transfer to other developers.
If cute games aren't your style don't be put off and check out this game which has more than enough depth to engage any slots player.