Cleopatra slot is a beautiful game that delivers excellent gameplay from one of the giants of the industry. Read the review and play the free Cleopatra demo!
The Egyptian pharaohs remain a staple of the slots world. This era of history has infatuated slots designers to the extent that online slots players can probably claim to be some of the best-informed people on the planet when it comes to the Gods of the Nile and how to tell your pyramids apart.
Free Cleopatra Slot
The Lowdown on: Cleopatra Slot
If you like Ancient Egypt you might as well play slots as do a university course in the subject because slot makers are obsessed with this period. Cleopatra is an enduring theme, still doing well in this classic slot from 2012.
What game provider developed the Cleopatra Slot?
This is from IGT, who also make the massive hit DaVinci Diamonds series.
When was the Cleopatra Slot released?
January 8th, 2012.
What is the Cleopatra RTP?
RTP is 95.7%, giving us a house edge of 4.3%, a tiny sliver below the industry average.
What reels and pay lines does the Cleopatra Slot have?
This game has 5 reels, 3 rows, 15 symbols in play and 20 pay lines, it's totally classic!
What is the theme of the Cleopatra slot?
Themes are: Egypt, Ancient Egypt, ancient civilisations, mythology, Cleopatra, Pyramids, and gods.
Can I play this game on mobile?
Yes, you need JavaScript and HTML5 to play.
What is the Cleopatra Slot variance?
This is a medium variance game.
What are the minimum bet and the maximum bet?
Betting starts at 1 coin (£1) and goes as high as 1,000 coins (£1,000). Make sure you can afford your stakes.
What's the top prize?
The top prize is capped at 250,000,000.
Is there a jackpot?
There is no progressive or linked jackpot.
Does the Cleopatra Slot have free spins and bonus rounds?
Free spins are the main bonus round. There's a multiplier and retriggers up to a maximum of 180 free spins.
Is there anything else I should know about this slot?
That's about it for bonuses other than wilds in the base game.
If I like this game, what else should I look at?
Egyptian games are everywhere. How about: Gods of Giza, Mercy of the Gods, Book of Gods or any one of dozens of other Cleopatra-themed games.
IGT – the Developers of Cleopatra Slot
This trip to the Ancient river delta comes courtesy of IGT Gaming, a highly regarded and widely respected game design studio.
IGT are a giant, probably the biggest slots company in the world by some measure, with a New York Stock Exchange listing. The company's holding company is in the UK, but it also has offices in Italy, Las Vegas (of course!) and Rhode Island in the States.
The company produces software in all areas of the online gaming industry, including games, like Cleopatra, the slot, but also real-life games and a whole load of other gambling applications, including lotteries and sports betting.
Cleopatra online slot is reportedly their most popular game in UK casinos, but they also produce a huge range of other titles. Ones you might know – and which might serve as a guide to whether or not to check out Cleopatra – are: Pixies of the Forest, Da Vinci Diamonds, It's Magic: Lilly, Elephant King, and Da Vinci Diamonds Masterworks.
Their range of games is so diverse that it's not really possible to pin down a particular style, but take a look at those and you'll pick up some of the things you might expect from an IGT game, including the way it is set up.
The Facts and Figures
Cleopatra slot game has been around for a while, having been released on 8th of January, 2012. That makes its spell at the top of the charts at UK casino sites even more impressive.
Let's see if the figures behind the game help to explain that longevity.
The theoretical return to play (a long-term measure, not what you can expect each time you play a game) is not very generous at 95.02%. It's fine, but many games are up above 96% these days.
The variance is rated as "medium". High variance games pay fewer higher prizes, and low variance games pay more smaller prizes.
Here's a number that is very impressive: a top prize of 25,000,000 on betting between 1 and 1,000 coins. Always remember to check top stake limits and pay-out limits and pay tables on the actual game that you are actually playing.
This is a five-by-three game, giving us 15 symbols on the screen, and there are 20 pay-lines running across the reel.
You can play this game – which uses Flash, JavaScript, and HTML5 – on all modern platforms. Make sure your Flash is up to date and enabled in your browser if you're on a desktop.
The Game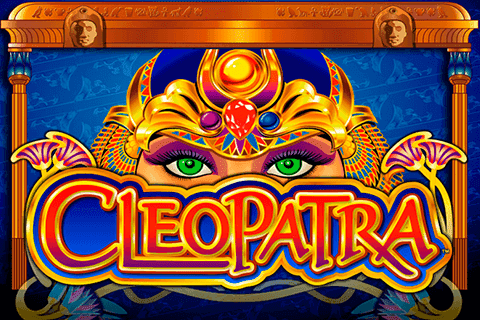 The most important hieroglyphs here are the symbols on the reels.
On the paytable, you'll find a scatter, represented by a gold Sphinx head that pays 2x stake for two, 5x stake for three, 20x stake for four, and 100x stake for five. This symbol also triggers the Cleopatra Bonus free-spins game.
The standard symbols are: a 9, 10, Jack, Queen, King and Ace that pay as follows.
For 9s: two pays 2x stake, three pays 5x stake, four pays 25x stake, five pays 100x stake. Tens pay from three symbols: 5, 25, and 100x stake. Jacks and Queens pay the same. Kings pay 5x, 50x, and 100x stake.
The top symbols are an eye of Horus, paying 10, 50, and 250x stake for three, four, and five. Crossed holy sticks (we don't know what to call them!) paying 10, 75, and 250x stake. A golden tablet that pays 15, 100, and 400x stake. A golden flower that pays (from two symbols) 2, 25, 100, and 750x stake. The Scarab beetle pays the same.
The Cleopatra logo is a wild, and also pays, 10, 200, 2,000, and 10,000x stake.
Cleopatra Slot Bonuses
The main bonus is the Cleopatra Bonus, which is a free-spin that is triggered by the Sphinx heads. The bonus round includes 15 free spins with all wins enjoying a 3x multiplier with the exception of the top prize. Wins featuring the wild, up to a full-house of them, enjoy a double multiplier of 6x.
The feature can retrigger up to a maximum of 180 free spins in total.
How to play Cleopatra Slot Game
If you've played any slots then you'll find your way around this one pretty easily.
The reels are square and front and centre, with a vague background. The control panel is at the bottom and fairly standard.
At the left, you can select the pay-lines on a non-linear scale (1, 5, 9, 15, 20). Next is the Bet window, another non-linear scale. Multiply the two together and you'll get your total bet in the next window.
A golden play button sits in the centre, with the wins displayed in the next window along, before your balance. The final button is the Autospin feature, which is – in UK jurisdictions – quite sophisticated, with the ability to set loss limits and win limits.
The Verdict
This game has earned its popularity with massive wins and smooth gameplay. Games don't stay at the top of the charts for six years without offering something.
It is not the best looking slot we've ever seen – in fact, it's a bit clichéd – and it's also quite limited in the bonuses it offers – really, just one free spins rounds, lads?
With those limitations aside, Cleopatra slot is a beautifully put together game that delivers excellent gameplay and reliable and safe gaming experience from one of the giants of the industry. The top prizes are massive, and if you hit the free spins rounds at all you should be looking at some great returns.
It's not got many bells and whistles, but it does have the basics brilliantly covered, so we're happy to recommend that you give Cleopatra a spin at your favourite casino site now.