Conan Slot Game – Review & Free Play Casino Demo
There are big numbers attached to this Conan slot game which is linked in with the big barbarian of fictional fame, most famously brought to life by Arnold Schwarzenegger, Europe's greatest ever actor (OK, not Europe's greatest ever actor, but he's a big guy so one wants to be polite).
The Conan slot was launched in September 2019 and it was big deal for NetEnt, one of the biggest of all slot developers, who trained it at industry shows well in advance of launch.
It's got six reels and four free spins rounds with a load of characters presented fantastically on the reels.
There's a big market for pseudo-historical fiction at the moment, from Game of Thrones to Spartacus, and Conan fits in well with that feel.
But should you spend 25-hours-a-day at the gym in order to get in shape to spin these giant reels?
Let's have a look in this Conan slot review.
Play Free Conan Slot Demo Online
The Lowdown on: Conan Slot
Amazingly, it took until 2019 for a Conan the Barbarian tie-in slot to appear. When it did it came with super-high production values but remains outside the top 1,000 UK titles – perhaps he deserved to fight higher!
What game provider developed the Conan Slot?
NetEnt made Conan, they're the biggest slot developer in Europe with hundreds of titles and nearly a third of the market.
When was the Conan Slot released?
September 24th, 2019.
What is the Conan Slot RTP?
RTP is 96.01%, a house edge of 3.9%, just about bang on average.
What reels and pay lines does the Conan Slot have?
This game has 24 pay lines on a 6 by 4 reel grid.
What is the theme of the Conan slot?
Themes are: barbarians, warriors, sci-fi and fantasy, ancient worlds, fighting, and movies.
Can I play this game on mobile?
Yes, if you have JavaScript and HTML5 you can play this game.
What is the Conan Slot variance?
This is a medium to high variance game, expect slightly bigger prizes than average that land slightly less often.
What are the minimum bet and the maximum?
Start your betting at 0.2 coins and go up to 200 coins, but make sure you do it safely.
What's the top prize?
The top prize is 1,008-times stake.
Is there a jackpot?
There is no linked or progressive jackpot.
Does the Conan Slot have free spins and bonus rounds?
Yes, there are three different free spins round with different wilds and loads of base-game extras. Choose your version of the round to fill the reels with different wilds and multiplier combos.
Is there anything else I should know about this slot?
Pay lines go both ways to double your winning combos.
If I like this game, what else should I look at?
Barbarian Fury and the Kingdom's Rise series have a similar vibe.
NetEnt – the developers of Conan slot
Slot companies don't come much bigger than NetEnt.
This gigantic Swedish company is a company with a very long history for the iGaming industry, with roots back to 1996.
They have divisions in Europe, the US, and recently paid nearly £200million for UK (Isle of Man) company Red Tiger Gaming.
As well as making games, around 300 of which are currently available on the UK market, NetEnt make gaming systems, which means that their games are readily available in a load of sites, and generally very visible.
The biggest titles from this giant company are Starburst, for years the UK's favourite online video slot, Starburst, a must-have at most serious sites, and the much more sophisticated Gonzo's Quest, a game that's been a hit for around a decade.
The Facts & Figures about Conan Slot
We mentioned the big numbers, and 6 reels is the standout one in this non-standard game. There are 24 symbols in play with 4 rows, and there are 24 pay-lines running in both directions to double up to 48.
The minimum bet is 20p and you can stake as high as £200 on this game. That yields a top prize of £201,600, which is a relatively low ration for such a high stake.
Despite this, the volatility of variability of the game is rated as medium to high. This means it is slightly more likely to pay out larger prizes but to pay them out slightly less often. The theoretical return to play (please not the theoretical in this figure) is 96.01%, giving a very standard 4.99% house edge for 2019.
You need JavaScript and HTML5 and you're ready to play on mobiles, desktops, and tablets with Conan from NetEnt.
The Game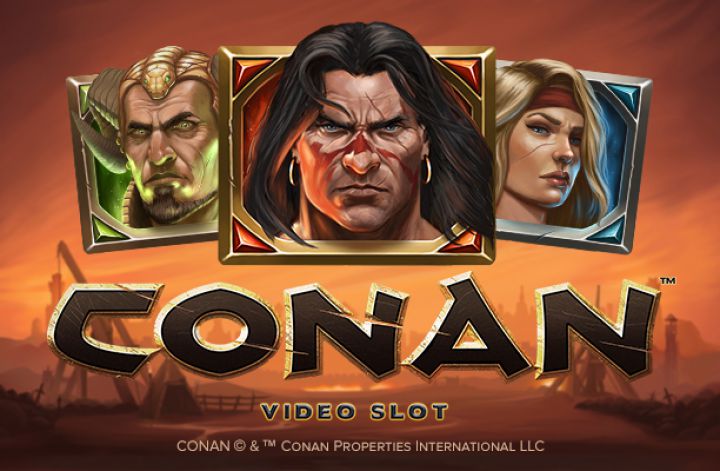 If you've played any NetEnt slots – and you almost certainly have – then you'll soon find your way around Conan.
A central console holds the spin button, the auto-spin feature (very sophisticated) and a turbo mode. To the right of that are your winnings and your current balance and the sound control.
To the left of the control strip, you set your bet via a coin amount selector on the pay-lines.
The menu control at the left of the panel opens up the rest of the controls that you'd need.
Payouts
Click on that menu to see the pay-table, which opens with coins rather than cards.
They pay either 1 or 1.5-times stake for a full house.
The grappling hook pays 2.5-times stake for a full-house. The sword is worth 3-times stake for six. The helmet is worth 3.5-times stake for a full set.
Valera, a friend of Conan, pays 5-times stake for a full line. Troth-Amon, Conan's greatest enemy, pays 5.5 for a full-house, and Conan himself takes 6-times stake for a set of six.
Conan Slot Bonuses
There are bonus features exploding out of Conan.
The reels are divided into three pairs, and each pair has a special symbol that triggers extras when it lands on those reels.
The first are Tower Wilds, a stacked wild that appears on reels 1 and 2.
On reels 3 and 4 mystery symbols are triggered, with matching symbols arriving with the bonus symbol that have the ability to stack and trigger a multiplier with an animated section illustrating it.
On reels 5 and 6, Battle Wilds trigger a sideways expanding wild.
If you trigger all the extras at once you'll trigger Toth-Amon, which puts up to six mystery symbols across the reels 2 – 5.
Twin Spin triggers at random, with reels matching symbols and spinning together.
Free spins are triggered via scatters with up to 50 awarded for six.
Then you can choose:
City of Thieves with Tower Wilds;
Temple of the Serpent with Mystery symbols, stacking, and a possible multiplier and the ability to trigger Thoth-Amon;
finally, Walls of Tantria features Battle Wilds.
The Twin Spins can trigger across all reels in free spins.
The Verdict
This is a game for players who like stunning graphics and sound, and a load of the atmosphere.
The Conan franchise has expanded across books, games, films, and its arrival in slots is something to be celebrated when it's delivered with this amount of panache.
There is a lot to understand in this game, though you're well guided in the usual NetEnt style, which includes great help guides, and some players prefer a simpler click, spin, and watch approach to their games.
The top prize is a relatively low ratio, but the higher ratio on the volatility means that you could see bigger prizes lower down the pay-table. There's no doubt that if you start to hit bonus features, you won't just see a load of gameplay enhancements you'll also luck into the chance to hit some bigger prizes.
We love this game, it's a top-quality title from a top-quality developer and only adds to NetEnts record of great tie-in titles. You'll want to travel to the mystic lands of the barbarians to check it out today. Our only gripe is the highest pay-out and a warning that this Conan slot game isn't for you if you're after a simple fruit game.