You're probably lucky enough to be younger than us, in which case you're also lucky enough to remember a series of movies called Teen Wolf. But – American popular culture being the hotbed of original thinking that it is – you may have been lucky enough to capture the concept in one of its umpteen reiterations, including a 2011 high-budget TV series.
Whether you escaped these pleasures or not, you now have the chance to play a sort of ersatz, Teen Wolf the slot, in the shape of Cool Wolf, a slot that is one of those that uses branding that is close, but obviously not quite close enough, to a major brand to look just like it without attracting trademark problems.
Microgaming are a huge company, so they can be trusted to deliver a safe and legitimate gaming experience. The company not only releases games – around 500 of them – but also makes casino software for other sites. All this gives the company massive power in the market, and nearly 13% of the games in UK casinos are from this company – that's an extraordinary amount in a market with more than 200 companies operating.
This Cool Wolf slot game features two of the company's trademarked features, 243 ways to win, and a rolling reels Respin feature.
It's been around since 2014, but is it worth travelling back that far to travel even further back for a trip to 50s teen America?
Let's have a look in this Cool Wolf slot review!
Best Cool Wolf Casinos – Microgaming Casinos
The Lowdown on: Cool Wolf Slot
It's definitely back to the future in this rock 'n' roll soundtracked game that owes a debt to Michael J Fox's early hit, Teen Wolf, and has a long history of its own.
What game provider developed the Cool Wolf Slot?
Microgaming. The UK-based developer has a claim to founding the whole online gambling business and makes massive hits like Mega Moolah from their Isle of Man base.
When was the Cool Wolf Slot released?
May 10th, 2014.
What is the Cool Wolf RTP?
The RTP of Cool Wolf is 96.47%, a house edge of 3.33%. Great numbers in the current market.
What reels and pay lines does the Cool Wolf slot have?
The classic reel set-up of a 5 by 3 grid uses a ways-to-win formula to deliver 243 bet lines.
What is the theme of the Cool Wolf slot?
Themes are: rock 'n' roll, teenagers, the 1950s, America, high school, music, werewolves, comedy horror.
Can I play on mobile?
You can play on mobile but you'll need Flash enabled.
What is the Cool Wolf slot variance?
This is a medium variance game.
What are the minimum bet and the maximum bet?
Open your betting from 0.01 coins and stake up to 0.1. A budget-friendly title.
What's the top prize?
You can win up to 105,000 coins.
Is there a jackpot?
There is no progressive or networked jackpot in Cool Wolf.
Does this game have free spins and bonus rounds?
Free spins are the main bonus, while Howling Wilds enliven the base game. There's a multiplier of up to 10-times on the free spins round.
Is there anything else I should know about this slot?
A rolling reels feature means respins on wins.
If I like this game, what else should I look at?
Microgaming's titles include teen vamp story Immortal Romance and Night of the Werewolf by Merkur features a more visceral horror theme.
The Facts and Figures
Retro is the look of this game perhaps, but a theoretical return to player of 96.47% is fine and dandy by 2019 standards. In fact, it's quite generous. Remember the limits of RTP as a measure though, it's not precise and it's a very long term measure. Medium variance is also a technical measure, and for casual players barely worth bothering with.
The top prize is a 105,000 coins jackpot, wow! At UK prices that's £105,000, which you can win on bets from 0.01 to 1 coin or 1p to a £1 – literally a penny slot then! Always check stake and payout details on the machine you're using.
The standard layout of 5 reels and 3 rows gives us 15 symbols on which the 243 ways to win system plays out.
This is an older game, so you need Flash, but you can play on desktops, mobiles, and tablets.
How to Play Cool Wolf Slot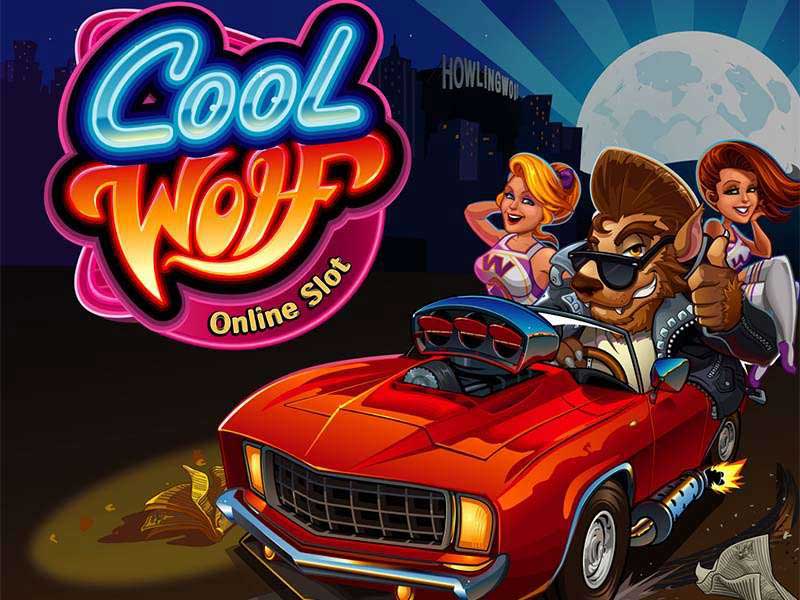 First, slick back your hair and put on some sunglasses.
Or not, as you see fit.
Cool Wolf slot works on a very standard system:
Betting is set in the central window where you set a coin size from 0.01 to 0.10 and choose the number of coins you wish to bet. This gives you a total bet amount.
At the left of the window is a "view pays" control. Then the amount of the credits. Next, the Autoplay feature allows you to design a playing experience that you like. Wins show up in the right-hand side's first window, with the spin button on the right.
Further controls should be found in the game frame.
Payouts
The lower paying symbols are cards. The paytable automatically sets wins to the amounts you're using.
We ran through using a £1 bet to give percentages. Jacks pay 0.04, 0.30, and 2-times stake for three, four, or five. Queens pay 0.1, 0.4, and 2-times stake. Kings pay 0.16, 0.5, and 2.4-times stake. Aces pay 0.2, 0.6, and 2.5-times stake.
Sunglasses pay 0.24, 1.2, and 3-times total stake. The cinema pays 0.3, 1.4, and 4-times stake. The red car pays 0.4, 1.6, and 5-times stake. The girls pay 0.5, 2, and 6-times stake.
Cool Wolf himself comes in two forms, untransformed and transformed, and both pay 0.6, 2.5, and 10-times stake.
Cinema tickets for the drive-in are the scatter and the game logo is the wild. Neither have their own value.
Bonus Games
The scatter releases the main feature, a free spins round. These come in three amounts for three, four, or five Scatters: 15, 20, and 25 Scatters.
The game also features the rolling reels feature in the base game. This works as a respin on wins and during the free spins, it acts to increase a win multiplier of up to 10-times.
There are more than 40 wilds on the reels, with stacking on the three central reels in a random Howling Wild Feature (that disables rolling reels). This means guaranteed wins when you see it.
The Verdict
Microgaming know what they're doing and you know you're going to get a quality game from one of the world's biggest gaming corps.
Cool Wolf slot delivers in all the ways you would expect despite being nearly five years old when we reviewed it.
The standard Microgaming features of rolling reels and 243 ways to win are there and offer an interesting way to play that's a little bit different.
The wilds are numerous, and we love the random stacking wilds that mean guaranteed wins at random in the base game.
The bonus rounds offer a good number of respins, though it's a shame that you can't retrigger the feature.
The design and feel of the game are very true to its fictional 50s subject matter – for all our sarcasm about those terrible movies – and the music is actually very high quality for a slot. You'll really get the feel of a 50s high school, and the transformative switch to the bonus games gives you a feel of comedy horror.
You'll find Cool Wolf slot across the UK gambling market, and with the reported stats, you can see that it's at the top of the market when it comes to generosity to players.
That and the superlative game experience make this a Cool Wolf slot game that we're happy to recommend and we think you should park your Mustang at your favourite online casino site now and give it a spin.