Dead or Alive 2 Slot by NetEnt – Review & Free Play Demo
Sequel time! It's hardly rare, in fact, if you'd like us to start a treatise on a vapid, bankrupt culture that is unable to come up with anything original, then we'll probably direct you towards the work of the late Mark Fisher.
But we're not here for that, we're here for online video slots, and Dead or Alive 2 slot really was a long-awaited sequel, because the original had shed loads of fans.
What they loved was a quality game with great western theming that went beyond the cartooning of many games set in the American frontier.
So, in April 2019, the waiting stopped and everyone jumped up and down in celebration!
And when they landed they saw a game with a £2million potential top prize and all the usual polish and presentational pizazz we've come to expect from slot giant NetEnt.
But should you strap on your six guns and mosey on out into the dusty main street outside the saloon?
Let's have a look in this review.
Play Free Dead or Alive 2 Slot Demo
Dead or Alive 2 Slot Q&A
What game provider developed the Dead or Alive 2 slot?
NetEnt is the creator of the Dead or Alive 2 slot machine which is one of the most popular of their games.
When was the Dead or Alive 2 slot released?
Dead or Alive 2 was released in April 2019, ten years after the original Dead or Alive slot.
What is the Dead or Alive 2 RTP?
Dead or Alive 2 RTP is 96.80% which is slightly above the standard and is pretty decent for a high volatile slot.
What's the layout?
Dead or Alive 2 comes with 5 reels, 3 rows, and 9 pay lines with wins being formed from left to right.
What theme is used in this slot?
Dead or Alive 2 is themed around Wild West and its main characters are 5 outlaws. The slot is skillfully executed leaving us with a top-notch aesthetic experience.
Can I play this game on mobile?
NetEnt has equipped all their slots to work on all devices especially mobile devices.
What is the Dead or Alive 2 variance?
Dead or Alive 2 slot machine is famous for its high variance. This slot is a high-risk one. You can go hundreds of spin without hitting a decent win, but when big wins start to emerge, it can become pretty lucrative.
What is the minimum bet and the top prize?
The least you can bet on Dead or Alive is 9p which is pretty great for players who like to spin with lower stakes. The game can also provide x40,500 total stake for each spin in the Bonus!
Are there any free spins and bonus rounds? What other features comes with?
Dead or Alive 2 comes with a Free Spins Bonus where you can choose between 3 options: Train Heist with increasing multipliers, Old Saloon with sticky wilds and doubled wins, or High Noon Saloon with sticky multiplying wilds and biggest winning potential.
Are there any jackpots?
There is no progressive or fixed jackpot pot, but Dead or Alive slot machine comes with the insane winning potential of x111,111 total stake that can be obtained in High Saloon Bonus.
Is there anything else that I should know about the Dead or Alive 2 slot?
In May 2020, NetEnt introduced the Bonus Buy option in Dead or Alive 2. However, this is not available in the UK due to UKGC regulations.
If I like this game, what else should I look at?
If you loved Dead or Alive 2 slot, maybe you should also check other Wild West slots such as Money Train 2 with the max winning potential of x50,000 total stake in the Bonus round.
NetEnt – The Developers of Dead or Alive 2 Slot
NetEnt are enormous. They have nearly 300 titles currently ranked in UK casinos. They develop a huge number of games and pop them out at regular intervals. The company also works with smaller studios to licence titles in order to give them a bit of an edge when it comes to producing something with a bit of variety.
NetEnt have the top title in the UK, Starburst, and they have the number four, Gonzo's Quest, so they do some serious business.
Do NetEnt have a house style? To an extent, and you'll recognise it in this game, and all companies end up using similar controls and bonus systems.
NetEnt produce games and also run casinos. They were founded in 1996 and are licensed in numerous jurisdictions, including most of Europe, most importantly for our purposes the UK.
If you hate NetEnt games then obviously avoid this one, but you can certainly play it knowing it as a straight and honest machine that will do what it says it does.
The Facts and Figures
The £2 million sort of jumps out at you doesn't it? It's meant to, of course, but you should also be aware that you're very unlikely to ever win that top prize (though it isn't a progressive, it's a standard top prize).
That big top prize is also reflected in the game's volatility rating, which is "high", meaning that the game will payout larger prizes slightly less often. This is a very long term rating though, as is the theoretical return to player of 96.8%, which looks generous in the current market but only by a couple of decimal points.
The betting runs from an unusual 9p to £18, figures that are dictated by the also unusual nine pay lines that run across a completely standard 15-symbol five-by-three grid.
You can play this game on any desktop, tablet, or mobile device that allows you to use JavaScript and HTML5, and when you do, you should make sure you click on the information button to read the rules on the site you're using.
The Game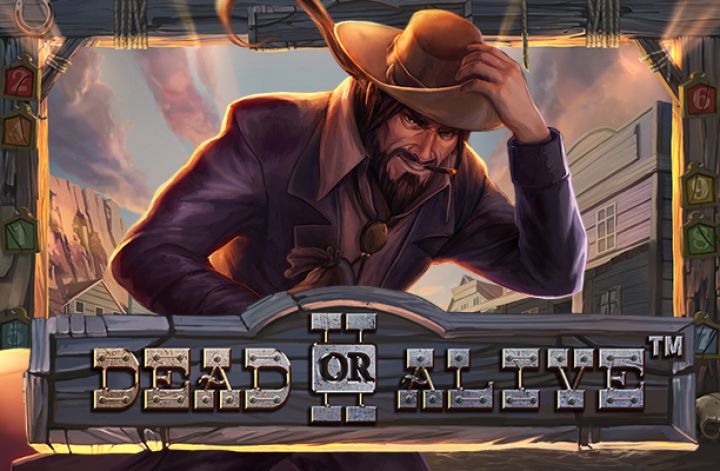 The screen set-up is very standard.
The Bet window is at the far left of the control panel, which runs across the bottom of the reels. This is set with a levels button to the right. In the centre, a console contains the usual autoplay, spin, and maximum bet buttons.
You set the coin value to the right of that, and your balance is shown to the right of that.
The game frame contains a load of other controls and information, including sound, help, and settings.
All very friendly and familiar.
How to Win
Let's click up that paytable then and see what those moody looking symbols actually deliver.
At the bottom are the usual card symbols, from 10 to aces, paying out up to 100-coins from a 90p stake for a set of five aces.
Then we have a whisky bottle, boots, a Stetson hat, a gun belt, and the sheriff star, paying out a maximum of 1,000-coins from a bet of 0.9 coins for a full set of five.
Dead or Alive 2 Slot Bonuses
The big news is in the bonuses though, which have a lot of variety and are where you'll find the biggest wins.
The wilds are specific to each reel and styled after gangsters, from left to right: the Apache Kid, Della Rose, Jesse James, Belle Star, and Billy the Kid.
Free spins are triggered by scatters, and there is then a choice of three free spins.
The scatters also pay out 2,500-times stake for a full-house.
The train heist spins add to a win multipliers for every wild you win on the reels. The maximum is a 16-times multiplier, which also awards an extra set of five spins.
Old Saloon free spins come with a standard 2-times multiplier with a retrigger for a set of five wilds.
The High Noon Saloon spins has sticky wilds with multipliers and a maxed-out possible top win of 40,500-times stake.
Dead or Alive 2 Slot – The Verdict
Explosively big wins are the headline news here and the reason why this game gets some headlines.
The full story is worth reading too though because this Dead or Alive 2 slot is a beautifully produced game that has a level of depth to its gameplay and design that really rewards spending some time with it.
It's quite a complex game, and for that reason might play better on bigger screens, and it's a good idea to read the rules fully before you start clicking. High volatility means waiting a little longer for prizes too.
But NetEnt have delivered another deadeye shot on the UK casino market here. We highly recommend you check out this game – and support your local gunfighter – at your local online casino site now.