I wonder how many players of the enormously successful set of Deal Or No Deal games in all areas of the gaming and gambling world remember the actual TV show on which they are based.
Deal Or No Deal was controversial when it was first shown on UK TV because it was such a nakedly simple gambling game. There was no discernible skill in playing Deal Or No Deal, it really was pure luck, and instinct, a completely random set of events.
This game was massively popular though, a gameshow phenomenon the latest stories from which were splashed all over the popular newspapers. It was brutally simple, and brilliantly so.
Blueprint Gaming have this turn at the box, with another in a series of games from the gaming giant that are based around the game.
The Deal Or No Deal: Double Action slot game itself is very retro, based on an old fashioned fruit machine with a two-stage game. It has generous pay-out levels, and – but a surprisingly low top prize.
There's a lot of interest in these games, which come with a built-in fanbase who want to play them as soon as they are released, but you should you ask for a deal on this version, Deal Or Deal?: Double Action?
Play Deal Or No Deal: Double Action Slot
Rank
Casino
Bonus
Rating
Visit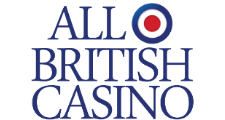 Blueprint – The Developers of Deal or No Deal: Double Action
Blueprint Gaming are enormous. They are based in the UK, but they are part of a larger group, the Gauselmann Group, who have a very long history, particularly in European markets, and a sizeable footprint in the building of real-world cabinet slots for use in casinos.
Blueprint currently have around 150 titles rating in the UK casino market, their currently most popular titles are Irish Frenzy, Fishin' Frenzy Megaways, Buffalo Rising Megaways, and many more. They have no fewer than seven titles in the current top 100 in a well-regarded industry auditing site.
Blueprint can certainly be considered a safe and reliable company and you should have no hesitation in playing their games and considering them safe and honest.
They're also usually very high quality.
The Facts and Figures
The theoretical RTP here is a 96.57% figure. RTP is a measure of how much a game might be expected to return to players in its lifetime, it is not a measure of how you should expect a game to interact with you. You may win much more than this measure suggests, you may lose much more.
However, this figure is very slightly above the current industry average. That is unlikely to impact your experience of the game, but it's fair to call it more generous than most.
The advertised top prize is 5,000 coins, which is relatively low.
Stakes can run from 0.1 to 100 coins, usually meaning 10p to £100, but you should always check staking levels and pay-out limits on the site you are using as you start to play a game.
Deal Or No Deal: Double Action slot is a classic five-by-three game, though with the second level of play modelled on a dual-level fruit machine. It has five pay lines, which is a low number.
You can play Deal Or No Deal: Double Action slot on any desktop, mobile or tablet device that supports JavaScript and HTML5.
Deal Or No Deal: The Game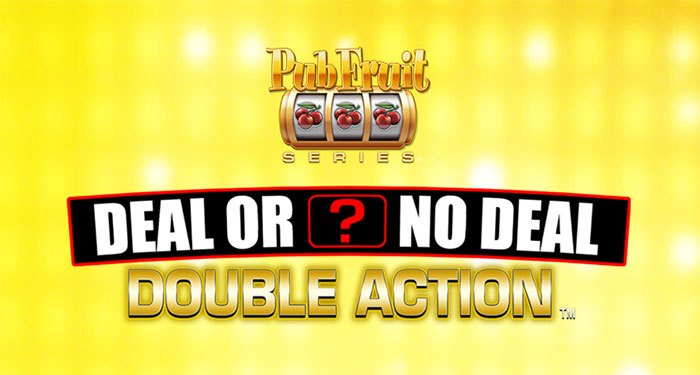 The game is simple to play and is based on a classic pub fruit machine.
This extends to the controls, which look like the classic boiled-sweet colour plastic buttons of those real-life machines.
At the left of the control panel is an info button to open up the paytables.
Next, you can set your stake on a purple button.
An information bar runs across the middle, and to the right of that are an Autospin option and a spin button.
The game frame has more information, including balance figures, bet amounts, and the latest win amount.
How to Win in Deal Or No Deal
The paytable contains very classic symbols.
Pays are listed with multipliers. The Fruits have two levels: a full set of five lemons, oranges, and cherries will pay you five-times your stake. The grape and the plum pay 10-times stake for full houses.
The bell and the melon pay 20-times stake for full houses.
A full set of 7s will pay you 25-times stake.
The game logo pays 5-times your stake.
Deal Or No Deal Bonuses
The bonuses here are many and they are complex. In fact, there is too much for us to report them in detail here. That makes this a timely reminder to reissue our plea to gamers to always read the full instructions of any game that they play!
The base game is free of bonuses of any kind. There are no scatters and no wilds.
The telephone symbols that are such a famous part of the TV game work as a trigger for bonus games. These are collected, and when you have five, you will earn your way into the Double Action feature. This opens up the top of the screen, triggering two games.
There is also a prize ladder of up to 16 feature games – some of them being skill challenges, some of them guessing games, all of them very typical to the classic fruit machine – that can be played. Climbing to the top of this ladder gets one into the Big Money game where boxes with big prizes can be picked in a version of the TV game.
Deal Or No Deal: Double Action Slot Q&A
#1. What game provider developed the Deal or No Deal: Double Action slot?
Blueprint Gaming is the provider behind the brand new Deal or No Deal: Double Action slot. The provider managed to mix classic retro slot with modern features in this game.
#2. When was the Deal or No Deal: Double Action slot released?
Deal or No Deal: Double Action was released in 2019 just a year after Deal or No Deal Go All the Way by the same provider.
#3. What is the Deal or No Deal: Double Action RTP?
This slot comes with an RTP of 96.57% which is pretty standard for Blueprint Gaming slots.
#4. What's the layout?
Deal or No Deal: Double Action comes with 5 reels, 3 rows, and as little as 5 pay lines. But no matter the layout, this slot provides so much action and as many as 16 features.
#5. What theme is used in this slot?
This fruity slot is based on the popular TV quiz show of the same name where contestants get to choose boxes to reveal possibly life-changing amounts of money.
#6. Can I play this game on mobile?
Deal or No Deal: Double Action is available for all mobile devices as well as desktop, tablet, and laptop.
#7. What is the Deal or No Deal: Double Action variance?
This Blueprint Gaming Deal or No Deal slot comes with high variance. So make sure to keep an eye on your balance while hunting the big wins.
#8. What is the minimum bet and the top prize?
You can start playing Deal or No Deal Double Action from 10p up to £100 per spin. The top prize goes up to x10,000 the total bet.
#9. Are there any free spins and bonus rounds? What other features comes with?
This slot may seem pretty overwhelming as it comes with 16 features. By collecting numbers in the base game you can enter Super Board where you can get various bonuses such as cash prizes, extra features, free spins, mystery symbols, multipliers, and a lot more.
#10. Are there any jackpots?
There is no progressive jackpot in this slot but max win alone seems like one as it goes up to £250,000 with the max bet active.
#11. Is there anything else that I should know about this slot?
Deal or No Deal: Double Action is part of the Pub Fruits collection representing classic fruity slots that were popular in land-based casinos and pubs.
#12. If I like this game, what else should I look at?
If you found this slot interesting, then you should also check other Deal or No Deal slots as there are many. Some of those include Deal or No Deal Megaways or Deal or No Deal: Lightning Spins.
The Verdict
Are you nostalgic for the days of the pub fruit machine? If so, then this is the game for you. Everything here doubles up: a combination of a classic fruit with a double-screen game, linking a classic TV game show with a pub fruit, and the double-action game of the game's title.
This is a big retro game from a company with a rep for delivering reliable thrills. It lacks a little sophistication in visual style, but that's deliberate, and the gameplay has a surprising amount of depth.