Dragon's Luck Slot – Review & Free Play Casino Demo
Dragon's Luck slot is a big hit for Red Tiger. Big enough to spin off a slew of sequels in fact, which is usually a sign that a game is doing something right.
In fact, despite only being released in April 2016, there are already two more Dragon's Luck games from this now-massive slot developer.
The Dragon's Luck slot game is themed on a Chinese theme, with temple pillars, dragons, and those beautiful mountain landscapes as backdrops.
The game is relatively straight-forward in set-up and is often classified as a classic or retro slot, but it doesn't lack for features, and if you like some involved gameplay then Dragon's Luck has that for you too.
Should you take this trip to East Asia though?
Let's have a bit of a deeper look!
Play Free Dragon's Luck Slot Demo
Dragon's Luck Slot Q&A
What game provider developed the Dragon's Luck slot?
Dragon's Luck slot is developed by Red Tiger Gaming featuring excellent design and graphics.
When was the Dragon's Luck slot released?
Red Tiger Gaming released Dragon's Luck back in November 2015 and it is one of many Red Tiger's dragon-inspired slots.
What is the Dragon's Luck RTP?
RTP stands for a theoretical return to player percentage and Dragon's Luck RTP is just on the average of 96.26%.
What's the layout?
This slot comes with 5 reels, 3 rows, and 10 fixed pay lines with 1×1 and 3×3-sized symbols.
What theme is used in this slot?
Red Tiger Gaming found inspiration in mythological creatures, that is, dragons for this as well as many other of their slots.
Can I play this game on mobile?
Dragon's Luck is suitable for all devices, smartphones included.
What is the Dragon's Luck variance?
Dragon's Luck slot can be put in the category of medium to high variance slots. It can take a while to hit those bigger wins, while smaller are quite frequent in the game.
What is the minimum bet and the top prize?
The players who like playing with smaller stakes will enjoy Dragon's Luck as the minimum to bet here is 20p per spin.1,380x per spin is the top prize this slot can award.
Are there any free spins and bonus rounds? What other features comes with?
Dragon's Luck comes with no Free Spins rounds as everything happens in the base game. there are as many as four mini-features including Dragon's help, mystery symbols, 3×3 symbols, and Mega Fortune symbol awarding up to x1,380 total stake.
Are there any jackpots?
Dragon's Luck slot comes with no jackpots but the top prize per single spin reaches x1,380 thanks to the Mega Fortune symbol.
Is there anything else that I should know about the Dragon's Luck slot?
Keep an eye on the two sleeping dragons on each side of the reels as they can surprise you at any time during any spin by blowing onto the reels and turning random symbols into matching ones for bigger prizes.
If I like this game, what else should I look at?
If you like mythological creatures in slots, then check out the updated version of this slot called Dragon's Luck Megaways. Also, Dragon's Fire is another Red Tiger Gaming's creation with dragons and quite lucrative features.
Red Tiger – The Developers of Dragon's Luck Slot
Red Tiger are one of the most well-known slot developers in the world in 2019. That's mostly because the company was taken over by NetEnt in 2019, at a cost of around £200 million. I'm no economist, but I believe that's what's known as a mega-s**t-ton of money.
That price tag is despite the fact that the company has only been going since 2014, and only has around 120 games on the UK market.
So it's safe to assume that Red Tiger are doing something right. They're based on the Isle of Man, in (and out of) the UK, and have a reputation for innovation that has been reflected in the 2017 award for Innovation in Slots Provision from EGR.
They've continued to win awards and attracted the attention of NetEnt.
Dragon's Luck is, according to the audit site we prefer, the company's fourth most popular slot in the UK. It's most popular is the retro Irish themed title Rainbow Jackpots, then Dynamite Riches, Reel King Mega, and the at number five is Legendary Excalibur.
The company is now the second-rated company in the UK and no doubt that is in very large part to their tie-in with gigantic NetEnt. NetEnt don't just make games they also run sites and produce software for the back-end of casino operations.
Red Tiger now have some of this clout and you can expect to see a lot more of them over the next few years.
The Facts and Figures
We have only the company's own figures to go on here.
The game's volatility is rated as 1 out of 5, which means you should expect to win prizes relatively often, but that those prizes are more likely to be smaller.
The hit rate is also low.
The top prize is 1,380 times your stake.
The game is a standard five-by-three game with 10 pay lines.
The Game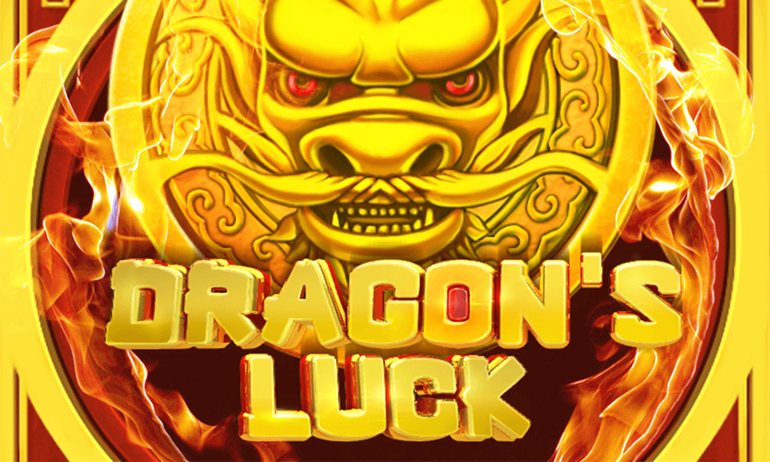 The game operates on a very standard system.
Click at the left of the control panel to select your stake. To the right is the auto setting. In the centre, a single large window carries all the information you'll need, and the spin button is at the right of the screen.
Other controls, including the pay table and the help function, the sound and other settings and a menu button are in the game frame.
Symbols & Paytable
Let's see what that pay table brings up.
At the bottom of the pile are the usual card symbols. 10s pay 10-times stake for three, four times for 20, and 100-times for five. Jacks and Queens pay the same. Kings and aces pay 20, 40, and 200-times stake.
At the top of the pay table are a set of East Asian-themed symbols: a flower paying 40, 100, and 250-times stake, a koi carp paying 50, 150, and 300-times stake, a doll paying 50, 200, and 400-times stake. A lucky coin (number 138) pays 200, 300, and 1,380-times stake.
There are four special symbols: Mega coins, which are giant dragon coins, the 1,380 coin, and dragons.
Dragon's Luck Slot Bonuses
The bonuses are triggered by special symbols.
The dragon coins turn to show secret symbols. If you get more than one coin on a spin they all spin to show the same symbol.
Dragons sitting on the side of the reels can wake up and trigger a respin.
The mega coin is simply a giant coin symbol that fills up a three-by-three space on the reels, bringing you the chance of getting bigger wins.
You'll need to fill a screen with 138 coins to win the top prize.
The Verdict
This is a great game and has proved enduringly popular.
It's easy to see why. Dragon's Luck is a very classic online video slot, delivering everything that players want in a recognisable style.
The design is great, with the theming going beyond the superficial to give a convincing essaying of East Asian culture (in so far as a slot machine can ever really do that). It's something of a signature game and looks for Red Tiger, and if you enjoy Dragon's Luck slot you'll find a couple more games in the series and you can expect to see more in this style from Dragon's Luck.
The game plays very well. It's simple to understand, and you'll soon be spinning the reels with confidence. It's got a bit of depth though, and bonuses in the base game are well worth hitting, not just for financial reasons but also because they're delivered entertainingly.
Red Tiger are licensed and you can trust them to deliver games that are fair and safe.
Red Tiger have delivered a winner in Dragon's Luck and one that continues to deliver nearly four years after its release. In an industry where novelty is a constant need, to come up with something that has some longevity then you're doing something right.
The figures aren't the most generous in the world, but this is a rewarding game and very friendly to more cautious players. Check it out today.