Electric Avenue Slot by All41 Studios – Review & Free Play Demo
Electric Avenue is a song by the British pop/reggae artist Eddie Grant that was a massive hit in the 80s. It was named after a street in Brixton, south London, one of the iconic neighbourhoods in the history of Black British culture.
This Electric Avenue slot game doesn't appear to have any relationship to that song.
It does – according to some reviews we've seen – bear a resemblance to a game called Danger High Voltage which is themed on a song that was a big hit in the 90s, and on its theme, which was electricity.
So bear that in mind.
The top prize in this game is 6,800-times your total stake, and the main bonus feature is a free spins round with a choice of modes – more spins against multipliers or wilds on the reels.
Although the game references the Eddie Grant song, it is more reminiscent of 80s synth-pop, with a soundtrack that sounds like Electric Dreams (see where we're going here), and a very 80s feel. The symbols are the likes of 80s baseball boots, Rubik's cubes, horrible sunglasses, and soda cans.
Do you want to get shocked into action by this game?
Let's have a look!
Play Free Electric Avenue Slot Demo
Electric Avenue Slot Q&A
What slots provider is behind Electric Avenue?
This is from All41 Studios. The company is basically a part of Microgaming and it seems to produce high-end slots. The company was founded in 2018 and already has 10 games on the market. Microgaming is expanding its operations in this sort of way, with partnerships and independent studios using their platforms: these games are likely to be highly visible, and hopefully a bit different.
When was Electric Avenue slot released?
This game was released on 12th May, 2020, and is the company's most recent release.
What is the Electric Avenue RTP?
The RTP for this game is 96.37%. This is pretty on the nail for the current market. RTP is measured by running 1 billion simulated spins of a game and measuring how much of the money is won back by theoretical players (who, of course, behave in a simulated way). It is not to be treated as a predictor of your gaming experience.
How many reels and pay lines does Electric Avenue have?
This game plays on a 6 by 4 grid with 20 symbols. It doesn't use pay lines but has 4,096 potential ways to win.
What theme is used in Electric Avenue slot?
This game is themed on 80s culture, retro games, electricity, pop music, and has neon graphics, with retro stylings.
Can I play Electric Avenue on mobile?
You can play Electric Avenue on any device that allows you to use JavaScript and HTML5.
What is the Electric Avenue variance?
The variance on this game is high. This should mean that the game pays out slightly higher prizes, but that prizes are paid out slightly less often. This is not a prediction of your game experience. The game's hit level of 25.7 equates to about one-quarter of spins producing some sort of winning combination.
What is the minimum bet and the maximum win in Electric Avenue slot?
The minimum bet is 0.2 coins (this should be 20p in a UK casino). The top bet is 30 coins, which should be £30. The top prize is 6,833-times stake, which we make just over £200,000. Please check pay out and withdrawal limits on the site you're using.
Does Electric Avenue have free spins and bonus rounds?
There is a free spins round. There are two modes for free spins, either with power wilds, a sticky wild or with a multiplier.
Is there anything else I should know about Electric Avenue slot?
The DeLorean car, a symbol of 80s excess that was a disaster for Belfast (it's a good story), is the scatter that triggers the free spins round.
The Game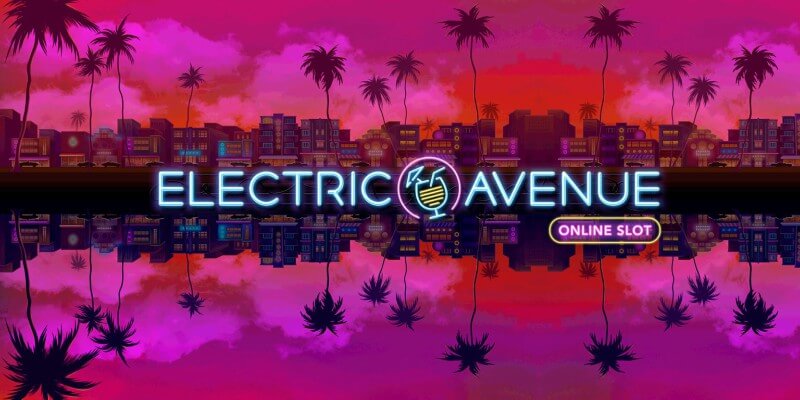 The game controls are very simple to understand. At the top of a strip is a cog symbol to open the settings, then a button grid to open up further menus. The spin button sits in the middle, under this is the auto spin function, which you can limit by spin number only. At the bottom is a single bet control.
The pay table reveals:
Cards paying 0.75-times stake to 1-times stake for a full set. Soda cans paying 1.25-times stake for a full house. Sunglasses that pay the same. A Rubik's cube paying 2-times stake. A pair of basketball boots paying 2-times stake for a full house. A Polaroid camera that pays 5-times stake. The scatter, the DeLorean, also pays 20-times stake for a set of six. The boom box pays 25-times stake for a set of six.
Wilds are character symbols, all decked in full-on 80s gear and doing full-on 80s things. They appear on their own reels and they are stacked, and sometimes have multiplier values, corresponding to the reel number.
Scatters trigger the free spins round.
There are two free spins rounds.
Electric spins give you 7 spins with a power wild that stays in play once it appears and grants 3 extra spins if it fills a reel.
Neon spins give you 10 spins with multipliers on the interior reels. This feature retriggers.
The Verdict
Is this game derivative? We'll let you decide that for yourselves when you play it. However, it was derived it is a very high-quality game with fantastic graphics. Some games have a theme and just drape a few images on a game, but this theme is deep – and for an 80s kid deeply disturbing – and really well developed.
And the game is fantastic to play, with loads of features that keep coming through the base game and also into the free spins round. The choice of free spins rounds is another interesting option.
This is a high volatility game and has a great top prize. The RTP and the hit rate are decent though, so there's nothing to scare players away from this excellent title.