Big Time, with this Extra Chilli slot, and Megaways of winning! This game is big on the hyperbole before we even start.
The numbers seem to stack up though: the Megaways win system means there are 117,649 possible pay lines, and the layout is non-standard too with an extra reel spinning horizontally below a bigger-than-usual set of six standard spinners.
The game is Mexican themed and set in a market place with a chilli stall as a backdrop. We're not keen on some of these culturally themed games, which – quite frankly – make a mockery of the cultures they feature in a very crude way. This one doesn't seem to have those problems and actually looks very nice.
Big Time Gaming are a pretty big deal too, and among their titles are some big tie-ins, most notably the massive Who Wants to Be a Millionaire game. Megaways and non-standard layouts are common features of their games, which show up in around 3% of casino lobbies and make up around 1% of the total of games in UK casino sites – not bad for a list of only around 30 games.
The big attraction of this game is a free spins round with unlimited win multipliers and a free spins Gamble feature with up to 24 free spins up for grabs. The trademarked Feature Drop is a respin function.
So should you get ready to experience some Central American heat?
Let's head to the market and give things a look in this Extra Chilli slot review!
Best Casinos to Play Extra Chilli Slot
Extra Chilli Slot Q&A
What game provider developed the Extra Chilli slot?
Extra Chilli slot is a creation by Big Time Gaming and one of the most popular Megaways games by this provider.
When was the Extra Chilli slot released?
Extra Chilli slot was released back in April 2018, two years after the Bonanza game that marked the popularity of Megaways slots.
What is the Extra Chilli RTP?
Extra Chilli RTP stands at 96.15% which is pretty standard for high-variance Megaways slots.
What's the layout?
Extra Chilli is a Megaways slot game. It features 6 reels with 2 to 7 symbols high. There is also the extra horizontal reel below the main reel board that helps in increasing ways to win. The maximum ways to win reach the incredible 117,649!
What theme is used in this slot?
Extra Chilli slot has a Mexican theme. The slot is set in the Mexican food market where you can see all kinds of foods such as garlic, chilli peppers of course, and other vegetables. The design is bright and colourful as well as high-quality.
Can I play this game on mobile?
Extra Chilli slot is compatible with all devices including all kinds of smartphones (Android, iPhones).
What is the Extra Chilli variance?
Extra Chilli is a high variance slot machine. This means that you can expect a lot of smaller wins and 'dead' spins. But when those bigger wins do appear, they can be huge.
What is the minimum bet and the top prize?
The betting scale starts at a minimum of 20p per spin and goes up to the max of £40 per spin. Extra Chilli is quite a rewarding slot that gives you x20,000 the total stake on a single spin!
Are there any free spins and bonus rounds? What other features comes with?
Extra Chilli is a typical Megaways slot that comes with a lucrative Free Spins round with increasing unlimited multipliers. The Bonus awards 8, 12, or 16 free spins depending on the number of scatters on the reels. Cascading reels is another feature of this game. This means that upon each win, the winning symbols will disappear, while new ones will occupy their positions. The cascade continues as long as there are new wins.
Are there any jackpots?
Extra Chilli slot doesn't feature any jackpots, but the fact that x20,000 the total stake is possible on a single spin is more than enough.
Is there anything else that I should know about the Extra Chilli slot?
Extra Chilli slot features the Bonus Buy option that allows players to purchase the Free Spins bonus round. However, this option is not available in the UK.
If I like this game, what else should I look at?
If you like Extra Chilli slot, then you should definitely try the Bonanza slot machine as the most popular Big Time Gaming's Megaways slot. Also, Blueprint Gaming's Diamond Mind is yet another Megaways slot resembling Bonanza.
The Facts and Figures
The thing one first notices on loading up Extra Chilli slot is the layout. The reels are not identical, and the layout is written: 7, 8, 8, 8, 8, 7. So that's six reels with a maximum of those numbers of rows.
Under those reels is the horizontal reel that shows four symbols.
Bigger than standard, too, is the theoretical RTP, which is 96.82%. This means the game should be slightly more generous than the average, but it's a very long term measure and may well not be reflected in your individual experience.
The biggest possible win is 1,000,000 coins, which is £1,000,000! Betting runs from 0.2 coins to 40 coins, which is 20p to £40. Make sure you check pay-out limits and coin values and other financial rules and regs on the game you're actually playing.
There are 117,649 potential pay lines. And as they run both ways you can double that.
You'll need JavaScript and HTML5 to play this game on desktops, mobile phones or your tablet.
How to Play Extra Chilli Slot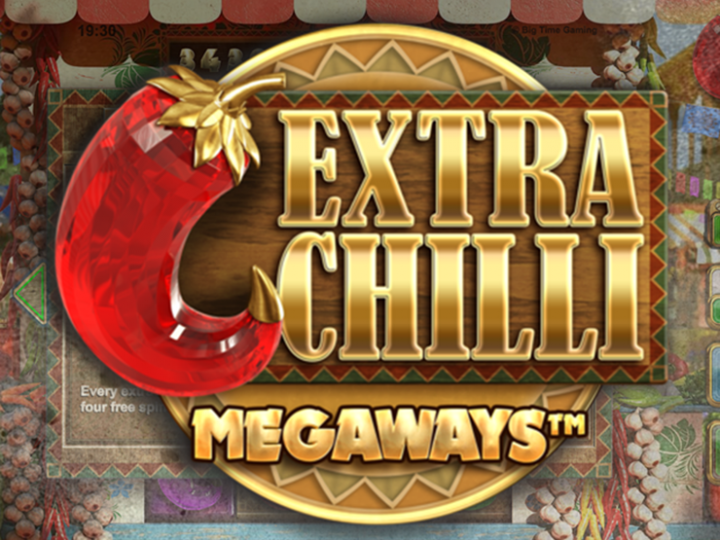 This is an easy enough game to play.
The controls are at the bottom of the screen and run from left to right. At the left is the stake button, which you set with two control buttons. Next to that is a menu button to meet all your help and information needs. Then the "feature drop" window allows you to buy that for the amount in the window – if it's zero then you the feature will just trigger. The auto spin feature is next, followed by the big green spin button.
Other controls will be found in the game frame.
Paytable
The paytable is based on chillies and cards!
The cards pay out as follows: 9s pay 0.1, 0.2, 0.4, and 0.8-times stake for sets of three to eight symbols. Tens pay 0.15, 0.25, 0.5, and 0.9-times stake. Jacks pay 0.15, 0.25, 0.5 and 1-times stake. Queens pay 0.2, 0.25, 0.6, and 1 times stake. Kings pay 0.2, 0.4, 0.6, and 1.75-times stake. Aces pay 0.2, 0.4, 0.6, and 1.75-times stake.
Chillies are colour coded. Green ones pay 0.25, 0.5, 0.75, and 2-times stake. Blues pay 0.25, 1, 1.5, and 2-times stake. Red ones pay 1, 2, 2.5 and 7.5-times stake. Purple ones pay 2, 5, 10, 25, and 50-times stake.
Scatters are golden letters, and the wild – standing in for every symbol but the scatter – is a set of fireworks.
Bonus Games
The key bonus game here is the free spins, but there are also base game features.
Winning combinations are called reactions, and symbols that feature in them vanish to allow the equivalent of a Respin.
The bottom reel spins under the central reels and adds its symbol to them.
Scatter symbols trigger the free spins. They are coded to spell out H, O, T, which gives you 8 free spins. More scatters add sets of 4 free spins.
Free spins come with a multiplier. As the free spins round starts the multiplier is at 1x and it simply increases by one for every spin. There is no limit on the top of this progression, which can continue with free spin scatters (pots of chillies) that only appear in the free spins game and add sets of 4 (for three scatters) or 8 (for four) free spins.
The free spins gamble introduces the round and allows you to try to gamble up the number of spins you have, up to a maximum of 24. There's a risk, of course, and this feature can gamble you down to 0 and end the feature before it starts. It's a green/black wheel choice.
The Verdict
Some culturally themed games are poor quality and not to everyone's taste (we're looking at you "luck of the Irish" slots).
No such problems here in a game that is spicy hot and as deeply complex as the best Mexican cuisine. The atmosphere is great, with a nice soundtrack adding to the quality graphics.
The gameplay really delivers. There are options everywhere, from base game features to a gamble feature that introduces the free spins round.
And once you get into that one you should get into some seriously big wins, maybe climbing up towards that massive £1million top prize! That's a "chilli" we'd love to try.
Extra Chilli is a credit to its makers and we're happy to recommend that you give it a try on your favourite online casino site today!