Fruity Friends Slot by NeoGames – Review & Free Play Demo
When a game company puts fruit or fruity in their title you know you should expect a retro game of some sort. Fruit machines is how most people referred to slot machines in the UK for years; older people like me still do!
The reasons are historical and American. The first slots were mock-ups of card games. Despite its much-vaunted and self-promoted reputation for freedom, liberty and the like, the US loves banning things, including for long time gambling games. Using fruit symbols on the reels and giving food as prizes rather than cash helped early slots manufacturers get around restrictive laws on gambling.
No such problems for Fruity Friends slot here, which is fully licensed, legit, and legal to play in the UK and could reward you with a very nice top prize of nearly 900-times your stake.
While the game references a classic slots trip, it's actually a nice modern take on the idea, with cute cartoon graphics, and plenty of novelty in the gameplay.
This game is an RTP-range title but offers good prize potential on betting that starts from 1p.
Should you unpeel it at your favourite online casino site?
Let's take a look!
Play Free Fruity Friends Slot Demo
Fruity Friends Slot Q&A
What game provider is behind Fruity Friends slot?
NeoGames are the producers of Fruity Friends. They've been around since 2005, but have a relatively small catalogue of around 50 games. Despite this, they're quite highly ranked in the UK, at 55th in an audit that we trust. They say they're interested in attention to detail and outside the slots world, they also produce poker and casino games.
When was Fruity Friends slot released?
This game is positively ancient by slot standards, dating back to 15th June 2012.
What is the Fruity Friends RTP?
This game comes with a range of RTP Values. The published base range is 94.99%. RTP ranges allow the site that hosts games to set the RTP themselves. This will be within a range set by the company, and, of course, within the legal limits! The theoretical return to player is a very long-term measure and it is not a predictor of how your experience of the game will go.
How many reels and pay lines does Fruity Friends have?
The game plays out on a classic 5 by 3 grid with 25 pay lines across 15 in-play symbols. You select pay lines to bet on.
What theme is used in Fruity Friends slot?
The theme is retro games, retro slots, fruits, colours, and the graphic style is cute and cartoon-like.
Can I play Fruity Friends on mobile?
You should be able to play Fruity Friends on your mobile. The game runs on platforms that support JavaScript and HTML5.
What is the Fruity Friends variance?
We do not have a published variance or volatility rating for this game.
What is the minimum bet and the maximum win?
The minimum bet is 0.01 coin (usually 1p) on a single pay line and you can bet as high as £500 or 500 coins. The top prize on the game is 877.4-times stake which is 438,700 coins by our maths. Please always check any maximum payout limits on the version of the game you're using.
Does Fruity Friends slot have free spins and bonus rounds?
Yes, there is a free spin round, and a number of features in the base game. Extra wilds and scatters are put onto the reels during the free spins round.
Is there anything else I should know about Fruity Friends slot?
There is a prize pick game called the Fruity Field.
The Game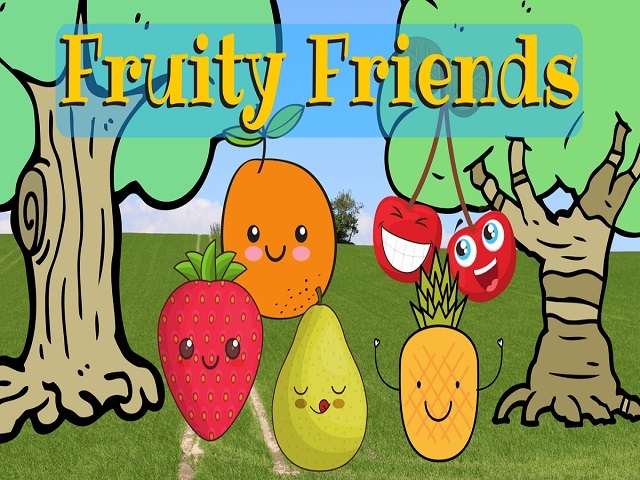 Although quite old this game hasn't dated in the slightest, certainly not in the way it operates.
The controls float alongside the reels in a very mobile-friendly way.
In the game frame, a three-dot menu trigger opens up all the extra settings, including the paytable and game help and instructions.
The spin button is to the right of the reels, with four arrows around it. To the left and right of the button, these are plus and minus arrows for the bet control, and you can also change the coin value under the game.
The control above the spin button is the auto control, which you can limit by spin numbers, loss, win, single win, any win, or any feature. There are two-speed versions too.
At the bottom is the menu control to open up the help options.
Here you'll find the pay table confirming that you can select pay lines for your bets.
The pay table starts with fruity cards:
Jacks paying 3, 15, and 40-times stake.
Queens pay 4, 20, and 50-times stake.
Kings pay 5, 30, and 80-times stake.
Aces pay 8, 40, and 100-times stake.
Now we have the fruits: lemons (10, 50, and 200-times stake), pears (20, 100, and 400), passion fruit (40, 200, and 1,000), and pineapples (5-times for 2, 50, 500, and 5,000-times stake).
There's a wild, in the shape of cherries, which pays 10, 100, 1,000, and 10,000-times stake. Oranges are a scatter, paying 1, 5, 25, and 100-times total bet (rather than pay line stake).
Scatters trigger free spins in sets of 10, with extra wilds and scatters on the reels.
Strawberries are a bonus symbol. If they land on reels 1 and 5 at the same time then the Fruity Field prize pick game.
The Verdict
This is a really fun take on the fruit genre of classic, retro slots.
Retro games are all the rage at the moment, but this version, from back in 2012 puts some of these modern takes on the genre to shame.
The graphics are fantastic fun, with real personality, and they sit on top of a great game, that's as bright and colourful in its features as it is in its graphics.
Free spins are good fun, and they come in good-sized portions in Fruity Friends slot. The secondary bonus is a nice addition too.