Here's an exciting clash of popular entertainment titans! Microgaming is one of the biggest names in online video slots, Game of Thrones is an obscure documentary about chairs on BBC4.
OK, one of those facts isn't true, but we'll guess that if you clicked on this Game of Thrones slot review you probably already know what Game of Thrones is, have an opinion on whether it represents the Finest Work of Art in history or is vile trash, and are prepared to storm HBO's HQ in order to get the plot changes you'd like in the final series.
Microgaming produce more than 500 slots, and all of them are pretty much guaranteed to get big exposure courtesy of the company's size and the fact that it owns a load of casino sites and produces the software that runs a whole load of other sites.
Game of Thrones online slot is a big-budget, high-production-value special with lots of sophisticated bonus features and a load of content from the TV show.
There are two versions of Game of Thrones, one is a 15-pay line game, the other a 243-pay line game. This review stands good for both of them – both released in 2014 – and we'll take you off on a tour of Westeros right away!
Best Game of Thrones Casinos – Microgaming Casinos
Game of Thrones Slot Q&A
What game provider developed the Game of Thrones slot?
Microgaming is the one responsible for turning the best show into an excellent slot machine.
When was the Game of Thrones slot released?
Game of Thrones slot machine was released in December 2014, the year when the exciting fourth season of the Game of Thrones was released.
What is the Game of Thrones RTP?
Game of Thrones slot RTP is 96% which is the average RTP we see in the majority of slots.
What's the layout?
There are two versions of Game of Thrones slots. Each comes with 5 reels and 3 rows while one features 15 pay lines and the other 243 ways to win.
What theme is used in this slot?
The theme of this slot is the most popular TV show of the same name. The slot features details from the Game of Thrones series and in the Bonus, you can choose your favourite house: Baratheon, Lannister, Stark, or Targaryen.
Can I play this game on mobile?
Yes, Game of Thrones slot machine can be played across all smartphone devices such as Androids or iPhones.
What is the Game of Thrones variance?
Game of Thrones is a medium variance slot machine which means that you can expect frequent smaller and medium-sized wins. Free Spins bonus is where bigger wins can be expected.
What is the minimum bet and the top prize?
In 15 pay line version of Game of Thrones slot 15p is the minimum stake, while 243 ways to win version can be played with a minimum of 30p per spin. The winning potential of Game of Thrones is pretty huge and goes beyond x20,000 the total stake per spin.
Are there any free spins and bonus rounds? What other features comes with?
Game of Thrones slot comes with a Free Spins bonus with four options (the four houses from the show). Each comes with a different number of free spins, multipliers, and stacked symbols.
Are there any jackpots?
Game of Thrones slot machine doesn't feature any jackpots. But the top prize on a single spin in the Free Spins bonus reaches x20,250 the total stake.
Is there anything else that I should know about the Game of Thrones slot?
Note that when choosing the Free Spins round, the preferable option may be less free spins with bigger multipliers as it has a greater potential for bigger prizes.
If I like this game, what else should I look at?
If you liked Game of Thrones there are also other slots based on popular TV series. Rick n' Morty Megaways by Blueprint Gaming or Peaky Blinders slot by Pragmatic Play are great choices.
The Facts and Figures
Let's look at Game of Thrones slot machine, the 15-pay line version first.
The differences are in the theoretical return to player: this 15-line version has an RTP of 96.4% and a variance rated as medium. These measures are both long-term and technical way of looking at a machine, and shouldn't be considered a predictive measure of how a game will play with you.
The top win is 75,000 coins on bets from 0.01 to 0.1. In UK money that means 1p to 10p, with a top prize of 75,000 coins.
The layout is 5 by 3, and you can play this version on desktop, mobiles and tablets that have Flash, JavaScript and HTML5.
The 243-line version has a lower RTP of 95%. It has a medium to high variance. This should mean that it pays out higher prizes when it pays out, but it should pay out slightly less often.
The top prize you can win is 121,000 from betting between 0.01 and 6 coins.
All the other details are shared between the games.
How to Play Game of Thrones Slot Machine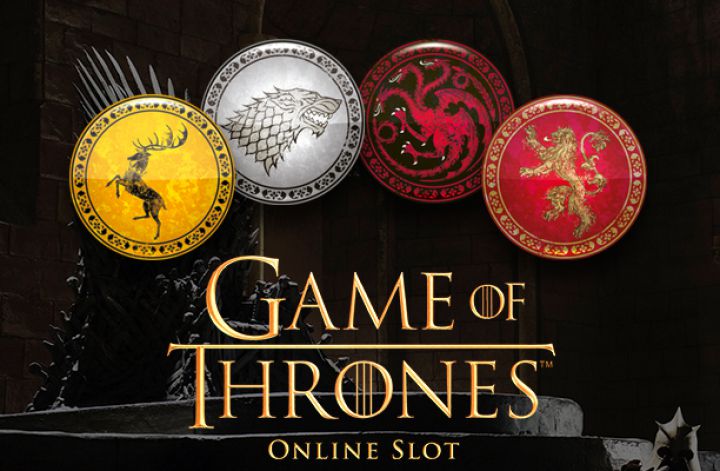 The games both play the same way.
Controls run along the bottom of the screen.
At the left is the pay table button, then your credit balance, then the autoplay function (up to 100 spins, with an "until" feature, and the ability to set a custom feature). Then there's the bet selector (you set coin size and pay line levels as you enter the game). Finally, a Win window and the all-important spin button.
How to win
Open up that paytable and you'll find a full breakdown of pay-outs.
This changes automatically as you alter your bets. As these differ slightly for each game it's best that you check them yourself rather than read a shortened version here.
The symbols are the same across games though, with Jacks, Queens, Kings, and Aces at the bottom of the scale. Above them are the symbols of the Houses of Westeros, with, from most valuable down: yellow stag for Baratheon, the red lion for Lannister, white leopard for Stark, and red dragon for Targaryen.
The game logo is a stacked wild that also pays. It stands I for all symbols except the Iron Throne, which triggers the bonus games and also has its own monetary value, including a random cash prize for a paid.
Bonus Games
Here we go for the free spins!
These are trigged with three, four, or five Iron Throne scatters.
There are four free spins features, one for each house of Westeros.
The Baratheon spins have three stacked stag symbols and 8 free spins with a 5-times multiplier.
Lannister is 10 free spins with a 4-times multiplier and 4 Lannister stacking symbols.
Stark is 14 free spins with a 3-times multiplier and 5 Stark symbols stacking.
Targaryen is 18 free spins with a 2-times multiplier and 6 stacking dragons.
The feature can be retriggered if you get enough of the scatters.
Wins in the base game come with a gamble trail feature. This is a coin toss taking you round the map of Westeros with double or quits on wins.
Game of Thrones Online Slot – The Verdict
A quick and easy question for you. Do you like Game of Thrones?
If yes, and you also like online video slots then, of course, you should play this game.
The atmosphere of the series – without breaking into too much adult content! – is honoured here with atmospheric music and a design aesthetic that's got some real depth to it, from the fonts to the background to the borders to the symbols.
This Game of Thrones slot game is a great tribute to Westeros in all its versions. So, if you like the series, try the game!
And if you don't like Game of Thrones, or, like me, you couldn't give a flying dragon about it?
Yes, you should also play this game. It's a very high-quality slot and the best thing about it is the highly inventive set of bonus games.
The stats on the game are pretty good, certainly up with anything on the market at the moment, and the way the bonus games are designed to get you to make a choice weighing up free spins against multipliers against stacking high-value symbols is one of the cleverest setups we've ever seen. In fact, it's amazing no-one else has ever come up with this, and we hope to see more of it in future games.
Naturally, if you hate Game of Thrones or find it objectionable in some ways then you won't love a faithful recreation of it featuring numerous clips of the show.
We say it's great – and we don't like the show – so you should certainly check it out at your favourite online video casino site today.