Ghost Glyph Slot by Quickspin – Review, Free Spins & Demo
Brand new from slot giants Quickspin, Ghost Glyph is out well in time for Halloween. There's nothing to frighten too seriously though in a game that takes a very light-hearted and cartoony look at the supernatural world.
Ghost Glyph opens on a massive reel set that's not really a reel set. Blocks drop in and out of the grid and wins are paid by the cluster. Quickspin have jammed in the bonus features here, and there's a lot of clever action to keep your eye on and to keep on top of.
There are big wins on the pay table for big clusters, and if you hit the free spins feature and start to see a respin cascade going you might just get to the top of the prize pile.
It's fun and exciting, but can you handle the Ghost Glyph?
Let's see.
Play Free Ghost Glyph Slot Demo
Ghost Glyph Slot Q&A
What game provider developed Ghost Glyphs slot?
Quickspin are Swedish slot developers, founded in 2012. They have around 50 slots on the UK market, and a slew of other games too. They're rated as the 20th most popular and visible developer in the UK. Their biggest hits are Diamond Duke, Arcane Gems, and Goldilocks.
When was Ghost Glyph slot released?
September 9th, 2020.
What is the Ghost Glyph RTP?
The RTP of this game is 96.18%, a very decent figure that's a house edge of just under 4%. RTP is the percentage of a game's revenue that should be returned to customers, it is not a prediction of how your personal experience of the game will go.
How many reels and pay lines does Ghost Glyph have?
The game plays with blocks, on a 7 by 7 grid. Symbols drop in and cluster wins replace reels.
What theme is used in Ghost Glyph slot?
Themes are: ghosts, the supernatural, cartoons, haunted houses, and Halloween.
Can I play Ghost Glyph on mobile?
Yes, you can play this on mobile if you have JavaScript and HTML5.
What is the Ghost Glyph variance?
The variance of this game is high, which means prizes should be paid out slightly less often but they should be slightly larger.
What is the minimum bet and the maximum win?
You can bet between 0.2 coins and 100 coins. In UK sites this should be 20p to £100, giving a top prize of £226,000 if you win the top prize, 2,260-times stake.
Does Ghost Glyph have free spins and bonus rounds?
Yes, free spins is the main bonus round, and there are many bonus features in the base game. Extra high-paying symbols appear on the reels and the respins meter can trigger a special Massive Wild feature.
Is there anything else I should know about Ghost Glyph slot?
You need eight cascades to trigger the Massive Wild feature – good luck!
The Game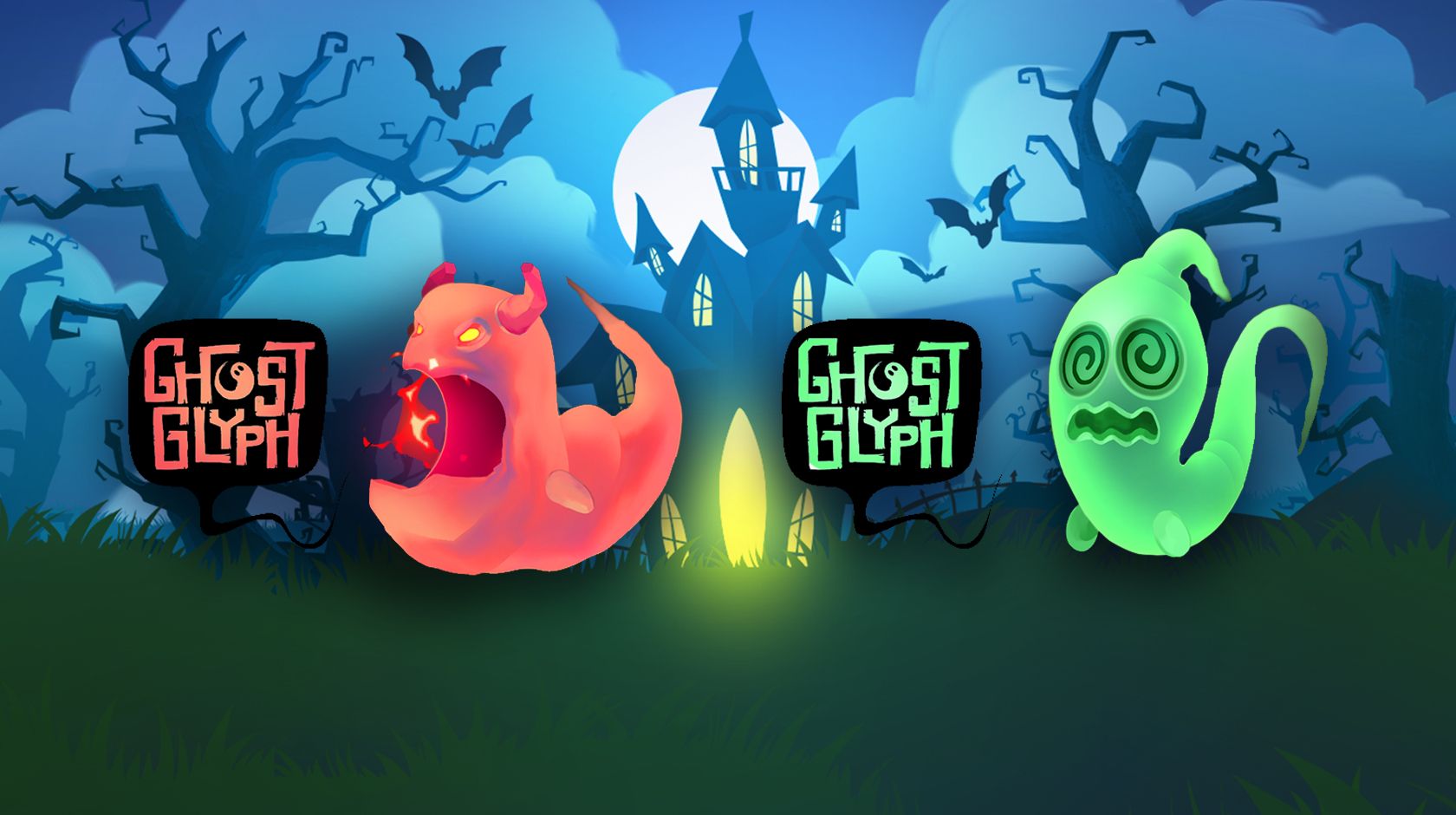 Although this game is complex and sophisticated it is simple to play with a standard Quickspin control panel.
The Ghost Glyph feature is a spawning feature that puts a ghost glyph inside a winning cluster, possibly raising a ghost glyph symbol into a wild.
The ghost urns feature is triggered when you get a ghost glyph win, and there are four variants. Red urns burn off a low paying symbol wherever it appears on the reels.
Green ghost urns convert all of one low-paying symbol into another.
Yellow ghost urns give you a load of wilds.
Blue ghosts are the ones you want, giving you an 8-spin ticket for the free spins round.
Wins tumble as a respin feature. These contribute to the Paranormality Meter, which can trigger the massive wild when it hits 8 respins. The meter increases the numbers of massive wilds, and the number of moves it makes before leaving the reels.
There are 7 symbols on the pay table topping out with purple gems paying 600-times stake for a cluster of 15 or more symbols.
The Verdict
Woah! There's a lot going on here. Not content with giving us a huge haunted house full of symbols, Quickspin have filled hit with a huge variety of multi-coloured bonus features. Unfortunately, the guide isn't completely clearly written, so players might find themselves scratching their heads a bit when they come to play – try to have a goat Ghost Glyph on free play if you can.
You'll soon get the hang of things and start to get lost in the gameplay. There's some big prize potential, and with resins and all those bonus features, there's little chance of being bored. This game is something of an outlier in an era when games are more and more focusing on small screens by making their design big, simple, and graphical.
We like the look and feel of this game, and on a nice screen it looks the business, so summon up your courage and give it a spin.