Gold Rush Slot Machine by NetEnt – Review, Free Spins & Demo
The Gold Rush was a historical event, perhaps most often characterised in the popular imagination by the 1849 California Gold Rush that is a source of much of the iconography of the culture around the American Wild West.
And it's got nothing to do with this Gold Rush slot game!
Gold Rush slot machine eschews yet more Wild West theming in favour of a very cut-down vision of retro gaming. This Gold Rush slot machine came out in 2013, but the retro theme is still going strong.
Although we have all the technology in the world it seems that players are still keen on games that look exactly like a machine that could have existed any time from around the 1930s onwards.
Looking like a shot of an old-fashioned one-armed bandit in a palm-fronded gaming hall, Gold Rush's closest links to history are in its link to past games and the retro 1950s feel of the machine, which could be the front of a classic American car.
NetEnt must know what they're doing. They're a massive company, who make not only games but also casino software. Among the games you're likely to know, are Starburst – the world-eating retrofuturist game that's every site's favourite free-spin offer – and Gonzo's Quest, the eccentric and ever-green Conquistador adventure tail.
NetEnt can cover every base in every genre with the best in gaming tech, so is this simple and even simplistic take on retro casino gaming worth the time travel?
Let's launch the temporal traveller and take a look in this Gold Rush slot review!
Play Gold Rush: Gold Rush Free Play Demo
18+ – you now need to be over 18 to play free slots demos, sign up to play in demo mode at the following casinos:
Best Gold Rush Casinos – NetEnt Casinos
Gold Rush Slot Q&A
What game provider developed the Gold Rush slot?
Gold Rush is a fun and fast-paced slot developed by Pragmatic Play.
When was the Gold Rush slot released?
Gold Rush marked the beginning of 2018 as it was released first thing in January.
What is the Gold Rush RTP?
Gold Rush slot has an RTP of 96.50% which statistically represents the amount the casino will bring back to the player in the long run.
What's the layout?
Gold Rush slot features a standard layout of 5 reels, 3 rows, and 25 fixed pay lines. The wins are formed by landing symbols on active pay lines from left to right.
What theme is used in this slot?
The theme of Gold Rush is gold mining which is pretty obvious from the slot title. In the game, you will listen banging and mining sound effects along with 'Oh my darling Clementine' soundtrack which only makes the whole mining atmosphere more intense and genuine.
Can I play this game on mobile?
Gold Rush slot can be played on mobile devices. So whatever smartphone you own, you can enjoy this slot wherever you are.
What is the Gold Rush variance?
Gold Rush is somewhere on the medium to high variance range. Big wins are hiding in the game, but more often you will hit smaller ones.
What is the minimum bet and the top prize?
The minimum bet you can make is 25p per spin while the max goes up to £250 per spin. So both low and high-rollers can enjoy Gold Rush slot. The winning potential exceeds 300,000!
Are there any free spins and bonus rounds? What other features comes with?
Gold Rush slot comes with a Free Spins Bonus where you can progress further in the gold mine. The Bonus awards 10 free spins and the more you progress the more high-paying Prospector symbols appear on the reels.
Are there any jackpots?
There are no jackpots present in the Gold Rush slot.
Is there anything else that I should know about the Gold Rush slot?
Keep an eye on the golden nugget symbols in the Bonus round because the more of these you collect the further you will progress in the Bonus which means bigger wins with the top-paying symbol.
If I like this game, what else should I look at?
Gold Rush is an excellent gold-themed slot and if you want to try more slots with a similar theme then make sure to try Bonanza or Diamond Mine slots.
The Facts and Figures
Rather backwards in this retro game is the theoretical return to player. Classic games are one thing, but a 95.4% RTP is downright retrograde. That said, RTP is a not-very-precise measure of how a machine will perform over its lifetime, and you're just as likely to hit big on your first spin as with any other machine where are spins are independent and random. Medium variance (or volatility) is also bog standard – low volatility means a machine pays out more often but with lower prizes.
You can stake 0.2 coins on this single-pay line game, which has just one reel. This game is only available on desktops and you need Flash enabled to play it. Please make sure you use a properly updated version of flash, which can have security issues.
The release date is given both as of March 2013 and January 2016, so we'll assume the game was revamped in some way in 2016.
How to Play Gold Rush Slot Machine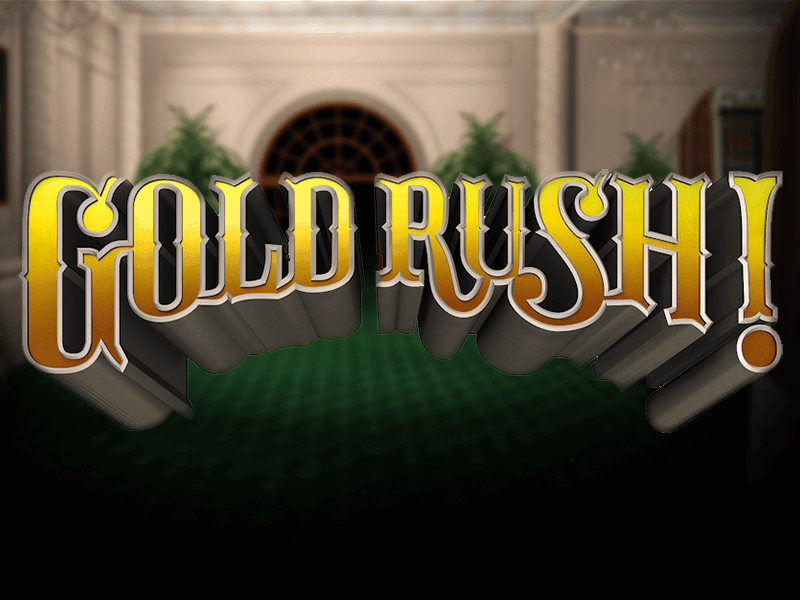 Are simple looks your taste? Great, it takes all sorts. Simple gameplay always seems a good thing for us. It applies slightly more on a small screen where you're tapping with your fingers, but making games easy to play is almost the first duty of a games designer in our view.
Gold Rush's designers have done just that.
To be honest, they didn't have much choice!
A single reel means just three controls. A bet button to cycle through bet amounts, a bet max button shortcuts to the top stake, and a nice cheery yellow button (it makes a lovely change from green!) sits on the right of that single panel of three old-fashioned controls.
Above the reels, a window scrolls Wins and messages, including a jackpot, and your balance, the latest win, and the current bet amount sit above the reels by the paytable, which is on show unusually.
There's another set of controls in the game frame: settings, sound, help, and Autospin that you can click for more options on your game experience. You'll also find a second balance amount in the game frame.
How to Win
The paytable is super simple because there's only one pay line, so all that pays are sets of three symbols.
A gold trolley in the right-hand reel pays 2-times stake. Any bar pays 4-times stake. Three gold trolleys pay 8-times stake. Three cherries in the window pay 10-times stake. Three fives pay 20. Three sevens pay 40. Three cherries pay 200. Three golds anywhere in the window pay 1,000-times stake. Three golds pay 2,400.
This pay table is complemented with two more for different levels of staking, and the final level is a jackpot level that opens up a progressive jackpot as the top prize. Before that, the second layer offers double the prize amount than the first, and the final level offers triples the first.
Always check pay limits, coin amounts and so on at the site you're actually using.
Bonus Games
As there aren't bonus games in Gold Rush slot machine, we shouldn't have much to say. However, we've got a section to fill, and there is a progressive jackpot to be won for hitting three golds in the final level.
Progressive jackpots work by taking a small amount of each stake and putting it into a prize pool. This is why the RTP in this game is slightly on the low side. This is common with all RTP measures on progressives. It doesn't seem like this is a networked progressive, which can link potentially millions of machines to offer really big prizes, but it's still going to be a major prize and the biggest you can win on this game.
It's unusually easy to score the jackpot in this game, as they usually require an involved set of bonus tasks.
The Verdict
There's a lot to like about this Gold Rush slot game, most of all, we like how little game there is!
The trend for cut-down games that has accompanied the widespread switch to mobile screens is one of the most exciting things to happen to the slot industry in recent years. This game predates that trend in a long way but fits in with it perfectly.
It's just ultrasimple and a joy to play. Some games are really involving because they demand a lot of concentration and understanding of complex bonus rounds and symbols.
You can actually sit back, relax and enjoy Gold Rush slot!
Great look, great sound, great game! Get in on the gold rush while you can!