Golden Ticket 2 Slot by Play'n GO – Review, Free Spins & Demo
What does a 2 in a name signal to players? Well, it means we're in sequel territory, and this title – from one of the biggest developers in the business – is a follow up to a 2014 oldie.
Is that good news? It certainly is if you liked the fairground, steampunk styling of the original, which is very much in evidence here. Less so, if you like original titles.
The big prize is an immediate attraction, and this is a top 100 game in the UK at the moment. There's lots to explore in the gameplay too, which has novelty and innovation running through it like a name through a stick of fairground rock. And the styling is original, up to a point (everything's been done before in some respect), and well done, with real depth.
Should you enter the Big Top and join the circus?
Let's have a look!
Play Free Golden Ticket 2 Slot Demo
Golden Ticket 2 Slot Q&A
What game provider is developed Golden Ticket 2?
This game is from Play'n GO, big-time developers with more than 200 slots on the market and licensing in 15 jurisdictions around the world. They're part of the Swedish slots boom, with roots going back to 1997, and their biggest current hit is the massive Rich Wilde and the Book of Dead.
When was Golden Ticket 2 slot released?
August 13th, 2020.
What is the Golden Ticket 2 RTP?
This game has an RTP range, which starts at 94.5%. RTP is a long-term measure that predicts the percentage of all the money that is gambled on a game over its lifetime will be returned to the player. It can be expressed as a house edge of 5.5% here. It's the best performance measure we have but not a prediction.
How many reels and pay lines does Golden Ticket 2 have?
A 5 by 5 grid gives you 25 symbols in play, with pay-outs rewarded for clusters of symbols rather than traditional pay lines.
What theme is used in Golden Ticket 2 slot?
Themes include: fairground, steam punk, circus, nostalgia, night time, and entertainment.
Can I play Golden Ticket 2 on mobile?
You can play Golden Ticket 2 on any device that supports HTML5 and JavaScript.
What is the Golden Ticket 2 variance?
The variance here is high. High-variance games are designed to pay out bigger prizes (on average) but to pay them out less often. As with RTP, don't treat this as a prediction.
What is the minimum bet and the maximum win?
You can bet between 0.2 coins and 100 coins. This should be 20p and £100 on UK sites. Make sure you bet safely. The top prize is 5,000-times stake.
Does Golden Ticket 2 have free spins and bonus rounds?
Yes, free spins are the main bonus feature, and there are numerous extra features in the base game. There's a choice of three modes which mix and match numbers of free spins against win multipliers and the volatility of the game.
Is there anything else I should know about Golden Ticket 2 slot?
Cascading wins give an extra bite at every win.
The Game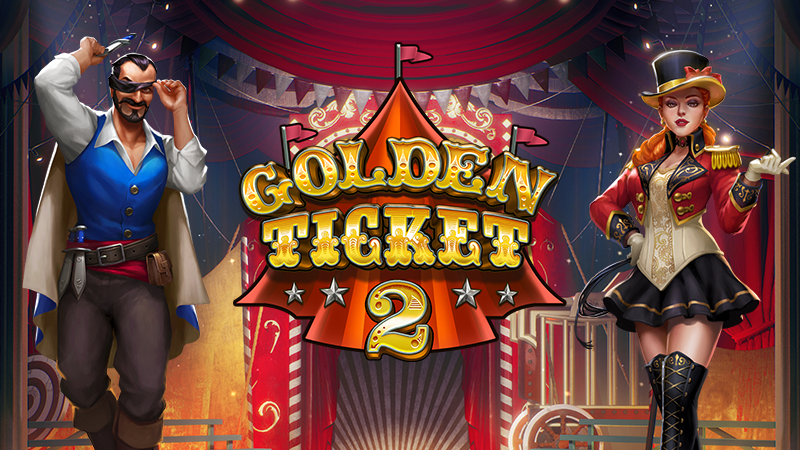 Play'n GO are big, mainstream developers and nothing in this game, despite the novel gameplay, will scare off players.
Betting is set along a sliding, single-value scale along the centre of the control panel. To the right sits the bet amount window, the green spin button, and an auto-spin control (with sophisticated stop mechanisms).
To the left are the balance window and the information button to open the pay table and instructions.
Above that is the Wilds window that records what wilds and multipliers you have.
The base game comes with cascading wins that keep going until they stop delivering wins, clicking up a win multiplier each time. If you hit the longest run of wins you win a one-off prize of 500-times stake.
The wilds meter is filled by big winning clusters, adding multiplier wilds to the grid when it's filled. These are linked to the animated star of the show (a choice of three: clown 1x multiplier; knife-thrower 2x; ringmaster 3x) who stands at the right of the reels.
Bonus rounds are triggered when a randomly determined row of symbols in the game is cleared with cascading wins. There are three choices of free spins round, which comes with extra multiplier wilds, no reset on the cascading multiplier, and the chance to retrigger.
The pay table is all original, opening with unicycles, juggling clubs, a target and throwing knives, ring master gear, and then the high-paying character symbols: clown, knife thrower, and ring master, with the golden tent at the top.  
The Verdict
This game has a lot going on. It is complex, character-based, and absolutely beautiful to listen to and look at.
The gameplay is easy to navigate – most slots are basically automatic as far as the player is concerned these days – though there are a few choices to make and we highly recommend you fully read up on the rules before you play.
The top prize is good, and those who enjoy high volatility games should definitely check this out.
What don't we like?
We don't like RTP ranges. We think a game should be released with a set RTP. And we think this because we're aware that capitalism's aim is always to maximise profits, so sites are always going to set this range at the lowest level they can get away with. While the idea that players are going to be proactive and shop around to get the best is a nice, fluffy idea, we will refer players to their own behaviour around changing slots sites.
And the game is complex. If you want a simple spinner then look elsewhere.
Golden Ticket 2 is going down well though, it's widely available, including in free versions (once you've verified your age) and doing well in the charts. Roll up, roll up, for all the fun of the fair!