Golden Tsar Slot Review
Red Tiger Gaming invite you to step back into the opulence of Imperial Russia in the 2020 Golden Tsar slot release. Get up close and personal with four members of the royal family, each of which hold their very own secret and once triggered, a reel expansion gets underway with the potential to expand your bankroll by as much as £484,000!
Crammed with wilds, multipliers, free spins and a progress meter, the 'reel' excitement gets underway when the regal characters spring into action!
Expanding royals result in four possible reel thrillers, each one paying more than the last, making Golden Tsar a slot game not to be missed!
Sites to Play Free Golden Tsar Slot Demo
Golden Tsar Slot Bets and Pays
Playable from 10p to a maximum of £250 a spin, Golden Tsar is a video slot suited to both low stakes and high roller players. Symbols on the reels include four members of the Russian royal family: king, queen, princess and prince – the highest paying being the king and the lowest being the prince. Card values are present across the 6×4 reel engine, however, unlike traditional slot games, the symbols are slightly different in that the letters J and A have been replaced with a B and a T. A total of nine symbols can produce wins providing they land on any (or all) of the 30 possible win lines, starting from the leftmost reel.
The control panel is almost invisible with all Red Tiger slots, allowing for an immersive and uncluttered gaming experience. Your bet selection panel (with pre-set values from 10p to £250) and autoplay feature are housed to the lower left with a great big manual spin button opposite. The pay table and sound options are situated to the top right with your remaining balance to the top left.
Golden Tsar Slot Features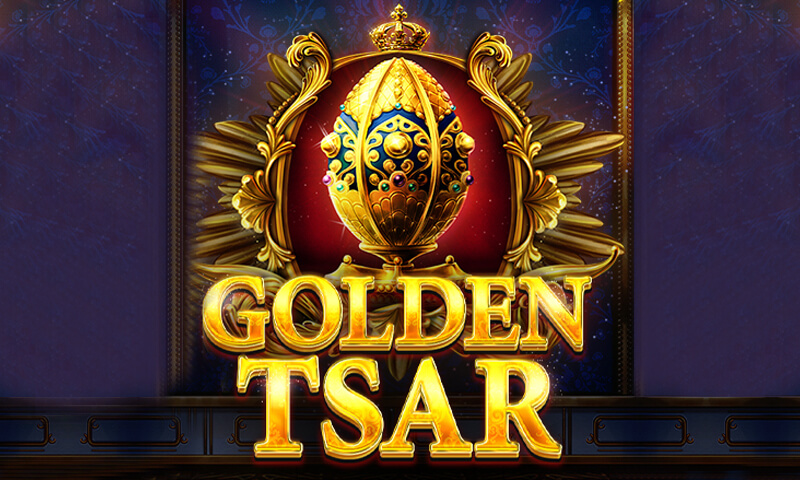 A portrait of each of the royals is hung above the reels and the aim of the game is to hit as many wins as you can with each of those characters to increase their retrospective progress meters. Once a meter is full, that corresponding symbol will transform from its standard 1×1 symbol to a mega 1×4 symbol (expanded). When the 'triggered; symbol falls into view, all instances of this special symbol will expand to cover the entire reel in which it sits, meaning the potential for an entire 6×4 grid of identical symbols!
Three golden egg symbols will launch the Tsar spins where as many as 18 free spins are triggered. Before each spin, the progress meter of a random character will be filled for the duration of the bonus round. After the initial spin is over, each progress meter filled will award 5 additional free spins.
What's the Verdict?
Just how many symbols are needed to trigger those expanding royals? That is the question! There is nothing in the rules to indicate this, but we've done a little research and can confirm each of the royal characters requires a total of 20 – not wins, just symbols. So, a win with a four-of-a-kind of the kings will fill the corresponding meter by 4 and so on.
Golden Tsar takes players into the heart of the stately home where pure golden walls and chandeliers come as standard, giving a nice little insight into how the rich live. You too could become rich with a maximum win of more than £480,000 on the table, only, unless you're playing max stakes, you'll come nowhere near that. To hit the jackpot (for any level of the bet), you'll need to be extremely lucky; not only do you need to have the king in his expanded state, but you'll need him to appear anywhere on all six reels! It's fun to play, a little bit different but it will certainly make you work to get any sort of generous win.
Golden Tsar Slot FAQ
What game provider developed the Golden Tsar slot?
Red Tiger Gaming created the Golden Tsar slot title.
When was the Golden Tsar slot released?
Golden Tsar was released on 15.10.2020.
What is the RTP of the Golden Tsar slot game?
Golden Tsar has an RTP of 95.69%.
What's the layout?
6-reels, 4 rows and 30 win lines.
What theme is used in this slot?
Golden Tsar is a Regal or Royalty themed slot.
Can I play this game on mobile?
Golden Tsar is a mobile-optimised slot.
What is the variance of the Golden Tsar slot machine?
Golden Tsar is a high variance slot game and to give you an idea of how frequent this game pays, a high volatility slot game is designed to pay out less often on average but the chance to hit big wins in a short time span is higher.
What is the minimum bet and the top prize?
The minimum bet on the Golden Tsar slot is 10p and the top prize is a multiplier of 1,936x. Based on max stakes, this would result in a max pay of £484,000!
Are there any free spins and bonus rounds?
Golden Tsar offers a free spins bonus with one of the four-reel expansions. Also comes with Wilds, multipliers and progress meters which result in four possible symbol expansions.
Are there any jackpots?
A fixed base game jackpot based on a top multiplier of 1,936x.
Is there anything else that I should know about the Golden Tsar slot?
High paying symbols (royals) generate pays on a minimum of just two-of-a-kind. Each spin takes approximately 2.5 seconds from start to finish, for a slower style of play.
If I like this game, what else should I look at?
Check out The Royal Family by Yggdrasil Gaming, a stately game with regular free spins, sticky wilds, five additional collectable free spins with a choice of 12 bonus features as well as a bonus chest, all of which deliver the potential for princely prizes!