Green Diamond Slot by 1X2 Gaming – Review, Free Spins & Demo
Green Diamond is a very classic slot that will be a winner with nostalgia freaks. It's also clear that games like these are growing increasingly popular with younger players and mobile players. That's because of the simple gameplay and easily understood graphics offer a great experience on smaller screens. They're also a quick and dirty playing experience, giving you the distilled essence of a slot machine.
This game uses all the usual symbols on a very standard setup playing area.
The standout feature here is the, well, lack of any features. While there are wilds, the game has no bonus round and no free spins.
Despite that, the game delivers a potentially massive top prize and its theoretical return to player is good value in the current market.
Play Free Green Diamond Slot Demo
Green Diamond Slot Q&A
What game provider developed the Green Diamond slot?
Green Diamond is a classic slot developed by the UK slot provider 1×2 Gaming.
When was the Green Diamond slot released?
The Green Diamond slot was released near the end of 2019 in October.
What is the Green Diamond RTP?
Green Diamond slot comes with 96% RTP which is the industry average and the majority of slots come with this return to player percentage.
What's the layout?
This slot features a standard structure. There are 5 reels, 3 rows, and 25 pay lines. To hit a win you need at least three of the same symbols aligned on an active pay line.
What theme is used in this slot?
Quickspin didn't complicate anything when creating the Green Diamond slot. The theme is that of a simple classic slot with bars, sevens, and fruits. It comes with a simple and smooth design which makes it pretty enjoyable.
Can I play this game on mobile?
Green Diamond slot can be played across all devices including mobile devices such as iPhone or Android smartphones.
What is the Green Diamond variance?
This is a medium variance slot which means that you can expect a mixture of smaller and bigger wins throughout the game.
What is the minimum bet and the top prize?
Green Diamond is a great slot for those who like spinning with smaller stakes as a minimum to bet is 25p per spin. The top prize in this classic slot machine goes up to 2,500,000 coins!
Are there any free spins and bonus rounds? What other features comes with?
Green Diamond slot doesn't feature any Free Spins Bonus rounds. The game is all about its top-paying symbols, wilds, and scatters. Scatters can't activate any bonuses as there aren't any but they do pay anywhere on the reels. Wilds are also important as they substitute other symbols and award multipliers.
Are there any jackpots?
Green Diamond slot doesn't feature any jackpots.
Is there anything else that I should know about the Green Diamond slot?
Green Diamond is a classic slot machine with a smooth and modern look. Even though it doesn't feature any Bonuses it can bring you incredible prizes up to x25,000 the total stake thanks to top-paying symbols, scatters, and wilds. So keep an eye on those icons.
If I like this game, what else should I look at?
If you are into classic slot machines, there is plenty to check out. NetEnt's new Grand Spinn slot is a great choice as it comes with a classic layout and modern twists to it for extra excitement.
1X2 Gaming – The Developers of Green Diamond Slot
The developer of this game is by no means a household name, but they have a decent history and have over 100 games out on the UK market.
1X2 Gaming are based in Brighton, in the UK, which is always good for UK players because it puts the company in the same regulatory zone. From there, 1X2 Gaming has established a global presence. As well as making slot machine games, 1X2 Gaming also make virtual football games and other gambling products.
Founded in 2002, 1X2 Gaming says that it is an independent company and intends to stay that way. This is nice to see because the gambling world is full of companies that appear to be independent but are in fact subsidiaries of much larger companies.
The biggest titles from 1X2 Gaming on the UK market at the moment are Instant Football, the Da Vinci Device, and Piggy Bank.
The Facts and Figures
Theoretical Return to Player is a measure of how much a game is expected to pay back to players over its lifetime. It is not a measure of how an individual player will experience the game. So it is very inexact. However, Green Diamond's rate of 96% (or a "house edge" of 4%) is very standard for the current market and players shouldn't expect anything out of the ordinary from this game.
The advertised maximum win is a massive 2,500,000 coins, which could amount to as much as £2.5million, but you should be sure to check staking limits, coin limits, and top pay-outs on the site and machine you are actually playing on.
Betting rates run from a stake of 0.25 coins to 100 coins, usually 25p to £100.
This is a five-by-three game, with five reels and three rows of symbols. Across these, run the 25 pay lines on which wins are scored, and this is a high number for a 5 reel game.
Green Diamond slot uses JavaScript and HTML5 and can be played on most mobile, desktop and tablet devices.
The Game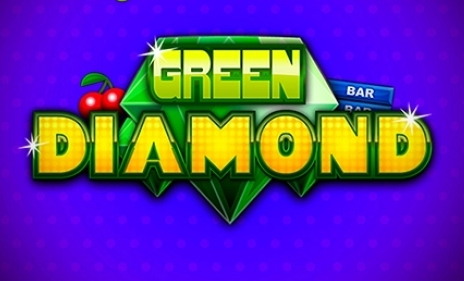 Simplicity is the theme in the controls of this game.
The design is very mobile-friendly, with gigantic reels dominating the screen. The controls are largely limited to a spin button at the bottom right of the screen with an Autospin feature above that.
Cash controls are hidden behind a pile-of-cash icon at the bottom left, and most other controls – include setting menus and further information – are accessed via controls in the game frame.
Easy to play, and bang up to date, as you'd expect from a game released in June 2019.
How to Win
Simplicity again is the theme of the paytable. These are classic favourites. Wins are recorded as a multiplier, which is multiplied by your stake, then divided by the number of win lines to produce the prize.
The lowest payer is a pair of cherries with a multiplier of 5-times for three, 10-times for four, and 25-times for five.
A single bar multiplies 10, 20, and 35-times. A double bar pays 15, 30, and 60-times stake.
Three gold bars pay 25, 40, and 100-times stake. A single orange 7 pays 30, 50, and 300-times stake. A blue 7 multiplies 40, 75, and 500-times stake. A green 7 pays 50, 100, and 600-times stake divided by pay lines.
Diamonds sit at the top of the table. A red diamond multiplies 60, 200, and 800-times stake. A blue diamond multiplies 70, 300, and 1,000-times. A trio of green diamonds multiples by 100-times for three, 2,500-times for four, and 25,000-times for a full set of five.
The Wild – the word "WILD!" – stands in for all symbols.
Bonuses
We normally like to have something to say here, but there is nothing to say about the bonuses on Green Diamond because there aren't really any bonuses!
The only thing that comes close is the inclusion of a wild.
The Verdict
Simple, efficient and completely up to date, there's a lot to like about this Green Diamond slot by 1X2 Gaming, and there are few downsides to a game that presents itself very honestly – it does exactly what it says on the tin.
Controls are simple and easy to understand, and anyone who's got any experience of playing online video slots will immediately find themselves at home here. The very simple design works nicely on a small screen. It's not exactly sophisticated, but it's diagrammatic and super easy to understand.
The game itself is very simple. Hit spin and look for a win. That's about it. The wilds do their thing, of course, but most players will expect more, so you must go into the game knowing that there are no bonus games.
This isn't a problem in terms of prizes, when one looks at a top prize of 2,500-times stake, with a top bet of 100 coins.
This is a trustworthy and established company, and 1X2 Gaming have earned a good reputation over their decades in the business.
This simple game is charming, classic, and enjoyable to play. If you need super-sophisticated gameplay or animations to enjoy a game then maybe pass it by, but if you fancy a quick and simple spin then load up Green Diamond now.