Hall of Gods Slot
Arguably one of the most popular progressive slots, it's unsurprising to learn that NetEnt's Hall of Gods slot offers plenty of high-quality excitement. The fantastic graphics, endless fun, and ease of play make it hard to believe that it's approaching its 6th year. Our Hall of Gods progressive jackpot review will help you to decide if it's the right game for you too.
Technology moves fast, and most games would be out-of-date by now, but as one of the largest progressive jackpots, with regular jackpots in excess of £5,000,000, its popularity is easily accounted for by its fantastic playability.
Today's Hall of Gods slot review is from a real-play experience. I spent a decent amount of time researching this article and played for more than 4 hours in a single sitting. It speaks volumes that it managed to keep my attention for that long…and no! I don't mean it speaks volumes about me and my gambling habits, just that it's a fun game to play.
• Play Hall of Gods at: Dunder Casino, Mr Green and Leo Vegas.
The Theme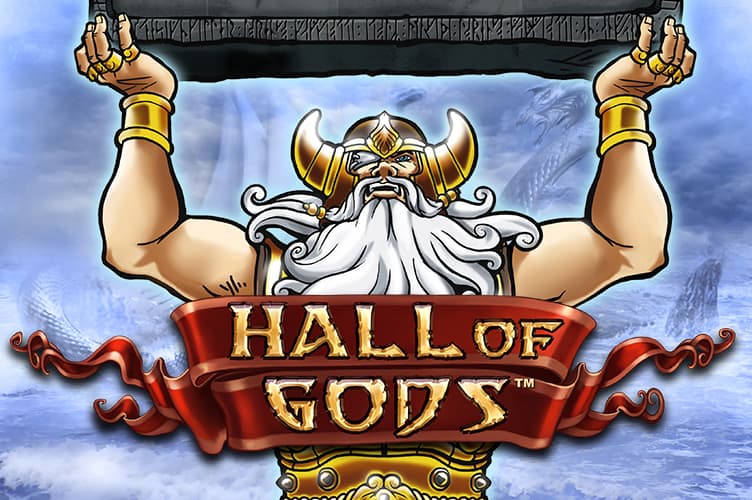 As the name suggests, the theme of the slot is "gods"; but, which ones exactly? Nordic Gods. This game has all of the great Norse Gods: Thor (of course!), Odin, Freya, Loki (and although he's a goody here, in that he has a high pay out, he retains an evil air), and Idun.
As well as the gods, we find their weapons/amulets of choice, e.g. Thor's hammer, Idun's apples, Odin's ring and…well…to be honest, my Norse mythology is somewhat sparse, and I can't work out what the other two things are, but my guess is they belong to Freya and Loki.
Also, Odin wins you a greater pay out than Thor does, which throws my "Thor is the greatest god in Norse Mythology" belief into question. Maybe a reader could get in touch and let us know?
The Game Specifications
As far as progressive jackpots go, Hall of Gods slot is great because it allows you a relatively low maximum bet so that you can play with just a small deposit:
Min bet: £0.20
Max bet: £50.00
There are three jackpots:
The Mini: £500+ (on average, may be higher or lower)
The Midi: £60,000+ (on average, may be higher or lower)
The Mega: £5,000,000+ (on average, may be higher or lower)
To get the chance to win the jackpot, you need to trigger the bonus game. To do this, you need 3 bonus symbols on the reel.
Wild Card
I really liked this feature. It's quite different from most other wild cards that you find with other slot machines. First, following on the Norse theme, the wild card is a dragon. It only appears on reels 2, 3, and 4.
When it appears and creates a winning combination, e.g. 2 apples align on line 1 on reel 1 & 2, and then the wild appears in reel three, it grows to cover the entire reel. Many times this means that it increases the line wins because if there potential wins on any of the other lines, and the wild card complete the win, you get it.
In other words, the wild in this game gives you the chance of winning more lines because it covers the entire reel once it comes in. I found it won me new lines fairly regularly.
It gives you an added element of excitement to the game. There's the anticipation, "is this gonna be a big one?"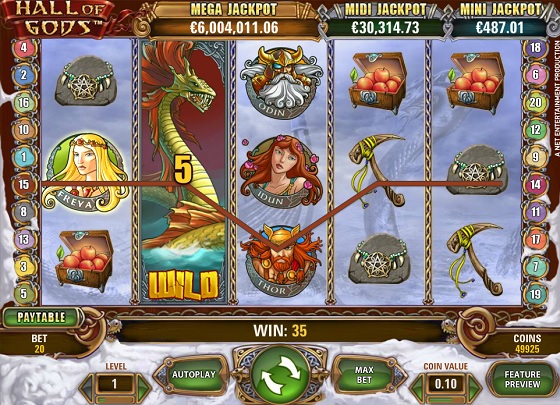 The Wild card is a scary sea dragon
The Bonus
When I first started playing Hall of Gods, the bonus was the part of the game I looked forward to the most. It felt like an age had passed before it first came up. I could have caught up on my Norse mythology during the downtime!
However, it seems that the Norse gods very much favour providence because as I was taking notes about the game. Writing how annoying and slow it was for the bonus to come up – I'd been playing a good 15 minutes already. It suddenly came up. My notes literally read "Bit slow to give up scatters & bonuses" then "spoke too soon!"
The bonus is triggered when three bonus symbols appear anywhere on the viewable part of the reels. This opens the Hall of Gods bonus game. Here, you find 15 shields that you have to smash with Thor's hammer. Behind each shield is either a number or a token representing one of the three jackpots. If you match 3 identical tokens, you win whatever the prize is.
The bonus game closes once you match 3. For instance, if you only smash 4 shields and 3 of them match for 100 coins that end the game. Likewise, you could end up smashing all 15 before you win.
I'm not sure if a win is guaranteed each time, but I always won something on the bonus rounds, and most of the time, they were decent payouts, so it seems that way.
It turned out that the bonus games work much like a public bus: you wait forever for one to turn up, only for three to turn up at once. As soon as the first bonus game triggered, two more followed in quick succession…that felt good!
Over the course of an hour, the bonus game triggered around 8 times, which I think is decent.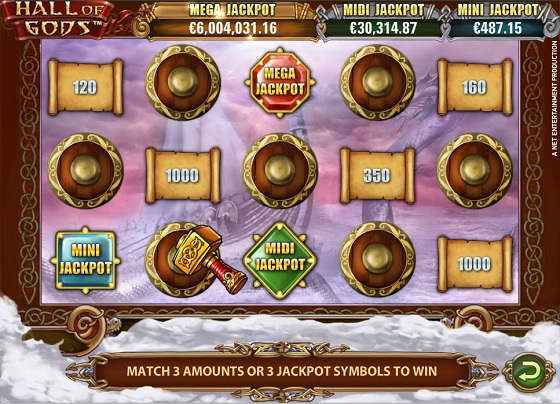 Smash shields with a hammer to win millions
The Scatter
Well, if the bonuses are like the busses, the scatter is like the trains: they're rare and they never turn up on time!
I even tried my little trick of writing "no scatter bonus yet" to see if it would trigger the previous luck experienced with the bonus. Yes, yes, these superstitions are very silly, but apparently massively common amongst gamblers!
It didn't work. It just triggered more bonuses instead!
Anyway, although I thought it would never happen, the scatter bonus did eventually trigger, and it was more than worth the wait.
It became my most anticipated part of the game because it always gave me a huge pay out. The scatter starts 10 free spins (there might be a higher number of spins winnable, but I never won more than 10, so I don't think so) and each win is multiplied by 3.
In the space of an hour, I'd say it triggered two or three times.
The Autoplay
I always have autoplay on when playing the slots. I like to just sit back and watch instead of having to "click, click, click, click…" after a couple of hours, that starts to hurt the fingers.
There are a few things to note about the autoplay in Hall of Gods:
1. It only allows you to spin up to 75 times.
2. Triggering the bonus stops autoplay, so you have to start it again.
3. Conversely, the scatter doesn't affect it at all, and once your free spins are over, it goes back to spinning.
4. When you have autoplay on and you try to look at the pay table, it kicks you out after a few seconds, so that you can't really study the pay table without stopping autoplay.
Some of these are a bit odd, but clearly just a quirk with the software.
Miscellaneous Extras
Now, there are just a few things to note about the game in general:
• NetEnt are very particular about which casinos they allow to host Hall of Gods, so if you find it at a particular casino, you know you're playing somewhere that has passed a few stringent tests.
• The music is quite Nordic: it can be rough on the ears. The rain effect is quite nice, but I had to turn the volume quite low to cope with the rest of it. Still, it does add to the game.
• The graphics are decent, even if the game is 6 years old. I like the animation; it goes to making the game look professional and inviting.
• Gameplay: I didn't have any issues with Hall of Gods at all. It loaded quickly, and both during the 4-hour binge play, and subsequent other visits, it played fine the entire time: no crashes, no stuttering, no need to clear the cache, etc.
• It didn't load on my Android tablet, which is a bit of a shame. However, that could simply be due to either Android or my particular tablet.
The Conclusion
Overall, Hall of Gods a fun game to play. It's one of the most popular progressive jackpots, so the prizes are big, but the chances of hitting one of the jackpots is relatively small. However, there are plenty of other prizes to keep you entertained for hours. It definitely earns its popularity.