Hotline 2 Slot by NetEnt – Review & Free Play Demo
In 2020, it seems people are so sick of 2020 that they are determined to relive the 1980s! As someone who lived through the 80s the first time around, we'd urge caution in this respect. However, if you do dig sophisticated electro-pop, Miami Vice, and bobbed hairstyles, then NetEnt have a game for you. It's the Hotline 2 slot!
With a gangster/crime/cop theme, Hotline 2 slot is a follow up to an original that is very much in the same style. It's a big hit too, ranking at 15th in the UK market at the time of this review.
Free spins are the main bonus, with three options that focus the titular hotlines where you're going to find the big wins. You can buy this feature as well as triggering it. With plenty of opportunities to spend more to get extra features, please make sure that you play this game safely and with your healthy gambling rules in mind.
There's a lot of mystery, glamour and excitement on the sultry streets of Miami, but should you cruise them?
Let's have a look.
Play Free Hotline 2 Slot Demo
Hotline 2 Slot Q&A
What game provider released the Hotline 2 slot?
NetEnt made this game, along with hundreds of others. NetEnt titles are everywhere, with whole sites dedicated to hosting and even just discussing their slots. They have nearly 1/3rd of the entire European market for slots, more than 1/5th of the world market, and the long-time UK number one Starburst is the biggest hit in UK slot history.
When was the Hotline 2 slot released?
Hotline 2 was released on August 24th, 2020.
What is the Hotline 2 RTP?
This game has an RTP of 96.05%. This is a house edge of 3.95%. RTP predicts how much of the money spent on a game will be won back by players – it does not predict how much of your money you will spend, win or lose.
How many reels and pay lines are there?
This is a classic 5 by 3 slot with 15 symbols in play. There are no pay lines with a ways-to-win engine delivering 243 ways to win in the main game, rising to nearly 2,000 in the free spins round.
What theme is used in Hotline 2 slot?
Themes are: detectives, Miami Vice, the 1980s, 80s nostalgia, Florida, retro, and crime stories.
Can I play Hotline 2 on mobile?
Yes, you can play Hotline 2 on mobile if you have JavaScript and HTML5.
What is the Hotline 2 variance?
This game's medium variance means you should expect an average experience in play, with wins frequency and win size hitting the industry average ratio.
What is the minimum bet and the maximum win?
Betting goes as high 150 coins from a 0.3 coins start. This should be 30p to £150 on a UK site, with a top prize of up to £777,000 at the top stake. Check financial limits where you play, and only ever bet what you can afford to lose
Does Hotline 2 have free spins and bonus rounds?
Yes, free spins are the main bonus feature. There are two bonus bet levels in the base game that trigger the hotlines. Free spins come with expanded reels with extra ways to win and extra hotlines.
Is there anything else I should know about the Hotline 2 slot?
You can buy the free spins feature.
The Game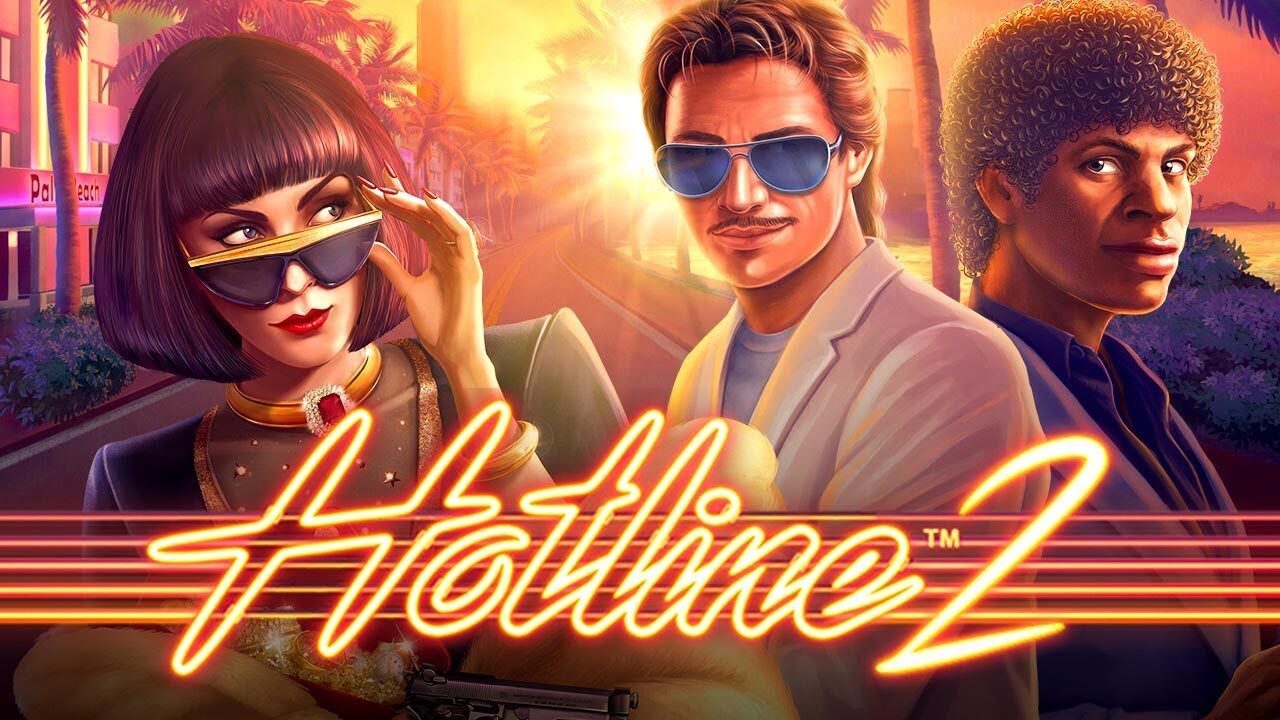 Playing Hotline 2 is simple. A standard NetEnt control panel centres on the spin, auto, and turbo-spin console. The main non-standard feature is the Buy Feature button. Click this to pony up for 7 free spins with your chosen number of hotlines.
Hotlines are a bonus bet feature. They make it more likely that you will score expanding wilds, and therefore more likely that you will win big prizes. The base game begins with just one hotline: reel 3. Double bets give you reels 3 and 4, and a triple bet gives you the full central set of reels.
Free spins can be bought or they can be triggered with 3 scatters (a Miami flamingo in neon). Wilds can expand the reels to add those extra ways to win, growing up to 6 symbols high.
The pay lines are all original with glam jewellery at the bottom of the table and characters at the top, culminating in a Champagne-sipping woman who wins 8-times bet for a full house.
The Verdict
Hotline 2 slot does a very effective job of taking us back to the 1980s. The aesthetic is nicely captured, and the soundtrack is really right out of a big 80s Hollywood movie.
The gameplay is extremely involved and involving. This is a game where you really should read the instructions properly, and as there are so many opportunities to raise your stakes you should understand what you're doing and what it means.
NetEnt never deliver duds, and if you like smooth and sophisticated games with gameplay that demands you do more than mash a spin button then Hotline 2 might be the game for you this summer.